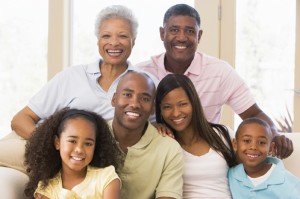 Recently, I received a call from a lady who needed financial assistance to start a business.  She had done a 'reverse mortgage' on her home to purchase some land to use for a business idea.  I learned that she was in her seventies, had very little income and no savings but wanted so desperately to leave a legacy for her adult children.  She said, 'Sylvia, I will fight with all my strength to make this happen for my children before l die."
After that call, I was both touched and shaken.  Here, an elderly lady so passionate about taking care of her adult children, waited so late in life to plan for her family's future.   Sadly, her financial situation might hinder her from receiving a small business loan.
Have you considered what you will leave behind for loved ones beyond your financial assets?
Leaving a legacy for our five children is extremely important to my husband and me.  For us, it's leaving our property, stock, a family business and a substantial amount of savings.  For others, it could be leaving their life savings to a favorite charity.  By planning, you ensure that your wealth and values will continue to be preserved for generations.   Do you have a legacy plan in place?
A common misconception is that estate planning is for the wealthy, when in fact, says attorney Jim Eager, "estate planning is not for the wealthy alone, and does not deal merely with the transfer of financial wealth.  It encompasses retirement, business succession, charitable, medical, disability, legacy and gift planning. "
What is Legacy Planning?
According to PlanYourLegacy.com, legacy planning allows you to preserve your values, memories and final wishes to ensure you leave your loved ones with clarity and inspiration rather than confusion and pain.
Why Legacy Planning?
By planning, you've shielded your loved ones from conflict that plagues families after a death
Prevents surprises by bringing your extended family into the planning process
Allow you to establish your legacy while you are alive to see it progress
A Few Tips to Better Manage Your Affairs
Make sure your wills, life insurance policies and retirement plan beneficiaries are updated and reflect your current wishes.
Keep in mind that retirement plans, IRA's, and life insurance policies all have beneficiary designations that supersede wills.
Make sure you understand the tax consequences of gifts left to heirs.
Seek an attorney and/or professional financial advisor to assist in legacy planning.
Imagine leaving a legacy that can influence the well-being of your family, friends or your favorite charity?  By doing so, ensures that your final wishes are honored, thus, avoiding confusion!
By Sylvia Browder
WANT TO USE THIS ARTICLE IN YOUR E-ZINE OR WEB SITE? You can, as long as you include this complete blurb with it: Sylvia Browder is CEO of Browder Consulting Group, a virtual small business consulting firm.  In her role, she helps Women in Business grow and succeed. She is also founder of National Association Women on the Rise, a virtual community for aspiring and established women entrepreneurs. The association's mission is to provide professional and personal resources while uplifting and empowering women entrepreneurs through collaboration, education, mentoring, spiritual and peer support, leadership and networking. She has served as an online volunteer SCORE counselor since 2004.  For FREE weekly articles go to Sylvia Browder's Blog for Women Entrepreneurs, www.sylviabrowder.com.  She can be contacted at info@nawomenrise.com.