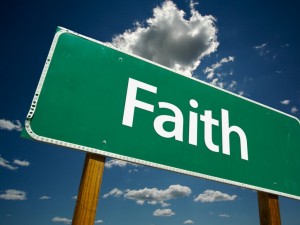 "Well, our ancestor Abraham pleased God by putting his son Isaac on the altar to sacrifice him.  Now you see how Abraham's faith and deeds worked together.  He proved that his faith was real by what he did."  James 2:21,22 The Message Bible
In December of last year, God dropped in my spirit the endless possibilities that He had for my business.  He showed me where He wanted to take it this year 2011.  I was so excited and was in a place – spiritually and emotionally – where I believed what He was showing me.   So I started to confess it and thank Him for what is to come.  I shared it with key people, people that I know pray for me.  Over a month later, I woke up one morning, and the Spirit shared something profound that I want to share with you.
My faith talk was expressing my belief in what God had shown me but my actions were not.  My actions were reflecting my old way of thinking.  In order to get what God was showing me in my spirit, my actions had to change in the natural.  I was not going to go to the level God showed me, if my actions didn't change to produce the results I needed.  I needed to do something different and more than what was done last year.  You may have believed God for something last year that never occurred and you may have been wondering why you believed God for it.
But lets put last year where it belongs—in the past.  Today is a new day.  Do the following to exercise your faith and make your faith visible to yourself and others:
Write down what your faith is telling you in your situation
Now write down the actions that match the belief
Don't allow your fears to cloud your actions
Now be courageous and do what you have written down.
This is faith in action.
Today choose to turn your faith into action.
Let me know how you do with this! J
______________________________
Clestine I. Herbert is an inspirational speaker, life coach and author.  She is also the developer of the Mind Alignment Coaching SystemTM which is based on Romans 12:2.  As the Founder and CEO of Divine Discipline, she is dedicated to supporting churches, organizations and individuals in getting unstuck so they can reach their full potential through God's power.   Visit www.DivineDiscipline.com to find out more.