Interview by Aaliyah Ransome
 "People are always watching. Don't give up, especially when you feel like no one is paying attention" – Justin Etienne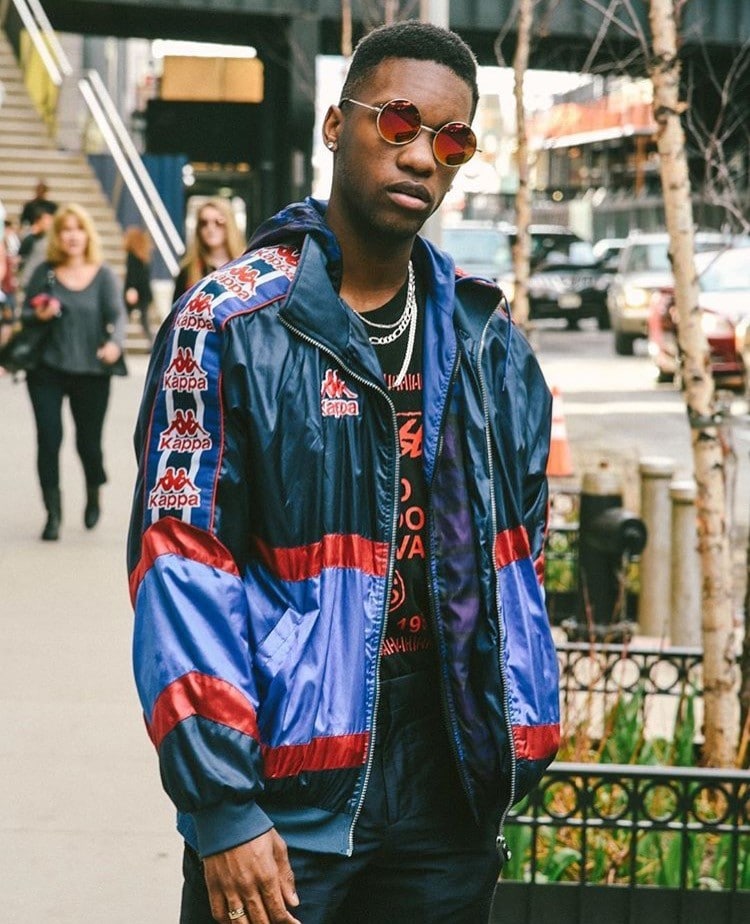 From being featured in Vogue, WWD, and Elle Magazines and being invited to NYFW and the BET Hip Hop Honors Awards, 21 y/o Production Management major at the Fashion Institute of Technology, Justin Etienne doesn't like labeling himself as one thing. He considers himself to be an Entrepreneur or Versatile Fashion Creative.
Etienne knew that he wanted to be in the fashion industry since he was in the second grade. He'd always play around with his grandmother's sewing machine and supplies, who was a seamstress, despite being told that it "wasn't safe." In the fourth grade, after being put on punishment for a weekend, Justin created a portfolio of clothing for different seasons with color pencils. He'd also put price tags on them, telling his mom that he was going to open his own store one day.
The young designer, motivated mainly by his mother, wants to get to a point in his career where she no longer has to work. "She sacrificed so much for me to be where I am right now." His friends and peers are also a huge part of his support system, as they constantly remind him how far he's come in a short amount of time.
When did you start "The Gleam Series?" What inspired you to start? 
I started "The Gleam Series" in July 2016. I was going through a hard time after my grandmother passed away a few months prior. So, I was just working a retail job and designing at home to clear my mind after a long spring semester. I was born in '96, so I'm into the whole 90s vibe and Aaliyah was an artist I listened to a lot last July.
Long story short, I started hand stitching sequin onto one of my denim jackets. Michael Jackson is the King of sequin so I used that as inspiration as well. My bros kept telling me that I should make more, and I wore one to NYFW Mens and got amazing feedback. Then one turned into dozens. I can happily say I got the chance to make custom pieces for people.
What are some hardships you've been through so far?
Managing time itself is a hardship for me sometimes. I'm always conscious about how much I need to get done in a day, but somehow I always feel like I need to do more. Although I get a lot done for the most part. It can be a blessing and a curse.
Coming from a Caribbean background, have you always had your family's support or did you received criticism and backlash since you weren't going a more "traditional" route, like becoming a doctor or lawyer? 
At first, I was always being told that fashion isn't a "practical career," which was frustrating after a while. But I took time to myself to try to understand what I really wanted. At the end of the day my happiness is what matters most and no one is going to see your vision exactly how you see it. I had to be a little rebellious to prove my point and I'm doing a lot of the things I said I was going to do at a young age. I was supposed to play basketball in college and study physical therapy. I probably would've dropped out of college if I went into that major. I'm too creative to go through those routines in science. I'd rather research things on my own time. My family supports me 100% today.
Where do you see "The Gleam Series" going in the next five years?
"The Gleam Series" was something that allowed me to get my feet wet. I met so many people because of the one idea I had. I got to also share my experiences with people which is what matters most to me. That's how inspiration forms in my eyes. I utilized that experience to open up doors to other things in the fashion. industry. Now I'm working on "ENERGY LVLS," which is an Art Exclusive collection that I'm about to release. We will see how things go from there. Just want to be learn as much as I can.
What's your ultimate goal?
I will become a great Entrepreneur in the Fashion Industry. I want to leave a major positive impact in the world because its hard coming up today, especially in our culture. We sometimes don't have the resources in our neighborhoods to offer kids sadly… I want to play a role in the development of the Art World as a whole. Artists make the world a better place. It gives people the opportunity to express themselves and to be free. The same piece of art can make multiple people feel different emotions. That's the beauty of it all.
The fashion industry is known to be very risky. Is there anything that scares you?
No, not at all. I believe it's even scarier not tp take the risk because you'll spend your life always wondering. That's almost like dying to me. I take so many risks and they never steered me wrong.
What advice do you have for young or upcoming designers?
People are always watching. Don't give up, especially when you feel like no one is paying attention. They can't ignore you forever. Consistency is what will get you to where you want to get. Try to figure out your purpose for doing what you do. If you can't that's okay, just always be real with yourself. Don't worry about what the next woman or man is doing. Every person obtains success at their own rate, and everyone has their own story. You don't ever fully know what people did to get where they are. Lastly, don't be afraid to ask for help. There are a lot more people who'd be willing to help than you think.
Appreciate You Bronze Magazine. One Love!
Link to site: IAMJPE.COM