WRITTEN BY CHELSEA YOUNG
IMAGES: SHEREE COURTNEY OF THEE GALORE MEDIA
Wine, like coffee or tea, is a universal drink. It is created and drunken all over the world as a way to relax, celebrate, or to simply enjoy. Shayla Varnado, who grew up in a dry household, did not discover her love for wine till she was fresh out of college having drinks with her more seasoned girlfriends. Shayla took her newfound passion and created Black Girls Wine alongside a weekly talk show entitled "Wine Down LIVE" to create a space for black women in a market that regularly excludes them. In 2019 she started the Black Girls Wine Society, a sorority with over 30 chapters with more than 300 members and even more applications pending. This past year during COVID-19 she launched a virtual chapter for women without chapters in their state. Bronze Magazine spoke with Shayla about the creation and inspiration of Black Girls Wine and what she has planned next.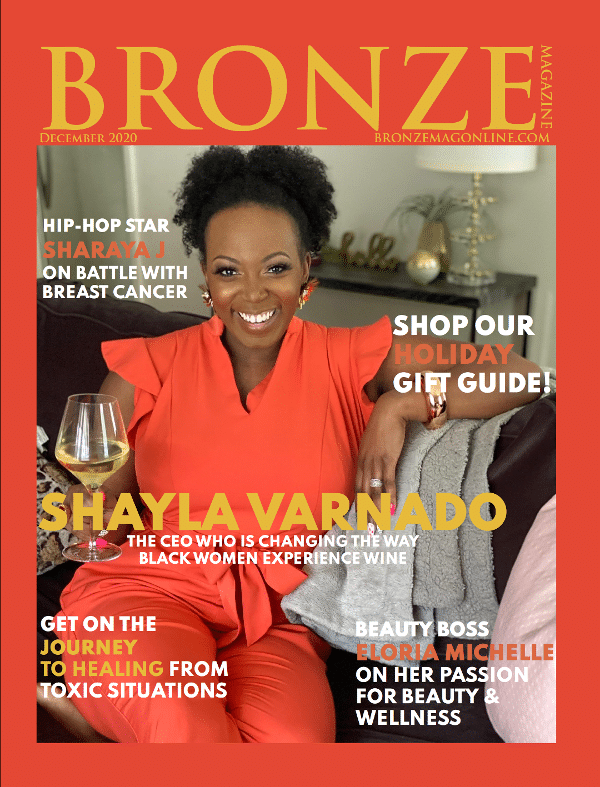 Tell us a little of your backstory. Who is Shayla, the woman behind the glass (i.e. where are you from, family structure, your life growing up)?
I'm originally from Richmond, VA where my husband and I now live. I grew up in the driest home in America (the deacon & deaconess did not drink in front of us) that, while void of wine, was filled with faith, family, and love. My parents are amazing and huge supporters of everything my sister and I have come up with that we want to do! Even with BGW, they may not have understood at first, but they definitely supported the vision.
My life growing up was filled with creativity. I went to a Governor's School for high school (think Fame) and studied writing. I loved helping out in the costume department for theater and later went on to study fashion merchandising in college.
When did you discover your love of drinking wine? What type(s) of wine do you enjoy most and why?
I discovered my love for wine post-college with some of my more seasoned girlfriends from my first job after graduating. That's all they drank. I learned early to sample everything in the kitchen before making a selection. My favorite thing to drink is champagne.
Why did you create Black Girls Wine? When did it evolve into a movement?
I created BGW because I felt like I wanted to recreate the magic that I felt being surrounded by girlfriends, feeling connected, and celebrated. I felt like the wine industry was missing that magic. Especially since the Black consumer is still very much ignored when it comes to the marketing efforts of the industry to be more "inclusive". A few are getting right but most are ignoring the fact that Black women love wine, drink all kinds, and have had a very different experience when it comes to our exposure to wine. My goal is to change the way Black women are experiencing wine by making it a personal and cultural experience.
My goal is to change the way Black women are experiencing wine by making it a personal and cultural experience.
What are your thoughts on diversity and wine?
The diversity inclusion efforts are improving in some ways. There is still a long way to go.
Tell us about your role as a business strategist. What are some common challenges your clients face when it comes to growing their business?
One of my favorite things to do is help brands find their audience, tell their story, and create an offer their audience can't refuse. One of the biggest challenges I see when working with entrepreneurs is that they don't consider WHO they're creating their product and service for. When you define "the who" it makes it easier to share, sell, and scale. Without a defined audience, it's like standing on the corner selling lemonade to anyone who walks by. You get what you get. But when you do your research, find out what neighborhoods have more connected efforts of support, love food/beverage, and have high foot traffic— now you're creating a product with intention. That's what I love to do most in my work as a business strategist, helping other boss women connect those dots.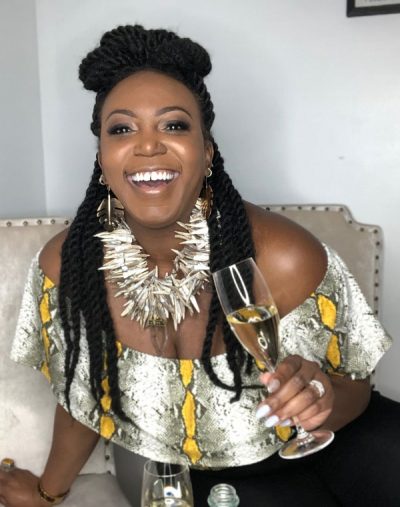 Tell us about Wine Down LIVE and its impact on the Black Girls Wine community?
When I started Wine Down LIVE I had NO CLUE it would grow the way it did or that people would love the show so much. My intent was always just to share my experience with wine and people loved the honesty and vulnerability of my growth from a wine lover to a professional. It's inspired other wine professionals to come out of their shells, wine lovers to get more connected to this community, and people trust my palate. They want to know what I'm drinking all the time! It's amazing and so much fun!
Your curated events through your membership driven Black Girls Wine Society offers women the opportunity to connect, expand their palates, and build sisterhood. What effect has COVID had on these rewarding experiences?
While COVID has made us scale back on events in some areas, overall, we've gotten super creative. It's actually given us the opportunity to get more connected as an organization to the international wine industry and offer our members a chance to learn from the pros and winemakers around the world. Our members are growing and learning even more!
Aside from being a successful Girl Boss, how and when do you take time to practice self care?
Whew! That was a struggle for me and sometimes still is. I've started being more intentional about how I start my day. Making sure I take time for myself in the morning and in the evening so Shayla doesn't get lost in being a CEO, leader of 30+ women across the country, wife, daughter, sister, church group leader, and friend. All of those roles are an important part of my life so self-care for me looks like making sure there's some balance to each and every day.
self-care for me looks like making sure there's some balance to each and every day.
What piece of advice can you give to another woman of color about breaking into the wine industry?
Do your research like you would any other industry on WHAT you want to do. Connect with someone who's done it before. Build with patience and know the wine lovers will find you. Also, put your heart into it. People like wine but more importantly people like PEOPLE.
Will there be a Varnado Wine in your future? 😊 Why or why not?
Haha— I get that question a lot. Yes, one day for sure. But that would be one of those super fun things I'd do when the partnership and the time are right. Right now I'm focused on building the Society. This sisterhood of women is already so near and dear to my heart. I want the Society to be strong before I take on my next venture.
Follow @blackgirlswine and @blackgirlswinesociety
This article currently appears in our December issue