If you look at HIStory the women's rights movement started as far back as 1848 and ended in 1920. Yet, if you read today's headlines, HERstory is still being told. This year, Congress has the most women in seats. The count is at almost 100 political positions that have been filled by women. The verbal exchange of what women need to do and how to do it is becoming the trending topic for all to read and learn.
However, if you want to learn this knowledge first hand and in person where do you go?  This year I made it a point to attend the many conferences focused on women's empowerment to see if there really is a point of destination for empowerment- a conference, summit or meeting place where women are really empowering each other and not using women's issue as a platform to make money and keep women in the blind to have them attend the next session.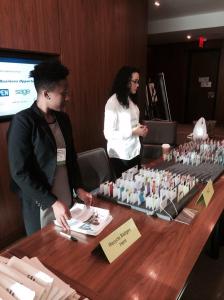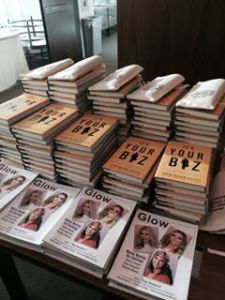 Over this past year there have been a couple of women's events that stood out from the rest, such as Women in CE or WomenCon; but the one that blew me away and made me a believer beyond compare was the Women's Leadership Exchange.  Powerful and knowledgeable women such as Loreen Arbus of Loreen Arbus Productions (who is also the daughter of the founder of ABC), Sue Malone, the Founder of Strategies For Small Business (who gives out loans and funding for female business start-ups), Lisa Oz (TV Producer and wife of Dr. Mehmet Oz  of the Dr. Oz Show), Joya Dass, TV Anchor of Business News on NY1, and the list goes on.  ALL of these women took time to empower and share their  with women who want to have their success and learn the ins and outs of conducting successful business strategies.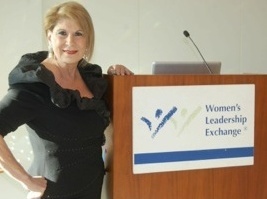 Held at the Met Life Building on 6th  and 42nd street, from the moment we walked into the building we had a sense that we were about to embark on something special. Once the elevator doors opened, we were greeted and welcomed, as well as encouraged to introduce ourselves and each tell our story and desire for success. "It's a crime not to help another sister," stated WLE Co-Founder Andrea March, whose opening welcome speech set the tone for an afternoon of dialogue, discussion and development of long lasting relationships. "I want you to meet at least three women today, and  then find out how you can help and mentor each other,"  Andrea continues.  Her message ended with her honest confession that her present goal is to have monetary longevity.  A goal that she suggested should be the agenda for every women in the room.
The stage was then turned over to Beguile Records Co-Founder and #1 top of the charts songwriter/recording artist Sarah Atereth.  Sarah's message reflected her life story, "Dance your own Dance."  Her speech included a song that summarized the importance of support and believing in someone when they might not believe in themselves.  Her impactful quote in which she stated, "Now I walk around with my head held high because you gave me diamonds," was a metaphor for knowledge.  Sarah also shared her three steps of success: Step 1 = Kick.  She explained that to kick it takes power.  You need your personal power to succeed.  Step 2 = Bend.  Bending shows the flexibility necessary to be successful.  Step 3 = Leap.  In business she explained that many times you have to take a leap of faith to step into the future of your success. Like a dance routine she explained that it's important to map your success just as you would map out your choreography. Sarah's last voice of reason was so simple, yet impactful. She stated, "Whatever you chose to do to be successful you have to do it one person and one step at a time."  Otherwise you just might trip. Her final comment was poignant in that she stated, "I spoke to you today and told my story not to impress you, but to impress upon you the importance of having a vision and not letting anyone tell you that it cant' be done.  I did it!"
Next up was THE Small Business Expert, Susan Solovic, moderating a panel on Investing for Women Leaders. Susan opened her panel by stating; "No woman should depend on anyone for personal wealth." Adriane Berg asked the audience to understand the value of money. Â It's not what your money can buy, but how much your money can buy. That juxtaposition is for you to understand that $1 in America can buy you a cup of coffee, yet that same $1 in the Dominican Republic can buy you $22 of product, making you ask, what is the value of my money and where should I spend it or invest it to get the highest return?
The ladies concluded with the advice that to invest wisely you must understand your qualifications. Take inventory of yourself.  Know what you are good at and do it.  However, what you know you are not good at, surround yourself with positive people who do know, and you will win.
                                 
After the investment panel, the focus switched to business leadership.  Joya Dass of NY1 moderated the panel. The panelists; Sue Malone, Gabrielle Boko, Mary Buchzeiger and Pernille Spiers-Lopez spoke about business and the lesson(s)  they learned through the school of hard knocks called, experience. Each woman expressed what she considered important for successful business leadership. Joya felt it's important to hire people with the same values. "I value reliability, SHOWING UP, and commitment to doing the best job possible, states Joya. It's part of the value system I bring to everything I do. I hold the people I hire to that standard as well."  Gabrielle expressed the importance of authenticity in anything you do. She explained,  "Women should always be looking for ways to help each other and build each other up…not in competition or tearing each other down. Women have to help other women succeed, not fail." Mary's valuable input was, "Don't buy into the work- life "balance" theory.  Sometimes one takes precedence over the other – it's just the way it goes.  There's never a true "balance."  Just be confident and comfortable in the decisions that you make!" Basically, women can have everything they want, just not all at the same time. Sue summed up the panel by saying you learn from your failures. They are the blueprint to success. Her impactful quote was, " I don't give any money to business owners who can't tell me about a time, they failed."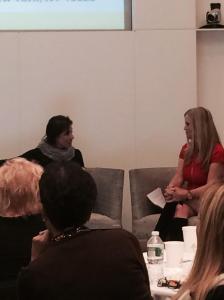 The afternoon conversation turned around with everyone learning that we can also learn from our young girls who are entrepreneurs.  Sue Matthews, as she received the coveted "2014 Mary Schmack Award," told a gut wrenching, tear flowing story of her daughter Taylor Matthews, who succumbed to cancer but not before launching her non-profit organization Tay-Bandz, which raises awareness and funding for Kids Cancer research. "Today is the only day a child with cancer has," explained Sue. "My daughter is my Shero. For 17 years she gave me love and inspiration that will last a lifetime."  Today the organization has raised over 1.5 million dollars for Pediatric Cancer research.  Some of the research they funded has extended the life of some patients who had only 3 months to live, to 5 years of life.  Other forms of cancer they have actually cured.  To help please donate to taybandz.wedid.it/donate/step_1
After lunch and a fun networking exercise, we were once again graced with the candid conversation of amazing women who personified success and empowerment. Moderated by Jane Hanson, Partner at Media Masters, and the 2014 Company Award Recipients, Lisa Oz, Loreen Arbus and Jane Gershon Weitzman. Each gave tips and quotes for all to remember.  Some of the most poignant were: "Tell what you need to upfront."  Women sometimes take 10 minutes to say something they could in 2 minutes. Less is more.  Another tip was, business  is growing what you love, but a hobby is just doing what you love.  You can love what you are doing until you can do what you love. Lisa Oz said, "Decisions made in fear don't allow you to see opportunities or seize the moment."  Jane Hanson said her big lesson was that the secret to business is to make people feel good. People do business with people they like; so share, be nice, appreciate, and  value relationships. The panel ended with the understanding and articulation that in business, make your priority personal and  professional growth; that perspective leads to success.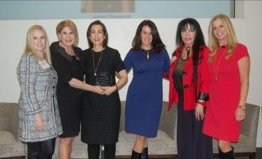 The last panel of the day was moderated by Susan Solovic. Carolyn Herfurth, Jean Criss, Alice March and Rachel Braun Scherl, who taught us the latest strategies and tactics for obtaining and sustaining a successful business. They spoke about how to multiply yourself through other people.  It's not delegation as much as it is appointing your team their destination of expertise. Also, that leadership begins with leading yourself. It's about being clear on your priorities and daring to live your truth- rather than doing what others think you "should" do.  Succinctly, the ideal/tactic is to think BIG and put your ideas into P-L-A-Y.
The day ended with a presentation from Judi Rosenthal on the art of personal branding. An excellent presentation that made it clear that the foundation of successful business, regardless of the industry,  is built on relationships.  The most valuable way to develop a solid relationship is to "Offer to be of service of a service you don't sell."  If you meet someone where they are and then make them feel good, they will follow you wherever you lead them.
As if all of the above was not reason enough to attend, I think the most compelling and differentiating factor of this conference from all the others I attended this year wasn't the panels or discussion, it was the price. For only $129 you can get knowledge and the opportunity to connect with women who are not trying to do anything, instead they are doing everything they put their minds to do. Women's Leadership Exchange celebrates womanhood- the potential, poise and professional possibilities woman have and can obtain with a dollar and a dream. Â Moore importantly, it's the exchange and the opportunity to connect with fellow sisters and the power of sisterhood. PEACE!
 By Ameliaismore
Photo Credit: Â Bronze Magazine & Jan Goldstoff