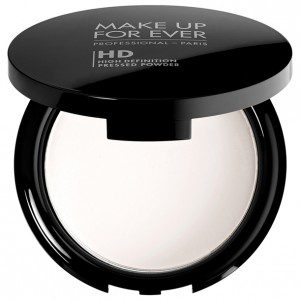 On a recent trip to Sephora I was suckered into trying Makeup Forever HD Powder. I had trusted all the reviews I watched and read regarding the ashy look a woman of color would get when using this powder. I just couldn't understand how a white powder could go on transparent. So I took the bait, but the good thing was they had a travel size available for half price. Due to everyone's obsession with loose powders, I chose to try it in the pressed powder form to see if there would be any difference.
I wore this powder over foundation, bb cream, and cc cream. For the first trial, I used a kabuki brush and applied it very lightly. All you need is a little; who wants to look like a cake face anyway? my face was oily and shiny by lunch. Even in photos the shine on my face was still there. On the next go around I decided to apply the powder a little heavier. It went on white and ashy like I thought, and after blending it for days, it was bearable yet still didn't give a flawless, pore less, and photo ready finish.
Whether the powder is white or yellow-based, you will have an ashy look to your skin if it isn't applied lightly. Finding a powder with your undertone is the best bet. The more ebony bronzed you are the least likely an HD powder will work for you.
by Rosalyn Robinson