By: Tiffany Chisholm @waywardtiff
Rihanna is a goddess of style. Fashion is not only about what one wears, but also about how your wear it. Rihanna is everything and more when it comes to fashion. She has no boundaries and breaks every rule when it comes to her clothing choices and style preferences.
She won the first-ever Council of Fashion Designers of America (CDFA) Fashion Icon Award in 2014, and in her acceptance speech stated that the rules of fashion were meant to be broken; and she lives up to her word every time. She also stated that fashion has always been her defense mechanism, emphasizing, "She can beat me, but she can never beat my outfit."
SHE LOOKS PRETTY IN PINK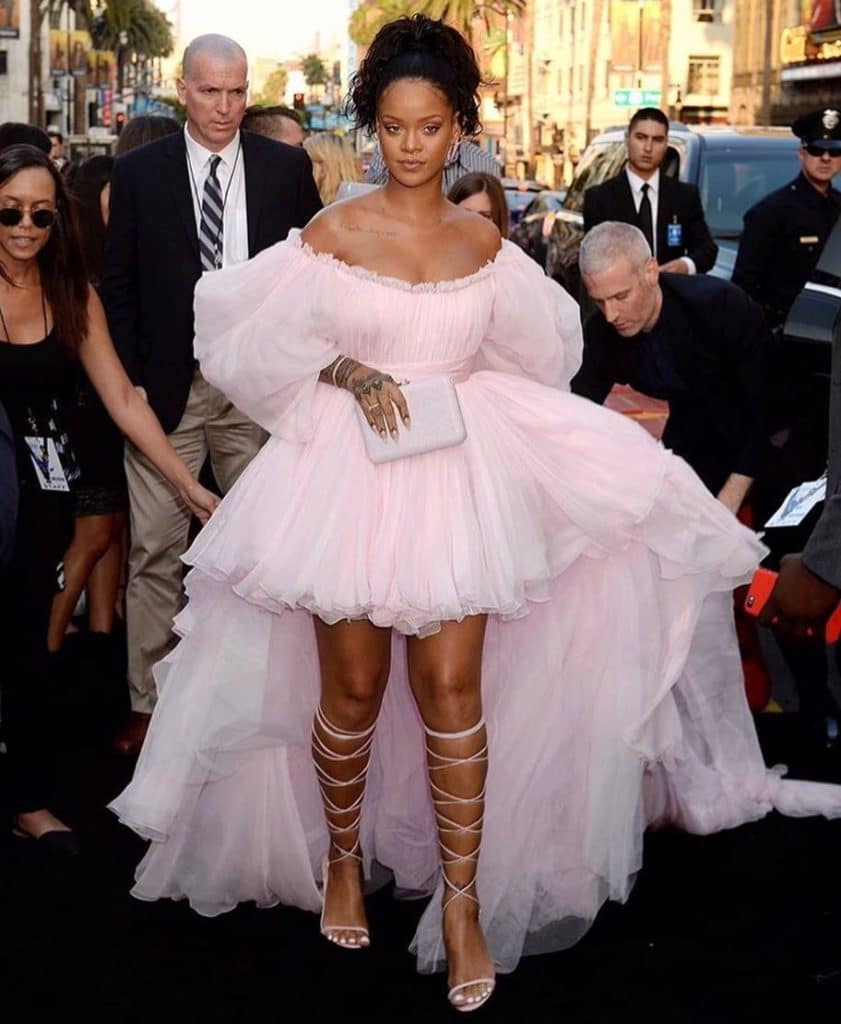 SHE SLAYS RED CARPETS
RiRi makes anything look good. Over the years, she has worn so many fabulous red carpet looks, including the time she wore a chic black Stella McCartney tuxedo jacket as a dress to the British Fashion Awards. She still rocked the look! and although some of her outfits and looks (gothic, elegant, risqué, princess- you name it, she's probably done it) have been risky, she wears them anyway because she is that confident in her style choices.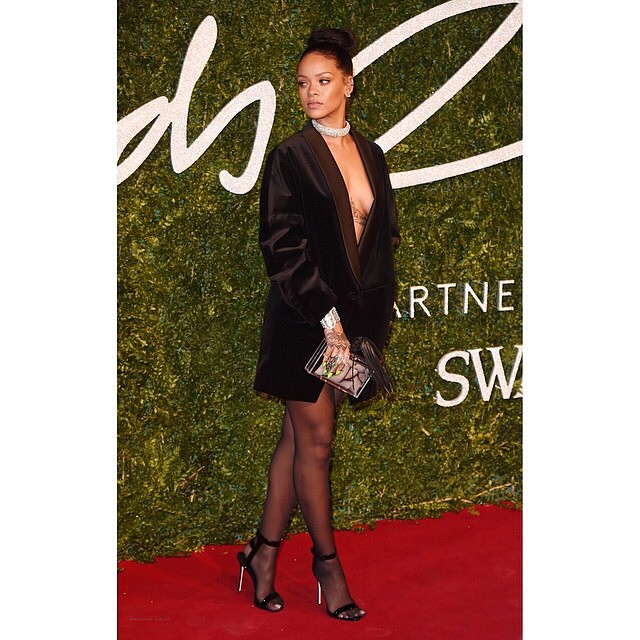 SHE OWNS MET GALA EVENTS
Rihanna is Queen when it comes to red carpets, but she owns it when it comes to the Met Gala annual fashion event. In 2015, the theme was 'China: Through The Looking Glass' and Rihanna outdid herself wearing a massive Canary Yellow Gown. She 'hands down' stole the show. She was the only celebrity on the red carpet who wore a couture outfit that was authentically made and designed by a Chinese designer, Guo Pei. The embroidered dress had fur trimmings and a huge train that required assistance from security as she climbed the steps. Her ensemble caused such a stir on the internet, and even spurred various memes, but that didn't stop RiRi. Hers is still one the most iconic dresses to ever grace a Met Gala red carpet, and her dramatic entrance is still one for the books. She skipped the 2016 Gala because she was on tour. Needless to say, Rihanna might be a sucker for a theme. You name it, and you best believe that she will slay whenever and wherever her presence is requested.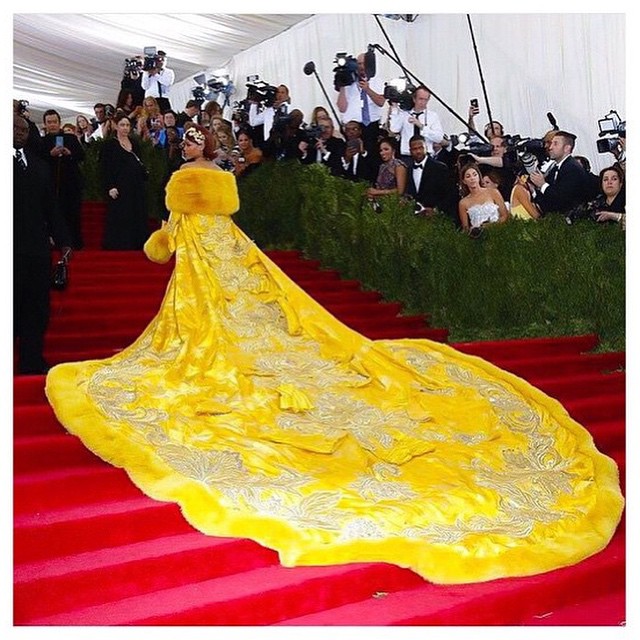 Her effortless entrance at the 2017 Met Gala was no different. The theme was Rei Kawakubo/ Commes des Garçons: Art of the In-Between, and yet again she slayed. Again, she was one of the few celebrities on the red carpet who adhered to the theme. She wore a floral costume by Comme des Garçons paired with thigh high strappy red heels and a high bun with bangs. It was avant-garde, but if we reflect on her fashion history, we can expect no less of her.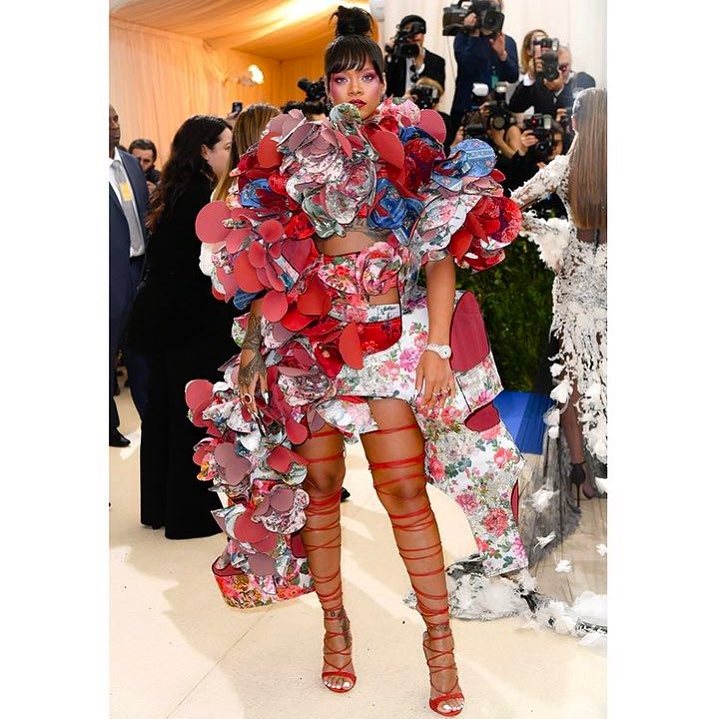 SHE DECIDES WHAT'S PRETTY/UGLY AND FASHIONABLE
Rihanna has a tendency to show the world what is fashionable. She decides what is not ugly, despite an article of clothing being deemed so by the media or consumers. Her boldness and confidence encourages people to be comfortable with their bodies and wear whatever makes them happy.  She can wear something outdated, which would be considered a fashion faux pas for anyone else, yet when Rihanna wears it, she slays the game and makes the old, new. Who can rock a big pink, poufy Giambattista Valli princess dress on a red carpet knowing that she would cause triple takes, but feels confident enough to rock it anyway? Rihanna. Yes she did, at the 2015 Grammy Awards and the gown instantly became an internet sensation, much like its model. The point is… Rihanna wears what's comfortable to her, no matter how risqué or avant-garde the look might seem.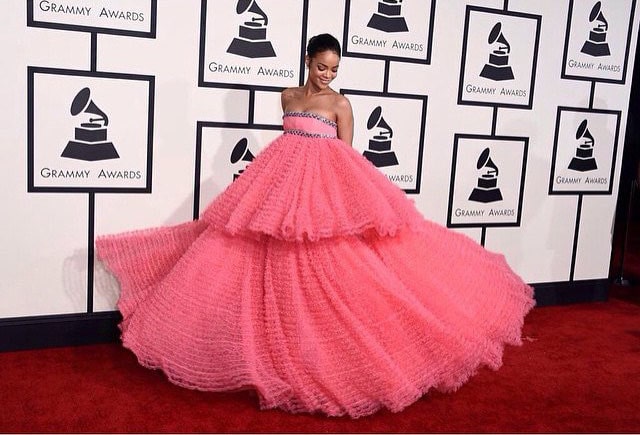 SHE LIVES TO SLAY, and she does it with oh, so, little effort…
 No need to exaggerate this point. A picture is worth a thousand words. Just look at her.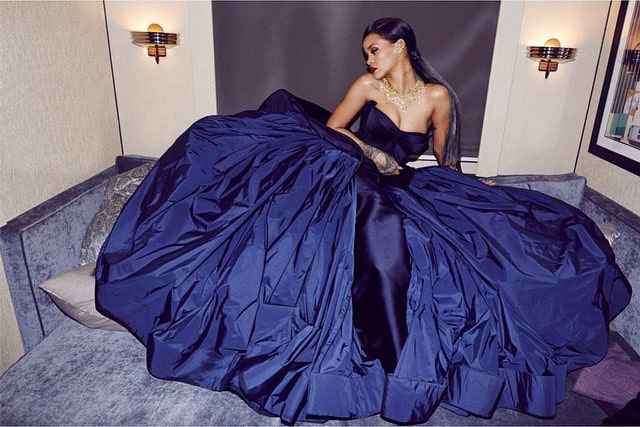 HER SHOE GAME IS HELLA STRONG
Ri's shoe game has been questionable in the past, but she wears her products and watches the public gradually adapt to her style. When she first wore her Fenty Puma Sneaker Heels, people were left curious, and she joined in on the fun until the shoe line was released to the public at a later date and everyone wanted to be in trend with Rihanna.
She has ventures with Puma and Manolo Blahnik, but other than her collaborations she wears shoes from multiple designers and companies and she makes everyone want to improve their shoe game. Below she is wearing the 'Poison Ivy' made with emerald green stones from her latest collaboration with Manolo Blahnik for the 'SO STONED' Collection.
SHE REPRESENTS HER CULTURE
Rihanna is an icon for black women and women overall. Being a girl from the left-side of a really tiny island, one would probably not expect much from her, but time and again she continues to steer the fashion industry with her Caribbean style. She looks great in dreadlocks and Rastafarian colors. She embodies what it means to be a Caribbean queen in every way. As a Caribbean girl myself, she is a great example for me, and a step towards embracing my culture even more than I already do.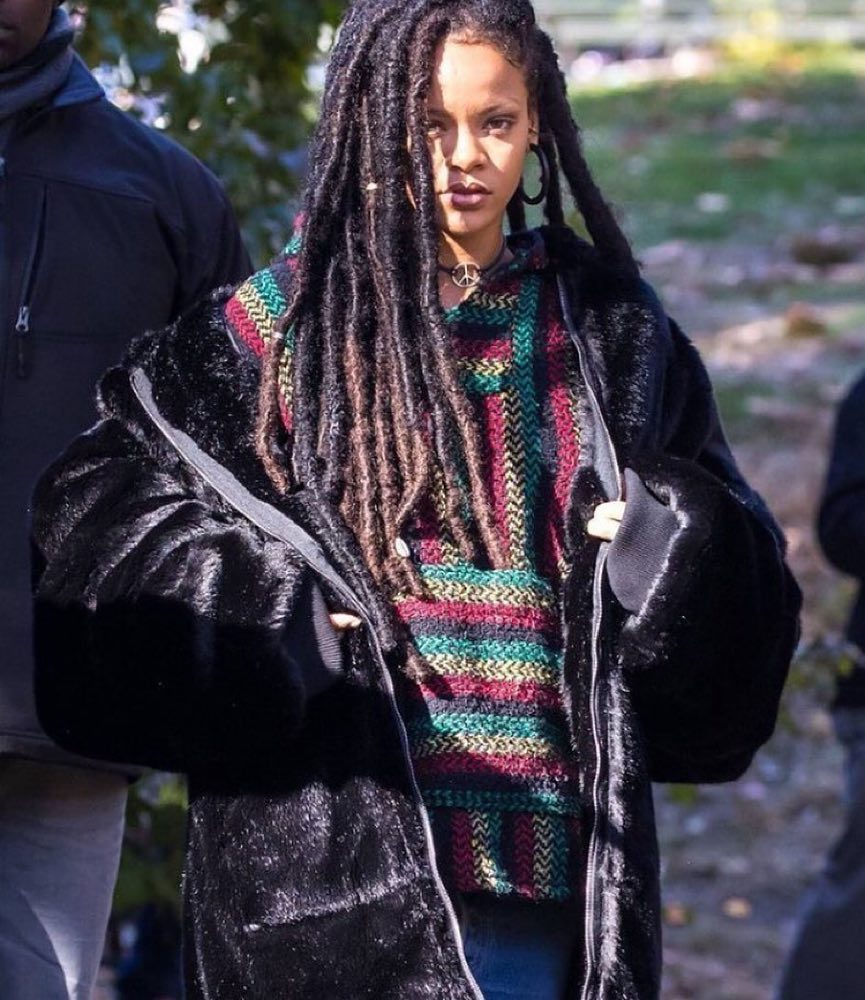 SHE DONS DARING OUTFITS
Rihanna wears double denim like it's nobody's business. Wearing double denim can be quite a dangerous fashion choice for most, but she made it look like eating a piece of cake. The open-legged denim pants and matching jacket that she wore to Coachella this year is how one easily dons a double denim look.
Let us also not forget that she turned up the heat when she was accepting her Fashion Icon Award at the aforementioned 2014 CDFA'S. She wore a see-through gown by Adam Selman, made entirely of over 230,000 crystals and a sequin headpiece.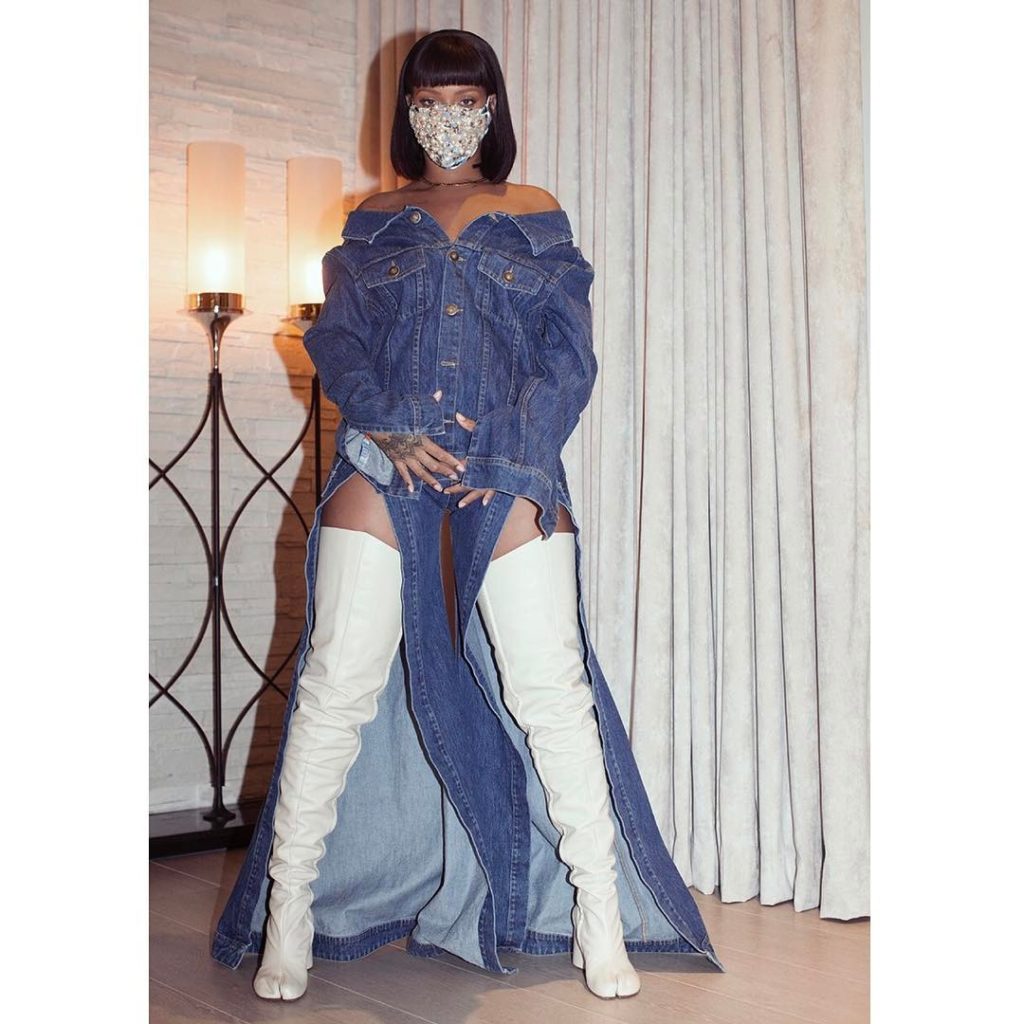 WHEN HAS SHE NEVER LOOKED GOOD?
She appeared on a red carpet wearing her hair wrapped in bobby pins with no care in the world and the photo below shows her in Chinese bumps/ Bantu knots, which was a fashion forward look at the time. More than likely, if Black girls sported this look they would probably have been called 'ratchet' or 'ghetto,' but Rihanna clearly put it out there that this is a part of my culture, it's my hair, I look good, and I feel good, so I am going to do whatever I want. And so, she did. #BlackGirlMagic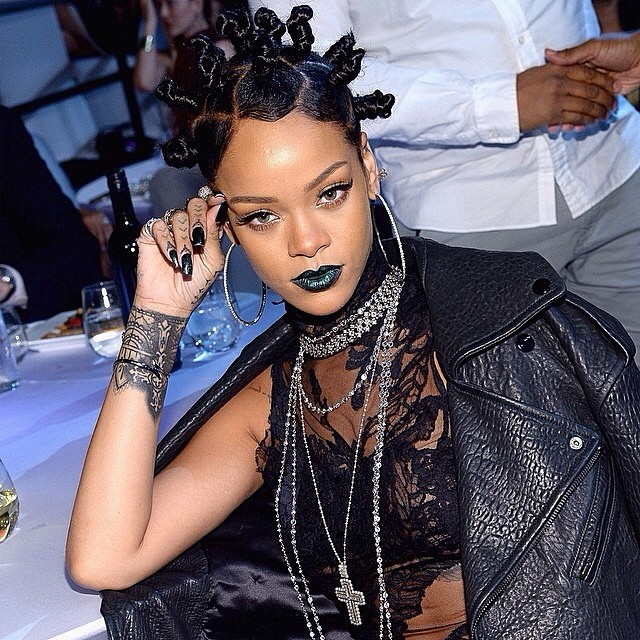 I always tell people, "This is a Rihanna world we are all living in. Everyone wants to be like Rihanna, but Rihanna is just for Rihanna," but it doesn't mean that we can't model our fashion aspirations and inspiration from her. She makes her own rules and struts her stuff, whether you like it or not (if people don't like her look at a certain time, they eventually catch up at a later date). If you ever want to start a conversation and turn heads without meaning to do so, consult Rihanna's lookbook (the internet and her Instagram account has much to offer).
Does Rihanna inspire you to cross any fashion lines?
* All photos courtesy of Rihanna's Instagram account.