Feature Image courtesy of Kuba Cabana
What's better than a delicious meal inspired by the world's different cultures? We couldn't think of anything either, so we are taking our Bronze Beauties on a trip around the globe. Leave the passports at home for this one, though. South Florida is a melting pot of music, languages and food. Hungry yet? Fasten those seatbelts and get ready for takeoff. We are headed on the ultimate foodie trip.
90 Miles to the South
First up? A trip to Cuba. Dieuveny "DJ" Jean Louis and David Garretson are the masterminds behind Kuba Cabana, which brings Latin and Caribbean influences to CityPlace in Doral. Dine in a classic Cuban atmosphere surrounded by lush foliage and a very photo-worthy vintage red car. Dine on the outdoor patio for brunch on Sundays from 12-4 p.m. with a mango pineapple sauce-topped waffle or seafood paella with the best from under the sea including lobster, octopus, shrimp and more. Pair it with bottomless mimosas and bloody marys.
8300 NW 36th Street, Doral, 305-800-5822
The Land of the Rising Sun
Pan-Asian meets Latin American favorites at Casa Sensei. Dine on the waterfront patios – where pups are welcome – for brunch or happy hour, or take a riverfront gondola ride through the restaurant's partnership with Riverfront Gondola Tours. Sip on the Rock N Roll Mojitarita at brunch, share a sangria pitcher with the table at dinner or try one of the many Sake options for a taste of Japan. Between the Dim Sum, General Tsao Chicken Bites, Tostones with creamy chimichurri, or the Tokyo Tuna Tower with spicy mayo and avocado, there is plenty to choose from. Looking for the ultimate experience? Owners Victor and Patricia Diaz also bring diners the 1 Million Dollar Sushi Roll, which brings together lobster, scallops, seared foie gras, truffle butter drizzle and Russian caviar, topped with actual flakes of 23 karat gold.
1200 E Las Olas Blvd., #101, Fort Lauderdale, 954-530-4176
Bon Appétit
Time for a sweet treat on our layover at Café des Fleurs at the Lincoln Eatery. Brought to life by Nahomie Jean Louis, the boutique bakery brings a pop of color, flower power and oh-so buttery croissants to the beach. Nibble on those classic French bites, including macarons, a savory spinach quiche or other treats made fresh every morning with authentic jams, oils and herbs. 
723 N Lincoln Lane, Miami Beach, 305-423-2054
Mediterranean Munching
In the mood for tapas? Also brought to life by Jean Louis and Garretson is Heaven Mykonos, a Mediterranean-themed restaurant with all of the dips, flatbreads and apps to choose from. Stop in for happy hour and sip on wine, champagne and signature cocktails on weekdays. Enjoy an extended brunch on Sundays with a soaked brioche French toast or Mediterranean sofrito with feta. Looking for charcuterie? Nibble on the chorizo Iberico, or a prosciutto and mozzarella flatbread with truffle. Still have room? Dessert is calling! Check out the pistachio baklava.
8300 NW 36th Street, Doral, 305-043-2836
A Tropical Escape
Reel in a meal while down at The Lincoln Eatery with a visit to C Food Shack. Here, diners are treated to a "floribbean" style meal, a term coined by Chef Laron Culmer to describe his fusion between Bahamian and Caribbean. From fried chicken to grouper, to doubles curry chickpea pita or a three-cheese mac, there is no shortage of island bites to choose from. Brunch starts at 10 a.m. Friday to Sunday. Get a taste of the islands with the spiced chicken and coconut waffle.
723 N Lincoln Lane, Miami Beach, 786-526-7205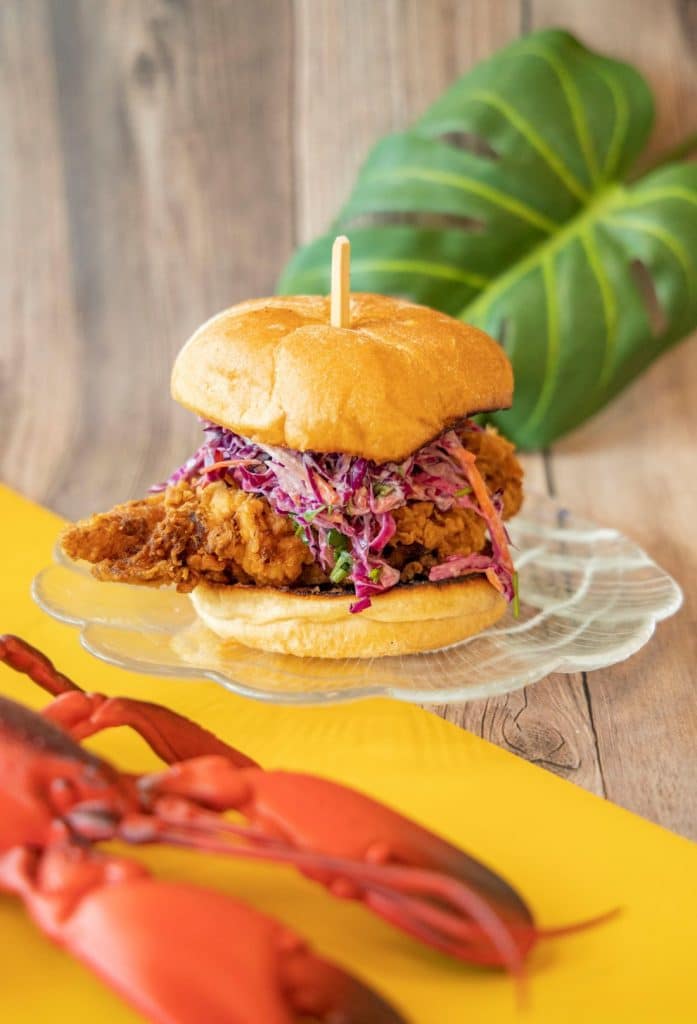 The Best of Three Worlds
Our last stop brings us a blend from flavors influenced by Asian, Polynesian and Caribbean cultures. Inside the THesis Hotel is Mamey, brought to us by James Beard nominee, Chef Niven Patel. Fruit, veggies and herbs straight from Chef Patel's farm, Rancho Patel, are featured on the menu along with White Truffle and Brie Grilled Cheese, Peri Peri Chicken with Okinawa Sweet Potato Mash and Broccoli or Trini Spiced Cauliflower. Cool off with a Jerk Margarita and finish the meal off with Jamaican Rum Cake for dessert. Looking for lighter bites? Check out the third floor rooftop terrace for small plates, drinks and live music daily. Stay tuned for the opening of Chef Patel's second eatery at THesis opening in September. The menu combines modern American, steakhouse and high-end seafood signature creations like the Iberico Pork Pluma and Mishima Ranch Skirt Steak.
1350 S. Dixie Highway, Coral Gables, 305-266-2639