By Amelia "Ameliaismore" Moore
Passion is something that creates drive in all of us. What happens when you turn your passion into a business? In the case of Genevieve and Michel you have a new handbag line called; Laurent & Altieri.
There is a lot to be said of following your passion and this dynamic duo took their passion and turned it into profit. Only one year old, Genevieve Laurent and Michel Altieri have managed to make their company and line of handbags the one to watch.
What makes this story and line even more compelling is how they did it. Â No, they did not have millions of dollars to pour into billboards, radio advertisement and magazine ads. Instead their marketing tools of choice are Dropbox, Networking events, Facebook and Instagram as per their discussion with fashion blogger; LadyBossBlogger.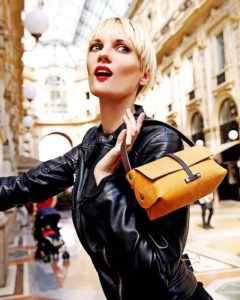 Young and driven Genevieve is currently a pharmacist at Memorial Sloan Kettering Cancer Center in New York City. While her partner Michel Alteri is a French-Italian actor, singer and musician who performs in musical theater, film and television internationally. Together they founded their company in 2016.
Laurent & Altieri handbags are made of the highest quality, with a professional and trendy look perfect for everyday use as well as evening affairs. Their handbags feature original styling from Florence, Italy, and have the appearance, elegance and style that have traditionally distinguished Italian leather makers from the rest of their competitors. However, it was their ability to fill a void within the fashion industry by creating practical handbags for professional women that grew their popularity as the company to watch. Maybe that is the reason why they have over ten thousand followers and likes within one year of their launch without major marketing like their competitors.
Whatever the reason, we felt our Bronze Beauties should know (if they don't already) about the new bag on the block. Handmade and beautifully crafted, these bags are a fashion statement all its own. Take a look for yourself go to http://laurentaltieri.com