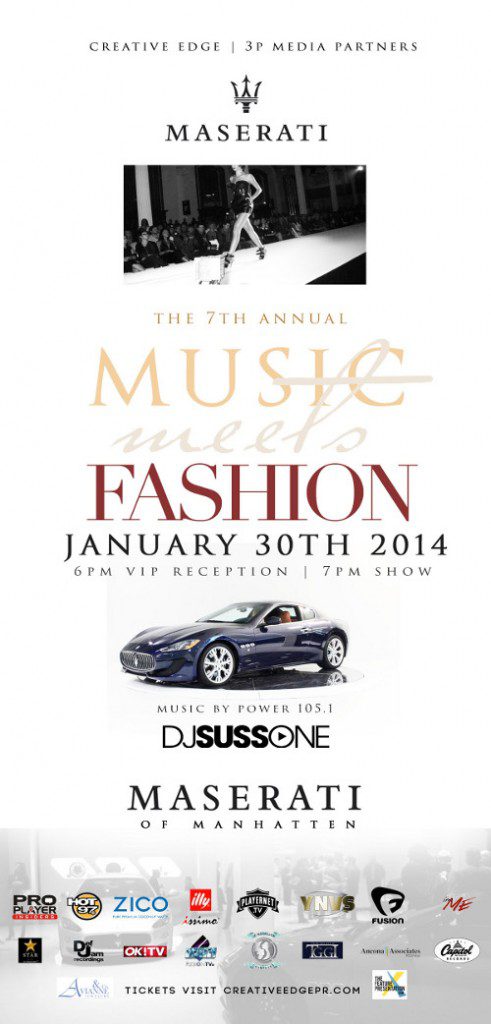 Celebrities get together to benefit an organization that is building a family-style village in Haiti that will house orphan children.
The Creative Edge Public Relations firm will hosts its 7th Annual "Where Music Meets Couture"showcase, in conjunction with 3PMedia Partners.  The affair will be hosted at the Maserati of Manhattan Showroom, Thursday, January 30, 2014, 7pm to 10pm.  The event will include top global designers and entertainment from prolific artists in urban music.  This year's event will include mega-watt celebrity appearances, a fashion runway show, designer showcase and, for V.I.P. patrons, a private luxury gifting suite and cocktail hour.
As a tribute to New York City, the fashion capital of the world, the firm has partnered with a few of the best emerging designers to present looks via a 5th Avenue-inspired runway show: Vampire Life (Jim Jones' collection), Members Club Clothing, Frigo Revolution Wear, Edwing D'Angelo, Pink+Dolphin, Laposhe Swimwear, Daniel Sudar, RL52 (Ray Lewis' collection), Layana Aguilar ofProject Runway (Season 11) and Jacob Meir of For the Stars Fashion House. 
Professional NFL athletes will walk the runway, including San Francisco 49ers' NaVorro Bowman andChris Culliver; New York Jets' David Nelson and Darrin Walls; New York Giants' Louis Murphy,Ramses Barden and Charles James; Cleveland Browns' TJ Ward; North Carolina Panthers' Thomas Davis; St. Louis Rams' Lance Kendricks, Rodney McLeod and Austin Pettis; pro-bowler Visanthe Shiancoe; and former pros Ray Lewis, Robert Griffith, and Jevon Kearse.  Celebrity models confirmed to strut on the catwalk include rapper Jim Jones; Hollywood Exes (VH-1) reality star/Supermodel, Nicole Murphy; Amazing Race winner, Jason Case; Ralph Lauren model, Anthony Gallo; and sports brand model, Paul Arthur. Special guests will include Ms. Latina International, Ms. International World Organization and Recording Artist/Philanthropist, Christina Fulton.
The i'mME Foundation will proudly serve as the Charity Sponsor for the event.  i'mME, a non-profit faith-based organization, was co-founded by David Nelson and brothers, Daniel and Patrick.  The Nelson brothers' mission is to build a family-style village in Haiti that will house orphan children.  A portion of event proceeds will benefit the i'mME Foundation.  For more information, visit imme.org.
A host of top-tier corporations are confirmed as event sponsors: Maserati of Manhattan, Blackberry, Avianne Jewelers, Google, Zirh Skin Care, Star Vodka, Book-A-Tailor, Carnivor, Billionaires Row and Red Bull.  Esquire TV, OK! TV, Fusion Network, Player Net and Pro Player Insiders are confirmed as media partners.
Model Chavis Aaron will rock the red carpet as the event's correspondent.  David McIntosh and Model/Actress Metisha Larocca will serve as the event's hosts.  David is a British TV personality, Actor, Model and Fitness Expert, who has appeared on Gladiators, the UK version of American Gladiators.  Metisha is a German-born model who has hosted television shows and has graced the cover of Maxim.  Marco Glorious Khare, audience producer for The Wendy Williams Show, will host the after party.  DJ Suss One will serve as the event's in-house disc jockey.
For a glimpse of what's in store:Â http://www.youtube.com/watch?v=EK7u3qnv7oI