By Brianna Bush
Health and wellness expert Kevia Jones lives by this statement: "When it comes to beauty, when it comes to wellness, when it comes to health, there's no certain way that it needs to look — it only needs to be healthy." Jones has gone through her own personal journey after surviving a battle with mental illness and transforming her life through mindfulness and living intentionally. Her journey didn't stop there; she went on to create The Executive Sweet, a high-performance luxury body and skincare line that is helping others on their wellness journey.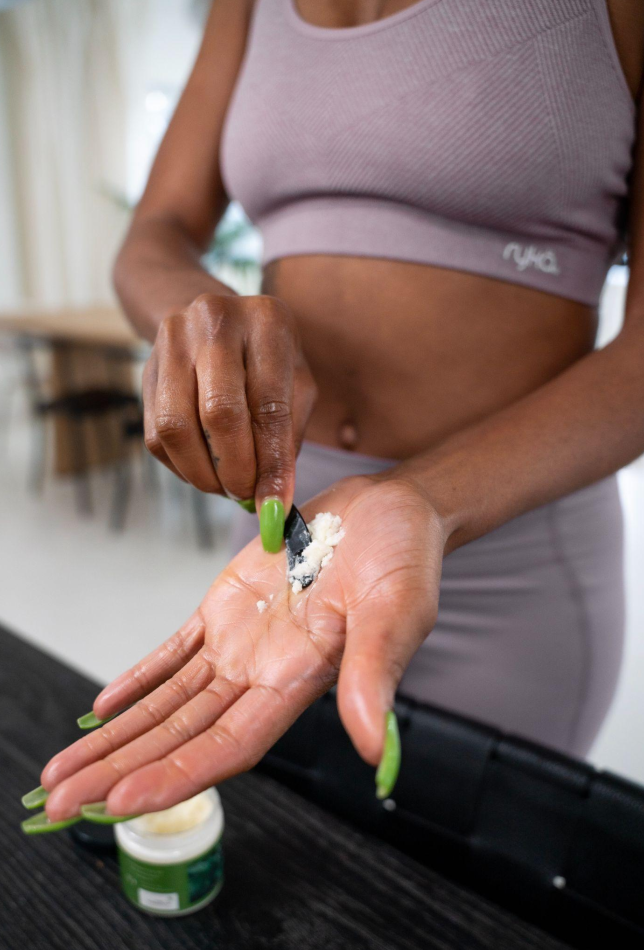 When curating the line, what was the primary goal and focus for the products?
My main goal was to encourage people to seek other alternative options when caring for themselves physically and mentally and inspire them to embody the body that they live in. It's always important to know what you're putting into your body. It helps to maintain and fine tune the relationship that you have with yourself, not just mentally, but also physically.
What is your personal connection to the line?
I'm a survivor of mental illness. I've dealt with severe anxiety, bipolar disorder, PTSD, you name it. At one point I was taking so many different prescribed medications to help regulate and maintain all that. And what I realized over the course of time, and so many failed attempts with these prescription pills, was that if I could change the way I approached my day-to-day, the smaller things, the way that I think of myself, the way that I loved on myself, that ultimately, I could see some sort of change.
And it started with the smallest and first product, a candle, which always created a space of calmness for me. And from there, it just allowed me to be more intentional with what the next product would be. So, the products have played a huge role in my healing journey over the past several years. And once I saw how much of a difference they made, I was convinced other people could really use these products, and I ended up falling in love with them and it became a lifestyle.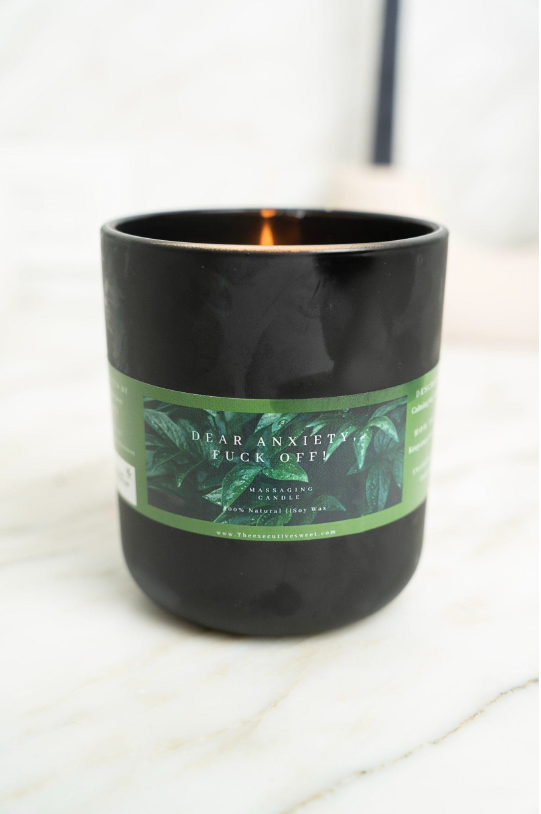 What makes a product a daily essential?
There's a necessity. Each product has its own ability to make the day a little bit easier to reinforce intention into one's day to day. That ultimately changes how I show up for myself, how I show up for my business, how I can show up for others, and the capacity that I have to endure other people throughout the day. For example, with the body butter, I take that extra two to three minutes in the morning to truly moisturize myself from head to toe. It makes a difference in how my body feels, and it also makes a difference in how my body shows up for me.
What are the benefits of the "Roll Up, pain relief oil?"
When I first started trying to manage and take back control over my anxiety, the "Roll Up" was kind of that landmark that brought me back to the present. It not only releases tension and tightness in your muscles and throughout your body, but it also can bring back your full awareness to the present moment. And that's due to the different custom blend of oils. It allows me to pause for a moment; that moment for reset, replay, and then carry on with the day.
It's a product that I keep in my purse and in my car, especially when I'm traveling or for my busy day to day. It's for those moments where you need to take a deep breath and then carry on after that. Most people love the "Roll Up" because of how quickly it goes into effect. It's not called 'instant' just because it sounds good. The moment that you use it, you can feel the effects that it has over you, you can feel it calming your nervous system, you can feel it requiring you and demanding you to take a deep breath – and to just reset. I don't think we do that enough.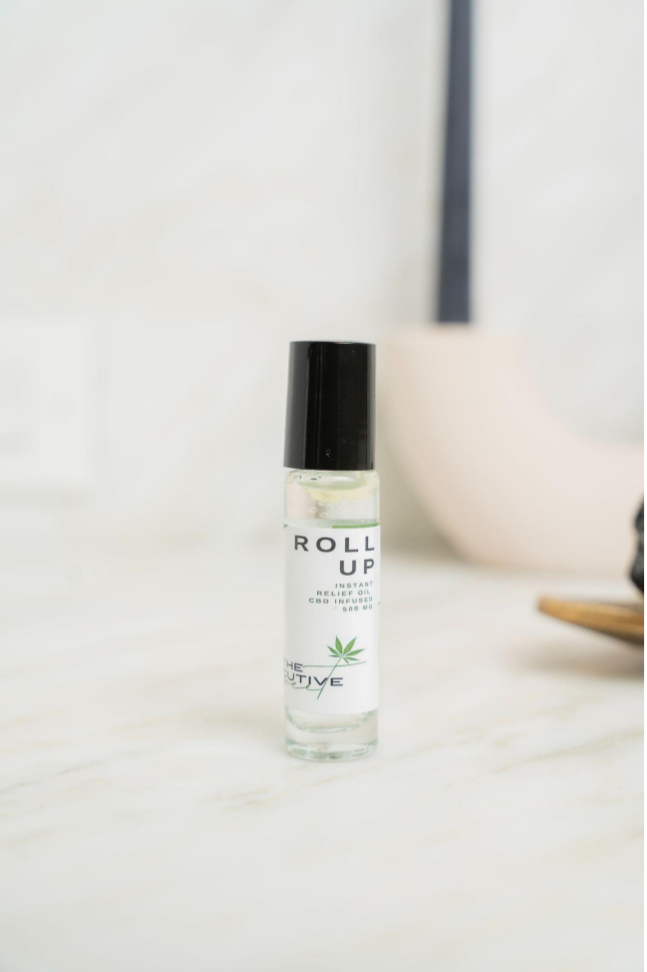 When did your passion for health and wellness start?
So, it wasn't always something I was passionate about. I was very unaware of the information and resources that were out there and available to me. It came about at a time that I was really battling with mental illness. I was taking too much of all the prescription medication. I was admitted into an institution for my mental health, and I couldn't figure out why I was there for something that could be managed and controlled with the right tools and resources.
It took being introduced to yoga and meditation and other different alternatives like CBD and Hemp to really understand the benefits of those things to say, "Okay, I'm willing to give this a try." I began to see my life change from what it had gotten accustomed to. I went on to become a yoga instructor and I went to school to study cannabis. Then I said, "okay, we're doing it." And I haven't looked back.
What are some beauty habits you swear by?
It kind of sounds so cliché, but the number one thing is water. Another is getting enough rest, which plays a really big role in beauty and skincare maintenance. Managing levels of stress plays a huge role as I do believe our bodies keep score. The less stressing, the tighter and brighter our skin will be. I also swear by fruits and veggies, and I believe it's important to know what's in the products I use.
What are some closing thoughts you would like our readers to know?
I'll start with skin. There's no perfect person that you can point out and use as an example of what your skin should look like — your skin should be healthy. The same as when it comes to your mental health and wellness. There is no blueprint of what that should look like. It's about what works for you, on your day to day. It's also about being open to taking a different approach, knowing that it's your responsibility to manage your mental health and wellness. Whether that's from creating boundaries or holding yourself accountable or doing different activities that allows you to explore those different options and making the smallest changes in your day to day just to improve your overall wellness.
I would also say to love on yourself more — really do an analysis on yourself. The more you check in with you, the more you have to pour out to others. And it's a lifestyle. It's not a place of arrival when it comes to your skincare, your mental health, your wellness. It's something that requires your continuous maintenance. It'll be exactly what you allow it to be. And I think that's something people should take into consideration, if you're not being intentional about your skin goals, physical health, and your mental health and well-being, then it'll be exactly what you allow it to be.