Photos: Jasmine Durhal
You may know him as the charismatic and funny uncle on Family Reunion, and even in a few short films that made it clear his leap of faith to Los Angeles was God leading him directly into his destiny; but Warren Burke shines in Dead for A Dollar, in ways that many actors of color have to wait years to do so. The latest film from acclaimed writer/director Walter Hill is Burke's debut leading role and he's taking no prisoners.
Warren sat down to chat with Bronze Magazine about his journey growing up in Chicago, being the son of an immigrant father, how he handles dark days and what working with two of Hollywood's legends meant for him.
Mya Kay: I saw a blog post on your website from 2020. You talked about how you were having a rough day and how you owned the sadness that you were experiencing. I have a saying that sometimes, we have to sit in our humanity before we reach for our humanity. What does that look like for you?
Warren Burke: It can be dark at times. I equate it to working out. When we go to the gym and pick up that dumbbell, we know that it's going to hurt. But I know what the results will be once I'm done. When I have those dark moments, I think about how if this is what pain looks like, then the joy that's coming is going to be epic. I ask God to give me the serenity to find the joy instead of harping on all the pain. Sometimes, we can always think, "Oh, the pain, the pain, the pain," but if we can focus on the joy that comes with all of it, we can see the good in every situation.
MK: As a man of color with a lead role in a Western film, did you find that you were lifted up on this production by the people who don't look like you, such as Willem Dafoe, Benjamin Bratt and Christoph Waltz?
WB: Yes, absolutely. Walter Hill is probably one of the best men I've ever worked with. All of them were class act men and they made sure that I was not only comfortable, but that I understood everything. They were so transparent. We were filming on a ranch and there was about a four-minute drive to the base camp. We shot on the exact same set as The Harder They Fall was filmed. As the main cast, we all had transportation to and from the set and we would get a ride to set. But Christoph Waltz wanted to walk, from base camp to set, which was about a mile, and he walked to and from every day. So, one day, I decided to walk with him. Even when it was 102 degrees, I walked with him with my makeup dripping, but during those walks, he's talking to me about everything. I found out we were both Libras and we talked about family and life. He was so authentic and so real. One piece of advice he gave me is to stay true to myself no matter what, because it'll make everything easier.
MK: Let's discuss your role as Sergeant Poe and how you prepared for it. What was the most challenging and what was the most rewarding aspects of it?
WB: The most challenging was, there was kind of this identity struggle, because Sergeant Poe is constantly being called a Sergeant, but he only wears a uniform a few times in the movie and other times he's in regular outerwear. There was kind of this humor trying to balance the two, knowing that I had to focus on staying true to what a military man was like in 1897. When you throw in Rachel's character, I felt like Walter's vision met both of his agendas head on. Here it is, a woman could stand on her own two feet during this time, and then, the African American element of it, with my character having a gun, and even being able to speak to a white woman during those times, was an interesting dichotomy. They both have this sort of power, but I still have to play true to the time where I don't want to get lynched or hurt. So, the balance of all of that was challenging at times.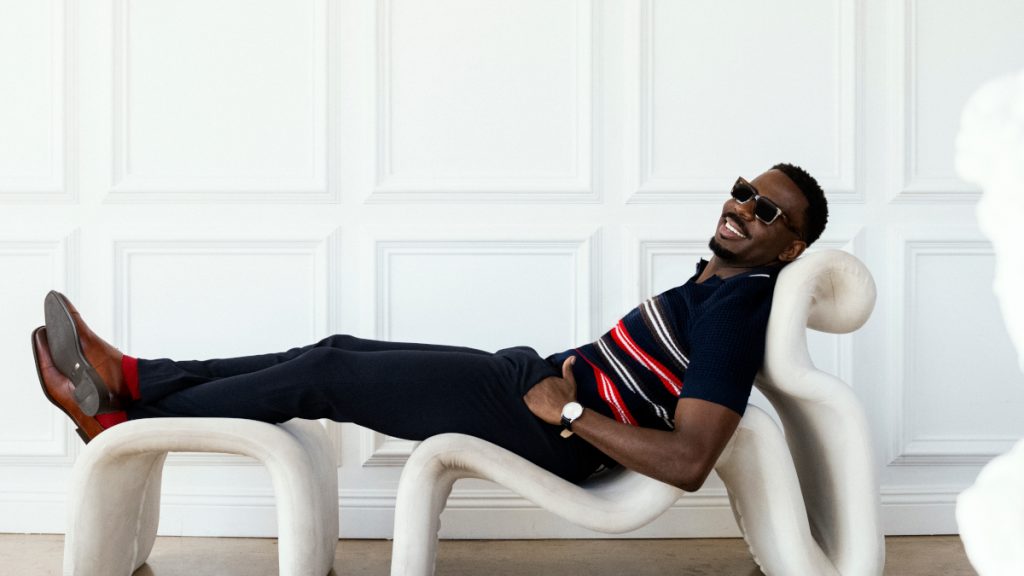 MK: What is the one thing you would want the aspiring actor of color behind you, or a young boy of color period, to get from this movie?
WB: Dream bigger. You have to go to space. The more specific you are, the better. You have to say you want to be the President or an astronaut. You have to say I want to be better than Elon or better than Kanye. It's not about being braggadocious, but it's about ownership. It's in ownership of knowing that you deserve the highest role in the world. Even seeing a black man of power in a Western film next to Christoph Waltz and Willem Defoe, you have to go for it all. You can't give yourself any type of excuse. That 'but' that always comes up, if you don't talk to that 'but' right now, you'll always make excuses.
MK: What is your dream role or dream series role? Who is your dream person to work alongside of?
Side note: Just so you guys know, Warren started to sing Love T.K.O. and I was trying to guess the name of the person who sings the song.
WB: I know the energy I give off is very much leading man, and I believe we all deserve to sit at the table at some point, so when I think of dream roles, who knows, tomorrow, I could be a black Dick Tracy. But ultimately, my dream role would be to play Teddy in his biopic.
MK: How has the trauma of your childhood prepared you for the beauty of your destiny?
WB: It has allowed me to withstand a lifestyle like this. My father is Jamaican, and my mother is from Mississippi. They're both doctors and I have three younger sisters. Two of my sisters are doctors and my middle sister is a nurse. Everyone is in the medical field except me. So, there's the element of being a black sheep that I dealt with. Things did get a little rough with my father, but I understood that he was an immigrant father that had a different idea of success than I had. He worked hard to provide for his family, but I saw success differently. When I was a teenager, I think I felt it the most. I resorted to being a comedy class clown and ironically, October is such a triggering month for me because I was always grounded during this month. Ultimately, I had to be okay being different and accept my oddness. I realized that what made me different were just little seeds being planted along the way for who I would stand in front of today. My gifts weren't for the five people, but maybe for the 5,000 that get to see me perform.
MK: Any final words about the film or advice you want to give to young black men? I mean, you and I made it out of the hood right, and we have other successful people who did the same, but not everyone is going to have these opportunities.
WB: The key component to being a creator is to create. You have to create the narrative right now. Any type of representation that you attach yourself to, find a way to create that for yourself now. Moving forward, there are going to be tons of times where you're not good enough or you're not ready. Every point of the way they're going to try you. From your headshot all the way to your starring role, you have to own your character and be okay with who you're becoming and creating.
Dead for A Dollar in out in theaters and is also available to rent On Demand. Follow Warren on Instagram @warrenslburke and keep up with his moves at www.warrenburke.com.