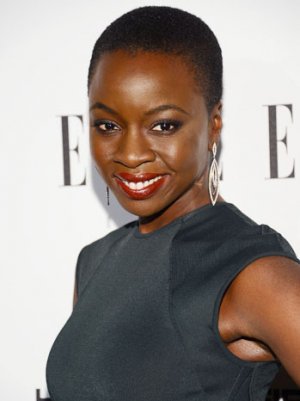 Zimbabwean actress and playwright Danai Gurira has recently been cast in the Tupac Shakur biopic "All Eyez on Me," as Tupac's mother, Afeni Shakur. Gurira is best known for her role as Michonne on AMC's gritty horror series "The Walking Dead." The highly anticipated film is currently shooting in Atlanta with newcomer Demetrius Shipp, Jr. portraying the rap legend and Jamal "Gravy" Woolard reprising his role as the Notorious B.I.G. The movie also went through multiple changes with directors, beginning with Carl Franklin and John Singleton. Veteran music video/commercial director Benny Boom is now helming the project. The title "All Eyez on Me" comes from Shakur's 1996 fourth studio album by the same name.
The film will chronicle Tupac's personal life, rise to superstardom as a hip-hop artist and actor, his imprisonment on charges for sexual assault, his time at the now defunct label Death Row Records, involvement in the East Coast-West Coast rap war, and his tragic death. A release date has yet to be announced. Shakur was struck multiple times on September 7, 1996 in a drive-by shooting in Las Vegas. He passed away six days later at the University Medical Center of Southern Nevada. Shakur has sold more than 75 million albums worldwide and is consistently ranked as one of the most influential rappers of all time.
The movie is being backed by James G. Robinson and David Robinson of Morgan Creek Productions, along with LT Hutton. Afeni Shakur is a political activist and former member of the Black Panthers. In 2009, Ms. Shakur and Morgan Creek fought for creative control over the project; the legal dispute has since been resolved. Afeni Shakur is now an executive producer on the film. Ms. Shakur also founded the Tupac Amaru Shakur Foundation (or TASF) and manages her son's $40 million estate.
Gurira's other television credits include "Treme" and "Law & Order" and her film credits include "The Visitor," "Ghost Town," "My Soul to Take" and "Mother of George." She's also done voiceover work in the animated feature, "Tinker Bell and the Legend of the NeverBeast." Gurira's most recent project was penning the sold-out drama "Eclipsed," which stars Lupita Nyong'o and is making its Broadway debut in March (previews begin Feb 23rd). She also has another play, "Familiar," in the works, which will premiere off-Broadway in the coming months. Gurira co-founded the nonprofit organization Almasi, which is dedicated to continuing arts education in Zimbabwe. She speaks three languages: Shona, French and basic Xhosa. Gurira has taught courses on acting and playwriting in Liberia, Zimbabwe, and South Africa.
By Farren Washington