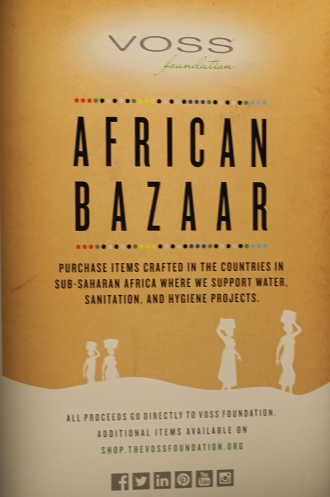 In Manhattan, New York, on Thursday November 5th, Voss Foundation held it's 6th annual Women Helping Women luncheon and fundraising event. Founded in 2008, Voss Foundation's mission is to provide access to clean water for women and children of sub-Sahara Africa. Voss strives to continue advocating proper sanitation and hygiene, reducing risk for disease due to unclean drinking conditions. The foundation has benefited the lives of so many by way of providing upgraded technology filtration systems for processing water. As of October 2015 of this year, Voss Foundation has built 130 water access points and 462 sanitation facilities in 7 countries. From 2009 to present, under a global partnering committee, Women helping Women ( WHW) has funded the creation of 21 points for accessible water, and 291 sanitation facilities have also been created in 5 Sub-Saharan nations. Over $650,000 in the U.S including overseas has been raised in support of these projects to benefit healthy water and sanitation. The Foundation luncheon was an informative insight about past as well as current water sanitation progress in such countries as Ethiopia, Liberia, Swaziland and Kenya. A power house of Keynote speakers included Interim Executive Director (Sanjay Rawal), former Prime Minister of Norway (Dr.Gro Harlem Brundtland), CEO and Founder of the Tiossan product brand (Magatte Wade) of Senegal, along with philanthropists/Director of Sawaya Segalas&Co. (Robert Tenny Field) and founder /CEO of Castle Court Images (Kimberly Field). The afternoon was an eyeopener and moving arrangement of presentations filled with spirited enthusiasm for a great cause. Special closing and opening remarks were presented by writer/author/producer (Susan Fales-Hill), highlighted by special musical guest, 4-time Grammy nominee, singer/songwriter and philanthropist JEWEL. Attendees also enjoyed a highly anticipated African Bazaar with authentic pottery, textile and jewelry items on display for purchase. 100% of profits went to helping women and children of Sub Saharah. All guests were treated to a fresh bottle of Voss water upon entrance, alongside specially made tote bags designed by Daniela Anastasio Bardazzi, (Creative Director of Etienne Aigner).
This slideshow requires JavaScript.
For information on how to donate or contribute to the cause, please visit
www.vossfoundation.org.
Sponsors: Modern Luxury Manhattan Magazine, PTLEVENTS catering+staffing, STUDIO3, WOODBRIDGE by Robert Mondavi, ETIENNE AIGNER, Constellation Brands, URBAN ZEN, VOSS artesian water from Norway, Cliffton Dry
By Ayo Shittu, Contributing Editor