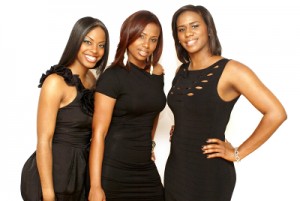 A true wine enthusiast, Danielle believes wine should be fun and sexy! Out of her passion for the entire wine experience, Danielle created Vino Seduction, a web-based talk show that educates wine drinkers of all levels in a fun, entertaining way. Together with her co-hosts Maya (the wine socialite) and Maxine (the in-house winista), these first ladies of wine are on a mission to evolve your palate!
BRONZEMAGONLINE: How did you become passionate about wine?

DANIELLE: I have had an affinity for wine since 2004. My first job right out of college was a sales rep for a wine & spirits distributor in Atlanta. There I learned a lot about the business and the lack of wine education in the African American community.
BRONZEMAGONLINE: What is the premise of your web show Vino Seduction, and how do you go about education others about wine through the show?
DANIELLE: Vino Seduction is geared towards anyone who has an interest in wine education & etiquette. Every week we introduce a different wine style, varietal, or region along with  food pairings and stemware suggestions.
BRONZEMAGONLINE: How do you decide on which wine will be featured/tasted during each show?
DANIELLE: It just depends on what we are in the mood to try. For example; If it is the holiday time we will try wines that are suited for Thanksgiving dinner, or if its the summertime we may review a light-bodied pinot grigio. Or sometimes we may discover that we haven't spent anytime on Argentinian wines so we will feature a Malbec or Torrontes.
BRONZEMAGONLINE: Have more people embraced wine because of your show? What types of feedback have you received about the show?
DANIELLE:Â  I will say that wine lovers and enthusiasts have embraced Vino Seduction. We receive positive feedback on a daily basis on how we have made wine fun, educational, and entertaining.
BRONZEMAGONLINE: If you had to pick one favorite wine, what would it be and why?
DANIELLE: If I had to choose, I would have to say that Champagne is my favorite type of wine. I love what Champagne represents – luxury! Most people only drink it for a special occasion like weddings, job promotions, anniversaries, and holiday parties. I feel that every day is a celebration and simply enjoy the immense pleasure of drinking a fine glass of Champagne.
BRONZEMAGONLINE:What are some key things to consider when selecting wine? What would be a great Valentine's Day wine?
DANIELLE: There are a lot of factors to consider when purchasing a wine such as; are you pairing the wine with food? Is there a particular region or style that you really like? What is your budget? But the main thing is never purchase a wine that your palate cannot appreciate. For example, if you are having a dinner party and your guests have just developed an affinity for wine it doesn't make sense to purchase a $45 bottle of Bordeaux. Instead stay in the $10-$15 price range and start off with a nice  California Merlot or a soft German Riesling. For Valentines Day I would recommend: Banfi Rosa Regale – A unique and vivacious sparkling sweet red wine that marries well with chocolate especially dark or bittersweet. You will love the strawberry and raspberry flavors paired with chocolate cheesecake or mousse.
BRONZEMAGONLINE: Can we expect a Vino Seduction Tour in the near future?
DANIELLE: Hopefully in the future we will do a tour. But our first stop will be in wine country. We plan to visit Napa, California this year and do a live broadcast from several wineries.
BRONZEMAGONLINE: Please tell our readers how they can tune in to your show and what the process is for submitting a wine feature request.
DANIELLE: Viewers can tune into www.vinoseduction.com to see the show live and previously recorded webcasts. We air a new show every Thursday night at 8:45pm EST directly from the site. You can submit a wine feature request on our Facebook page https://www.facebook.com/pages/Vino-Seduction/285908442817 or by tweeting us at Vino_Seduced. Our email address is info@vinoseduction.com