"Believe God has a plan for you. Utilize your unique gifts and talents to fulfill this purpose." In 10 Spiritual Principles of Successful Women, author Victoria Lowe shares spiritual, as well as practical advice for people to discover their 'purpose, vision and blessing'.
Ms. Victoria Lowe started a staffing business in the walls of her living room; within a year her company reached revenues that exceeded a million dollars. Within an eight-year period, revenues expanded to over 100 million. Though there came a point when both her personal life and her company faced difficult challenges, her eyes remained affixed on God and His guidance; ultimately leading her to begin Victoria Lowe Ministries.
In her book, Ms. Lowe says she 'discovered five keys to real success':
1. Have peace with yourself and your life
2. Commit to excellence
3. Operate with a servant's heart
4. Pay the cost
5. Know what season your are in
The advice found in Ms. Lowe's book was shared with a group hosted by Mrs. Anita Townsend-Parrish, founder of Sister Connection Ministry Book Club. Held at the comfortable Double Tree Hotel of Orlando at Sea World, Mrs. Townsend-Parrish featured 10 Spiritual Principles of Successful Women at her first book club/party.
In a relaxed setting filled with coffee, teas, fruit and pastries, the Sister Connection Ministry book club/party discussed the rich 'food' contained in Ms. Lowe's book. In addition, free gift bags were raffled to three fortunate members, that included various treats and a free copy of LEFT TO TELL, Discovering God Amidst the Rwandan Holocaust; the book selection for the next book club/party.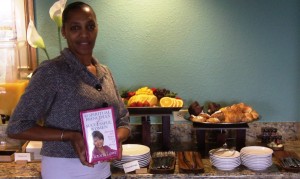 Both men and women enjoyed the fellowship of one another at Sister Connection Ministry. After experiencing an unplanned pregnancy at seventeen years old, Ms. Townsend-Parrish, longed to help others believe in themselves, build self-confidence and grow into that place of success. Her book club gives her the opportunity to fulfill this passion as it inspires others to succeed through book readings and discussions; a form of ministry.
Certainly Victoria Lowe's book 10 Spiritual Principles of Successful Women is a positive attribute to the Sister Connection Ministry Book Club!