By C. Scott
Images courtesy of Kyonna F Brown
The act of forgiveness is seen as a deliberate release of vengeance or resentment. That release could be towards a person or a group who once harmed you. The forgiveness expert known as Kyonna F. Brown sets a B.O.L.D. approach as a (B)eliever, (O)vercomer, (L)eader, and (D)estiny grabber. Kyonna helps women step into their confidence by reclaiming their time and releasing their past through forgiveness. She shares her personal testimony of being incarcerated mentally and within a prison cell for four years.
Kyonna has authored seven books and even short films based on healing and forgiveness.
"I was motivated to become an author because I wanted to help others learn about the power of forgiveness and healing," she states. Kyonna recently penned a new children's book called Forgiveness For Tots: Yummy Hot Dogs. "Yummy Hot Dogs is a book for children to understand at a very young age what forgiveness means and what it looks like to be offered forgiveness," she adds. "It was developed to start a growth pattern that will grow into their adult years. Forgiveness is a growth pattern that we all need to survive, and it starts with the early years of life," Kyonna continues.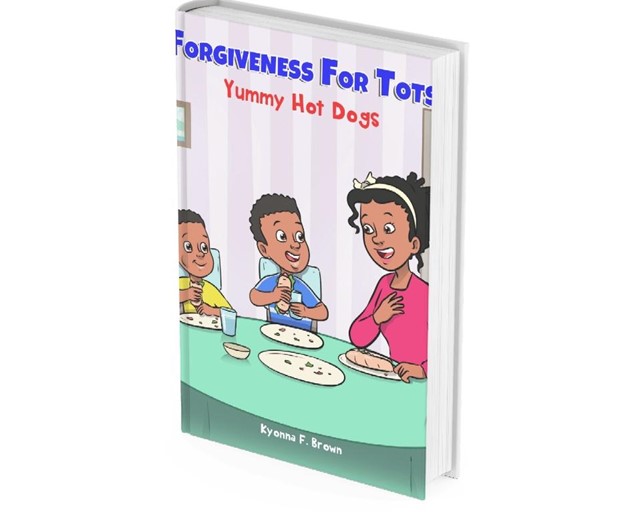 In addition to spreading awareness about forgiveness, Kyonna is also empowering other authors. In honor of Drop Everything and Read Month, Kyonna F. Brown also shares her insight throughout her publishing process. "The self-publishing process is not always an easy one. There is a lot of work that goes into bringing a book to readers," she confessed. "Be sure to have a plan and stick to it. Be prepared for the unexpected and do not allow that to deter your work," she advises for aspiring authors.
Kyonna F. Brown is planning to continue leaving her mark globally on spreading awareness on the act of forgiveness. She also plans to release more books to teach and inspire in the months to come. Follow her brand online at http://healwithkyonnafbrown.com/.
Writer C. Scott is an authorpreneur, mom and freelance writer who also offers literary services. Follow her online as @curls_coils.