By Arcadia (BeautifulGorgeous) Smith
After searching for ways to address my dry and brittle hair and scalp issues, I believe I've found a cure-all with the "Urban Hydration -Avocado & Argan Oil collection."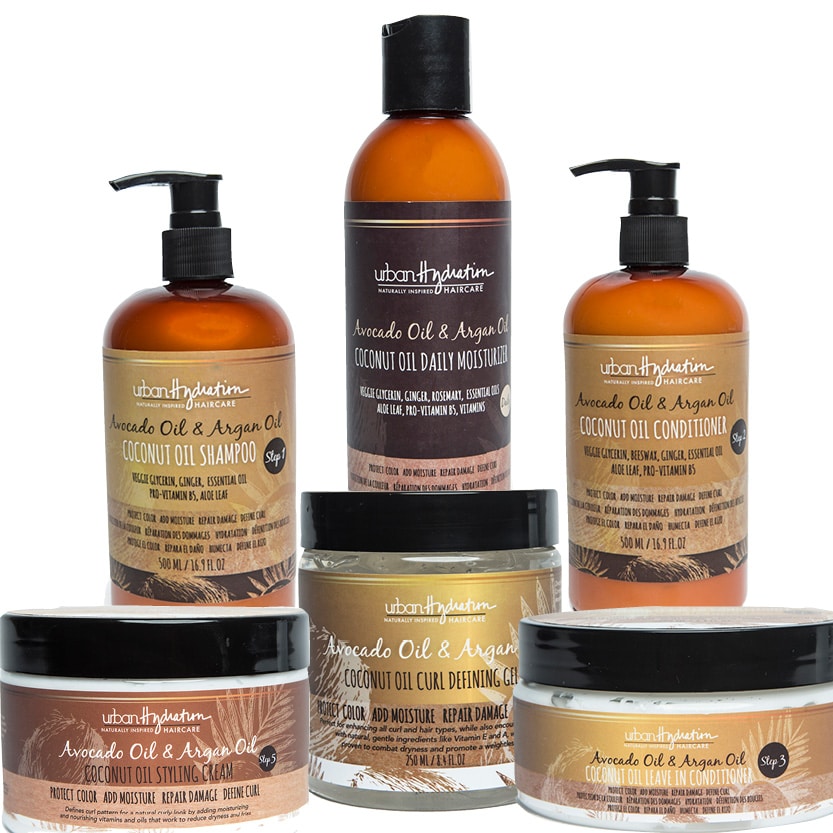 Features at a Glance:
Attractive packaging neutral enough for either gender to feel comfortable purchasing.
Order of steps for usage clearly identified making it simple to establish a regimen.
Paraben, sulfate, silicone free, and never tested on animals.
Great for every hair type including relaxed and color treated hair.
Products Used and their descriptions:
AVOCADO & ARGAN OIL HAIRCARE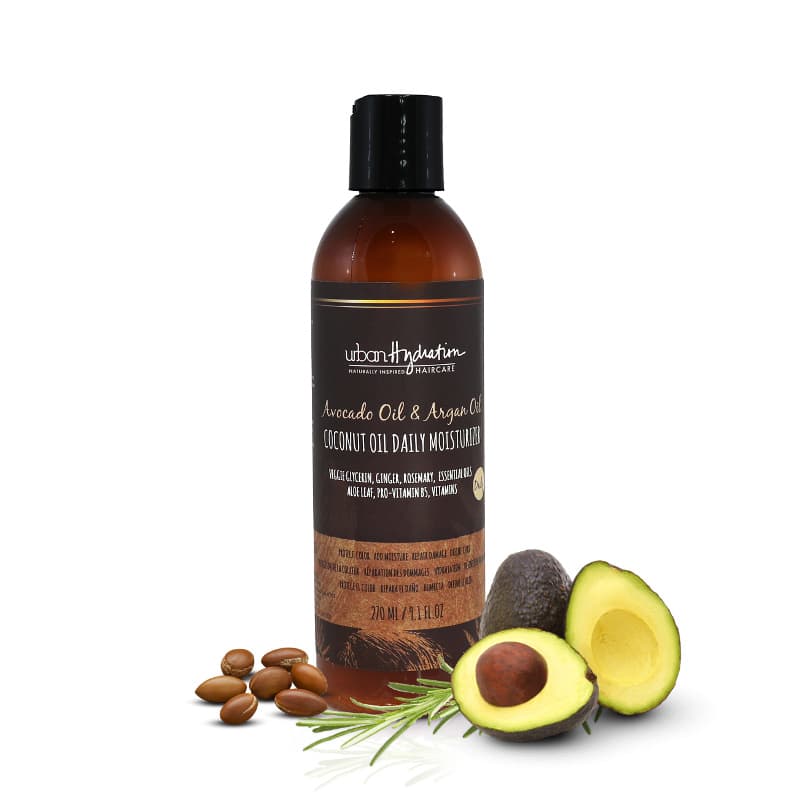 Daily Moisturizer: When it comes to everyday moisture and refreshing, I'm your top pick. I'm the Avocado & Argan Daily Moisturizer, and I'm the next staple for your everyday routine. If your wash-and-go needs a little boost, I'm there to soften and soothe. My blend of coconut, avocado, and argan oils combine to soothe itchy scalps between washes. I also offer protection from frizz! I'm your new daily holy grail. DIRECTIONSÂ  Work desired amount to damp or dry hair from ends to roots. Do not rinse. Style as desired.
Coconut oil to protect and heal the scalp
Avocado oil to revive hair
Argan oil to protect color
KEY INGREDIENTS:
Avocado oil
Argan oil
Ginger
Rosemary
Aloe vera juice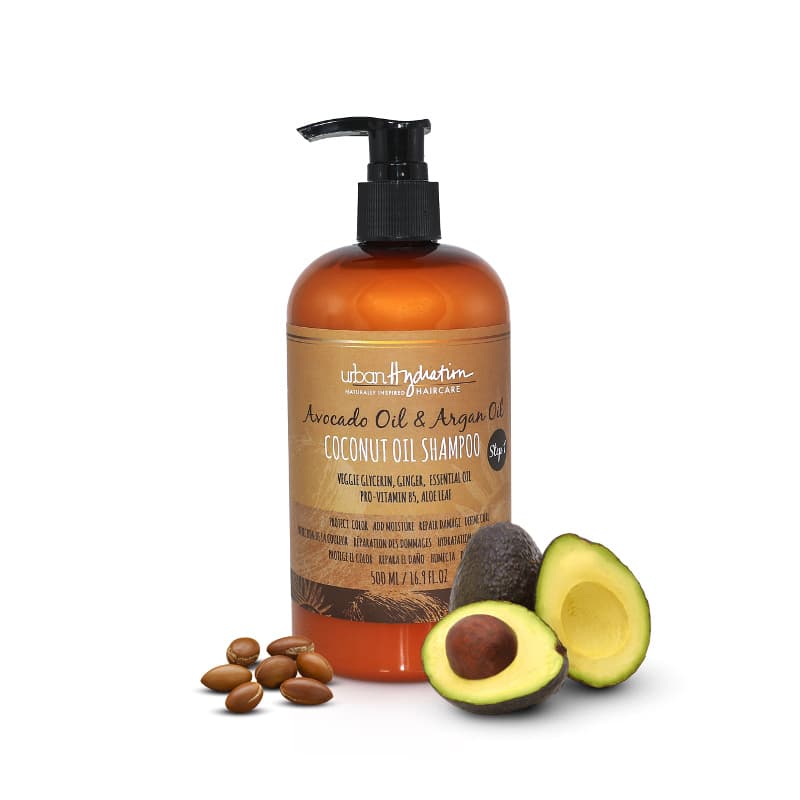 Shampoo: I may be rich in fatty acids from natural avocado, but honey, I am weightless! I am the Avocado & Argan Shampoo, and I'm the perfect gentle, effective cleanser. My cocktail of heavenly coconut, nourishing avocado, and softening argan oils is a delicious treat for hair that needs a little TLC. My luxurious formula leaves hair clean, soft, and ready for your next steps. Â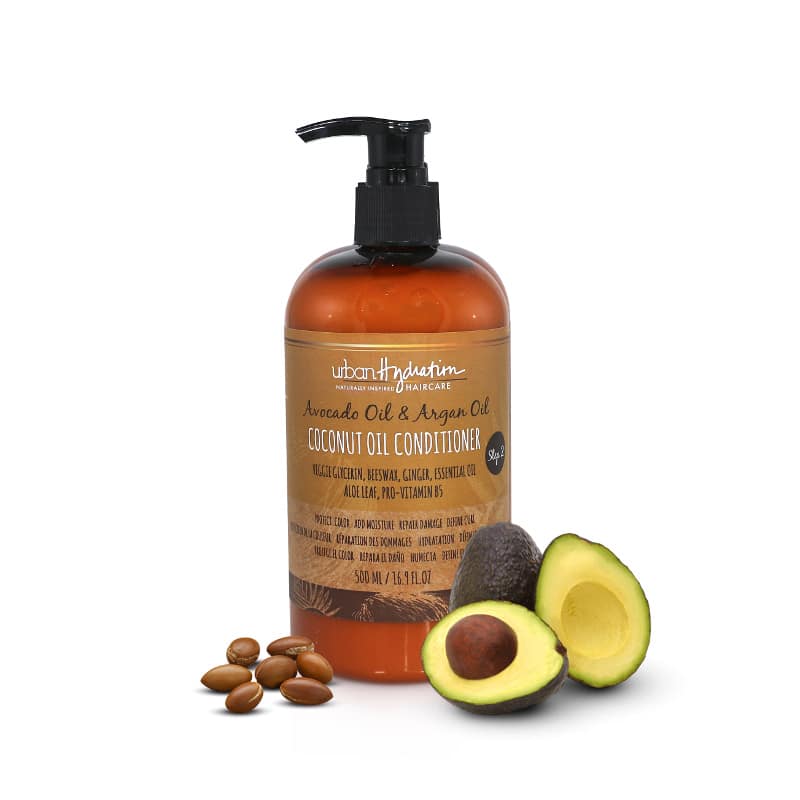 Conditioner: Â  When it comes to hydration, I am a triple threat. I'm the Avocado & Argan Oil Conditioner. I'm loaded with a luxurious blend of coconut oil, avocado and argan oil to saturate your hair in moisture. My job is to smooth over every single strand and wrap you up in joy. By the time you rinse me away, your hair will be extra silky and ready for detangling. Â 
Leave-In Conditioner:   Hey there, I'm the Avocado & Argan Leave-In Conditioner. I'm your ideal choice for lightweight moisture and definition—perfect for dry and thick hair of any curl type! I'm all set with coconut, avocado, and argan oils to give you rich hydration in a creamy, supple formula. Use me liberally through your hair for the desired hydration and soft hold. I won't let you down!


Pros:
Great price point and value
Antimicrobial properties
Subtle unisex aroma
Bundles and giftsets available
Tested and approved by salon professionals.
Exercises "global good" through a number of charitable contributions and a partnership with the Water is Life nonprofit.
Cons:

I really didn't have any cons for this collection. On a very minor note I would love if it included a co-wash. A simple fix for that is just to head on over to the "Jamaican Castor Oil" collection for the "Jamaican Castor Oil & Avocado Co-Wash & Conditioner." I find that is totally fine to cross collections to customize your regimen as needed.


My Experience:
The colder months have been especially rough for my skin, and that's not excluding my scalp.  A drier scalp gave me drier hair with lots of itching, shedding, and not to mention some major flaking.  Nourishment and hydration are what my hair and scalp needed from the irritation caused by all the itching and dryness.  Using products containing ingredients such as pyrithione zinc and selenium sulfide, which are typically used for these issues only seemed to offer short lived relief.  They seemed to strip both my hair and scalp causing more flaking and itching.  This led to more shampoos which further robbed my hair of what little moisture it had.  I even tried using hydrating oils in between shampoos, but again, nothing would last.      
Upon using the shampoo from the "Avocado & Argan Oil" collection, the first thing I noticed was how rich and creamy the texture was. It resembled drops of silky pearls which started the hydration therapy I needed right from this first step. Because there is no fragrance added, I was delighted by the natural aroma. A very soft, mildly sweet, and gentle aroma giving a gender-neutral scent that's not at all overpowering. I was worried that such a seemingly gentle formula wouldn't be able to rescue my hair and scalp. I shampooed twice and immediately noticed the soothing relief to my scalp. When rinsing, I didn't get that squeaking effect you normally experience when harsh products strip away your natural oils during a shampoo. My hair already felt softer and ready to receive the nourishing benefits of the next step.
When moving on to the conditioner, I didn't think I could be any more surprised. Having all the same attributes as the shampoo, I was even more impressed with how thick this formula was. I was able to completely saturate my hair without needing to use half the bottle of product. Since I have been experiencing such dryness, I opted to allow the conditioner to set for about 15 min for a more intense hydration. I even found that it doubles as a detangling aide which gave ease and cut time away from that process. The slippage was so unreal that I wanted to use this conditioner as a leave-in, but the collection already comes with one.
Next, I used the actual leave-in conditioner.  Everything I thought I knew about leave-in conditioners is now null and void.  I thought surely there was some mix up because most leave-in conditioners have a lighter more lotion like texture.  This leave-in was mega thick!  It was even thicker than the conditioner I mentioned earlier.  I thought surly this was a styling product but nope, it was a leave-in conditioner.  During the application the product melted amazingly coating every single strand from root to tip.  This was also a step where, because of the consistency, I didn't have to use half the product for this one application.  With all the richness and coating I had experienced from this collection so far, at no point did my hair feel heavy or weighed down.
Finally, at this point I was so pleased that I really didn't think I needed anything else. What more could this collection have to offer me now? Since I experience intense dryness, I try not to blow dry. For the sake of time I had to use the blow dryer, so I layered the leave-in conditioner with the "Avocado Oil & Argan Oil Coconut Oil Daily Moisturizer." Even though I was completely satisfied with how may hair and scalp felt at this point, I layered with this product as added protection from the heat. I even put a little on my ends after my hair was dried. The light weight yet creamy daily moisturizer penetrated my hair immediately leaving no residue or build up behind.
After just my first week of using this collection I can honestly tell you that my dry, itchy, and irritated scalp are no more.  My dry and brittle hair is so soft to the touch that I often feel it throughout the day.  My constant shedding has stopped, and flakes are 100  percent gone!  I've tried similar products such as "Shea Moisture" and at around the same price point, these results are unmatched.  The only other product that has come nearly this close to solving my hair and scalp issues is the "Moroccanoil Treatment," but "Urban Hydration" has surpassed.  Knowing the power of argan oil alone, this brand has combined it with the strength, goodness, and benefits of avocado & coconut oil, and other essential vitamins and plant-based ingredients.  A total fortified rejuvenation is what the "Avocado and Argan Oil" collection has given me.  "Urban Hydration" owes me nothing!
Purchase in-store or online at the following:
Urban Hydration                                                                  
Sally Beauty