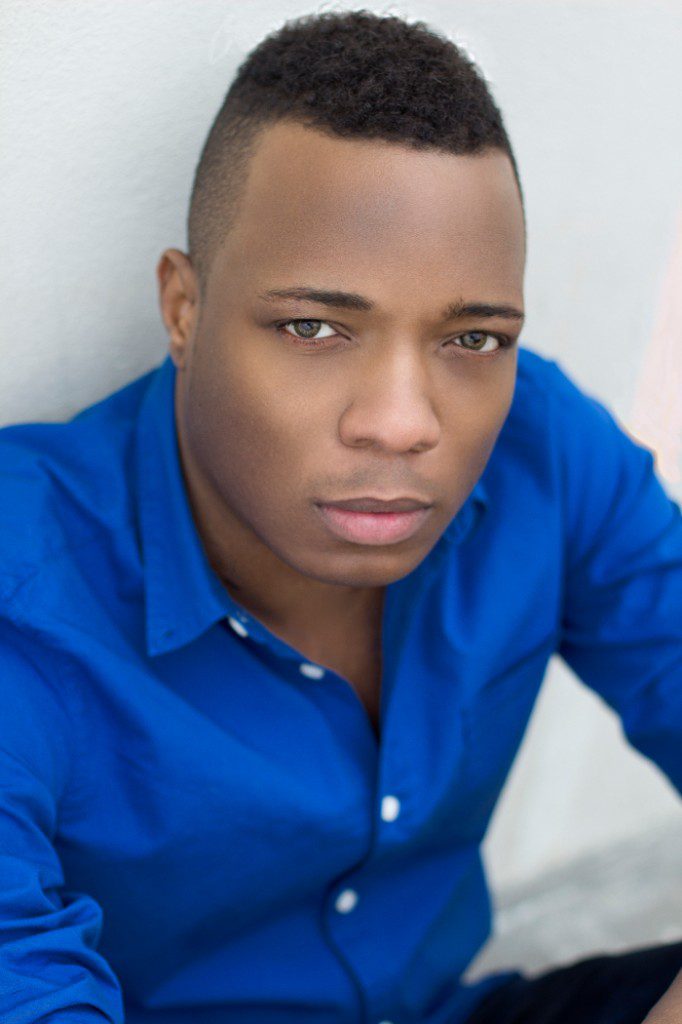 If you like movies, you will love Tavares Jamal Cherry. Hailing from NYC, Tavares is a model and actor who has the determination and drive to make it to the top as an A-list actor. After going through some hard times, Tavares has made it his passion to change his community through his artistic expression. With his upcoming movies, "Lake Eerie" and "Bar Songs," releasing in theaters this year, he certainly has been working hard to make his dreams happen. Tavares strives to be a role model for both his and younger generations. Bronze Magazine caught up with Mr. Cherry to discuss his inspirational story about the steps he has already taken to make his dreams possible and how someone else in his shoes can succeed as well.
 Bronzemagonline.com: What was it that motivated you to get started into your modeling and acting career?
Tavares Cherry: My motivation aspired from making a positive difference within my culture, community, and generation through artistic expression. As far as modeling, there aren't a lot of opportunities for African American male models. I learned very early on that there have been few black men that succeed beyond modeling into becoming a top fashion model. I wanted to be recognized as a success when it came to modeling. I believe that through hard work and dedication it would open doors not only for myself but other young people with dreams of becoming a top model. Modeling was great because it built my confidence and gave me drive to be a better actor. Acting has been my dream since I was about eight years old. I knew early on that I wanted to act and inspire someone's life through film. Acting has been my greatest passion. Through acting you can change a person's life with a good story and message. I knew I wanted to make a difference in the world but didn't know exactly how until I became an actor. That's when I found myself.
Bronzemagonline.com: What are some struggles that you've had to deal with along the way with following your dream?
Tavares Cherry: I've dealt with a lot of struggles and set-backs. As a young model I was bullied by my modeling peers. There were times where I wanted to give up and not even work. I struggled with runway shows and my runway walk. Once during fashion week in New York, I was criticized so severely that after the show I cried about it. I felt like a failure at that point. I struggled with my body image, weight, etc… My mother always pushed me to keep trying and be the best. I eventually did that and became very successful at runway shows. 
I struggled with kidney disease as well. A few years ago I had gotten really sick and wasn't able to continue to work as I did. My energy was at an all time low and I continued to work through that. I started taking acting classes and decided I was going to pursue my passion as an actor. I recently lost my mother, Cheryl Denise Cherry, who was my biggest inspiration. She inspired me and often told me that I was her shinning star! I dedicate all my life's work to her because without her I wouldn't have made it. She taught me to have the strength to carry on and continue my work in life no matter what the circumstances. I applaud myself because I never gave up on the dream and now I'm thriving!
Bronzemagonline.com: What actors do you look to for inspiration?
Tavares Cherry: Denzel Washington and Halle Berry are amongst my most favorite current day actors. I have great admiration for the legendary "Golden Age" actors such as Marlon Brando, Sidney Poitier, Paul Newman, Jane Fonda, Jack Nicholson, and Robert De Niro.
Bronzemagonline.com: Would you say you prefer acting over modeling?
Tavares Cherry: I would definitely prefer acting over modeling. I believe that the message to change lives is more relevant coming from an actor who has worked on a film that has inspired someone. Acting has a bigger audience than modeling. My goal is to reach the masses all over the world and inspire people with good messages and stories. The work is long hours on set but it's my passion and love that time doesn't seem to be a great factor. I just want to make the best movie possible and have everyone see it. 
Bronzemagonline.com: Tell us about your upcoming horror film "Lake Eerie" and comedy "Bar Songs."
Tavares Cherry: "Lake Eerie," is a film about a young woman named Kate who recently loses her husband and moves into an abandoned lake house to mourn his death. She's going through some things and is seeing a therapist. She is taking medication for depression but she starts to see things in the house. The house is actually haunted. And I play one of the evil entities within this house that haunts her. I really enjoyed this film, although, I'm not the biggest horror film person. I can't believe I actually filmed the film in a real haunted house in Michigan. While filming there were all sorts of strange things on set such as doors closing when no one was in the attic, footsteps being heard, and whispers, which was really creepy. "Lake Eerie" stars Lance Henriksen, Betsey Baker, Al Snow, Meredith Majors, and myself. It's definitely an action packed horror film. 
"Bar Songs," is more of a film, musical and comedy starring Ryan Collins and myself. Throughout the course of the film Ryan plays a drunken man who goes throughout the film singing and getting into trouble on the town. We are currently still in filming, but it will be released towards the end of 2014. It's really a great film, I got the opportunity to sing on the soundtrack and within the film. Who knows, I may have an album coming out one day soon! 
Bronzemagonline.com: You are working on a web series for Netflix and Youtube. How is that going?
Tavares Cherry: The web series I'm working on is directed by Jason Bunkley and is titled "Closets." We are still filming and it's going great! I play one of the main cast members, Brandon Simms, who is a college student and goes through some major issues that he experiences during college. This web series deals with relationships, school, murder, rape, and drugs. 
Bronzemagonline.com: Where would you like to see yourself in your career in the next five years?
Tavares Cherry: In the next five years, I want to be an A-list actor. I want to be working on major films that inspire people and bring joy to people. I would love to do an action film and become an action/movie star. I want to be recognized by my peers and my support groups as a great actor. 
Bronzemagonline.com: What tips might you give someone in pursuit of a successful acting career?
Tavares Cherry:Â Make sure that acting is something that you really want to do and learn everything you can about it before you start. Take acting classes even when your on top of your game. Exercising your acting skills never gets old. Make sure you invest in your acting career with photos, resumes, etc…Â And be really aggressive about what you want and always keep your eyes on the overall dream. And most of all never give up!!
By Chelsea Anderson