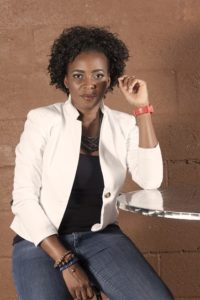 Stacy Ann Rose, known for her role as Dr. Robbins in the HBO hit series, Ballers has known she wanted to be an actress since she was a little girl. She has a recurring role on the show working alongside Dwayne "The Rock" Johnson, making her younger self proud. Rose, currently residing in Miami, Florida, is originally from Kingston, Jamaica. She recalls growing up enjoying island life- spending a lot of time with family and playing sports. She knew she had a passion for acting when she was 9 years old. "It's really clear in my mind, she recalls. I remember watching TV and saying to myself, 'I want to do that.' I don't remember exactly what I was watching, it could have been the Cosby Show. I was looking at the characters and the young girls like myself and I said, 'You know what, I can do that and I want to do that.' She got her first taste of what acting was like when her aunt insisted that she join her church's drama group. From then on she knew that acting was something she wanted to do for the rest of her life.
At 16-years-old, Rose and her family moved to the United States and settled in Miami, Florida. When she arrived in the states, she had already graduated from high school, and her parents kept her close to home. Although Rose was extremely passionate about acting, she admits that it is the more traditional career routes that Caribbean parents expect their children to take. "You know if you're not becoming a doctor, or a lawyer, or a teacher they really aren't interested, she explains. So when I talked about doing theater I didn't even get a response. I knew that it would be a battle I was willing to take on." Taking her parents worlds into consideration, Rose decided to buckle down and plan her life. She decided to go to school to study business. "In my mind I justified it by saying this is going to be my Plan B. In case acting doesn't work out, I can get a real job and make something of my life, as my parents would say." She attended Miami Dade Community College, then went to Florida State to study International and Business Marketing. She received her Bachelor's Degree from Florida State and then returned home to Miami to attend Florida International University to obtain her Master's Degree. "When I graduated, I was like, 'Okay, Plan B is in place. Plan A take effect.' It's been a challenge, and it's not that easy." She admits that staying true to her dreams while also supporting herself and her family as an actor could be difficult because after each acting job, the actor is now unemployed.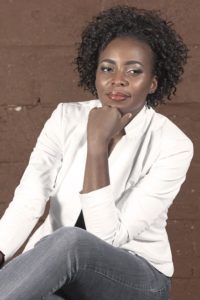 Rose worked in corporate America for a while and has held other traditional jobs as a source of income. Living in Miami she admits that jobs are very few and far between. Even when working her more tradition jobs, her dreams always took the front seat. "I've used my marketing degree, I've worked in the financial industry, I've done quite a lot. I've always tried to choose jobs that were flexible so that I could audition in the daytime, at a moment's notice if I needed to. Sometimes you have to quit a job because you booked something and you've been at the job for 2 weeks." She says there was a point in time when she questioned her chosen career path.
"I had some questions like, 'Do I really want to do this? Why?' I had some doubts and questioned what I really wanted, and then I would go back to what I really knew. I don't think GOD puts these desires in our head and our hearts to torture us. I'm sure he has a plan and is willing to stick it out to see what his plan is."
After working in corporate America she was able to turn to radio, which gave her meaningful employment to earn income while she pursued her acting dream. Rose admits that deep down in her heart she had always had a desire to do radio. At 16 she remembers listening to the radio in Miami and being "less than impressed" with the level of talent she was hearing. "I remember picking up the phone and calling the radio station and asking if they had any openings. That was my first inclination to get involved with radio." A few years later the pastor of her church sent her to a Caribbean gospel network that was looking for young DJs. For over a decade, she has served as program host of Island Praise, which airs on 9 other stations in the US, Caribbean, Africa and the Pacific.
Rose credits her success to her parents. She says her father thought she could be whatever she wanted if she put her mind to it. He taught her the importance of working and careful planning. Rose admits that she knew her family was instilling this mindset in her for the business world, but she took those traits and used it to fuel her desire to act. "While they were encouraging me in general for a professional life for business, somehow it just fueled me on for my acting and I just never gave up. I kept hearing, 'You don't give up, you don't give up,' and in my mind all I heard was, 'Don't give up, don't give up, one day you'll have your star on the Hollywood Walk of Fame."
Rose is very selective when it comes to the roles she plays. She says that she tries to do projects that she can be proud of. With her family being very important to her, it is extremely important that she does not embarrass herself or her parents. She is also a Christian and says that these factors help her select the roles she plays. "As much as I can, I try to navigate the choices for the roles I audition for. I am also an organic kind of actor and I improvise with the characters a lot. I learn the lines, then I create a whole life for the characters and I try to step into that life as much as possible in the limited time frame you have to audition." After an audition, she walks away and tries her hardest to forget it. "When I say that my job is auditioning, I get up every day and audition. When I get a job it's like a bonus."
With the recent controversy over the lack of roles for black actors in Hollywood, Rose says that in this industry, she tries to stay positive. She admits that through the likes of Michelle Obama she sees an increase of black women in lead roles on Prime-time TV. "Before Scandal, I don't remember any other black women in a lead role on Prime-time or any major networks show. That was around the time of Michelle Obama. Every now and again when I saw breakdowns they would give a description of the type of woman they were looking for and they would say, 'Michelle Obama Type.' Art imitates life, so it's so important for women of color in life to excel and do well."  She knows that this trend will continue to grow as well. Rose also thinks that it is important for African Americans to produce content. "There will always be opportunity if we create our own content. I believe that we have the right contacts in order to bring them to the public eye, to bring them to theater houses, cable networks and all that. I think we need to get together and get it done. I think people are doing it and it's going to get better."'
In the future she wants to focus on producing. She has recently produced her first feature film and has enjoyed what it feels like to be on the other side of the camera. She plans on producing more content, as well as perfecting her craft. With landing TV roles on Dolphin Tale and Burn Notice, Rose sees herself working successfully in the acting field and dreams of being in feature films. The passion that she has for acting has fueled her for years, and she knows that through her hard work and dedication it will only get better.
Follow Stacy on
Twitter @StacyAnnRose
By Alexis Alfred
Photo credit: My Third Eye Media and Studio 504