By Marian Nimoh
The evening was abuzz last Thursday on June 13th at the Aloft Hotel located in Harlem, where the Unlock Your Dreams' exclusive press party was being hosted. The invitation only event showcased past honorees while revealing 2019 honorees for their upcoming conference and expo this fall. Founded and produced by Lytoya Parker, the Mission and Purpose of 'The Unlock Your Dreams Conference' is for participants of all genders, races, ages and backgrounds to leave the mega event with real and accessible keys to realizing their potential and living in their LIFE'S PURPOSE.
Early in the evening, the host set up a kiosk table with cards and other information needed for guests to look through. There were also cupcakes, donuts and water being set up. It wasn't yet crowded, but 160 guests were expected to attend the event. The DJ soon arrived and set up his equipment to play music. There were female chaperones dressed stylishly in red. A nice bar area with about four televisions played different channels. Across the bar was the photo shoot area where pictures were being taken and interviews would take place. Straight down the bar and the photo shoot area laid the red carpet featuring the Unlock Your Dreams logo in gold and white. At the lower level of the venue was a pool table with comfortable chairs surrounding it. The guests got warmed up while sipping their drinks, getting to know each other. I had the pleasure of getting to know several interesting guests who came out to support this amazing event.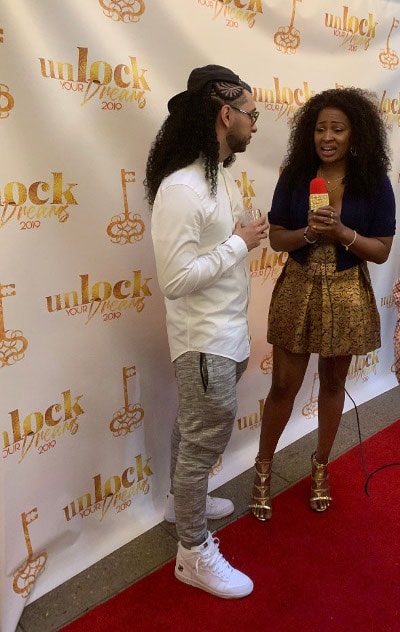 As the music played, photo shoots took place, guests were dancing and people were arriving. One of the first guests to arrive was Timothy Rembert, dressed in a purple tuxedo suit with matching box braids. He is an Aftra Actor, Model and chef who cooks everything. He was born and raised in the Bronx and he attended the press party to meet new people.
Merrick Lee went to college in Virginia. After college he couldn't find a job. His friend introduced him to coding and he studied coding at home on his own. Now, Lee has his own coding business and he makes websites. The next site he wants to design is a dating app. Currently, his ambition is to look for high school students and teach them the business of coding. He said he wants to teach high school students coding so they can gain the tools and skills necessary for themselves in which they could use for their advantage in the future.
Eboné is very deep into Hip hop culture. She is dressed in a fur hat with a black dress shirt and pants that has the word "culture" written all over it. When asked why she chose the outfit for the night, she expressed her love for Hip hop and how it's not appreciated, so she decided to come all the way out to represent that genre of music.
Jason is Puerto Rican. Born and raised in the Bronx. He started sewing at the age of 15. When he was 22 years old, his deep desire and passion for it grew and he took it seriously. He taught himself how to sew and made a career out of it. He is currently a Tailor.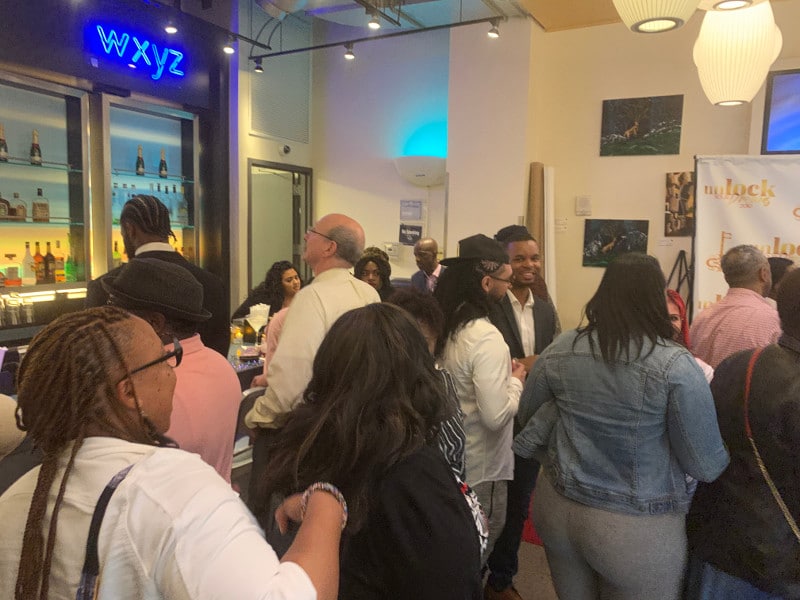 Kamali, a young looking man from Jamaica, Queens is making a difference in the lives of young people. He teaches juveniles each day in jail.
The press release party was very significant, showcasing the difference that each guest is making in other people's lives. Each had dreams in their heart and the courage to go out and make those dreams a reality. From, Jason, the Tailor, to Dnay Baptiste, the dancer and Destiny, the correspondent, these talented people showed that dreams are possible with patience, confidence, faith, consistency and networking.