By Shiri Marwaha
The novel program Aviate pioneered by the United Airlines opens up doors for aspiring women pilots of color who dream to fly.
"United is visionary about the future," said First Officer Carole Hopson, United Airlines, talking about their new initiative United Aviate Academy (UAA.)
The Airlines is the only major American airline that provides a flight training school for the underrepresented demographic. The airlines officially opened the UAA near Phoenix, Arizona to train 10,000 pilots and is unique in that more than half the students are women or people of color, according to Hopson.
"United is bold about its commitment and has put resources and programming behind what they have promised with firm action plans, as is evident with programs like AVIATE," she said.
According to the U.S. Bureau of Labor Statistics, less than 6% of pilots & flight engineers are women, and only 10% are African American, Asian, Hispanic, or Latino. United Airlines with these changes hopes to balance the disparity.
Hopson said, since its start a few months ago there have been two classes and nearly 80% of the students have been women and people of color. Furthermore, these talented individuals were handpicked from more than 12,000 applicants after passing rigorous mandatory assessments for the selection.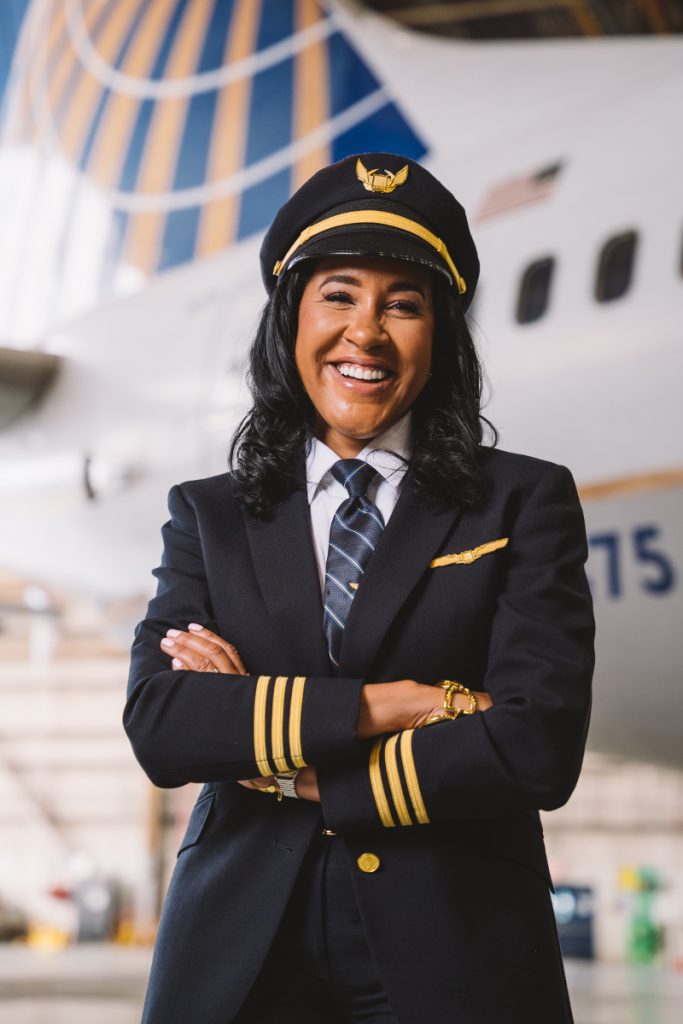 Encouraging women opens a new world of opportunity for them and enables the country to tap into its underutilized and under-represented population.
Women traditionally have not been steered to STEM (science, technology, engineering and mathematics) fields. We must change that.
"If we are missing an entire talent pool, we are missing an opportunity to employ a motivated skilled workforce that is both willing, able and motivated."
According to Hopson, race and gender shouldn't come in the way of talent.
Aviation courses are not cheap, and the high cost of training remains an obstacle for aspiring candidates.
"Financial ability to pay for a post-secondary education in aviation can cost in excess of $100,000, as well as access – to this career, to STEM programs, to well-maintained airplanes and equipment."
In addition to finances, mentorship and guidance are very important to nurture students which is missing for the first-generation pilots.
"Mentorship to track, guide and assist…many times I fly with men, whose dads, uncles and brothers have flown professionally or in the military, " said Hopson. "To get to the major airlines, aviators are made through apprenticeship and often a 5-10-year ramp up. That time is longer still without guidance and mentorship."
Hopson is also the author of a fictional book called "A Pair of Wings," inspired by Pioneer Aviatrix Bessie Coleman who was the first African American and the first Native American, woman pilot.
"Because of this exquisite woman, I believe that all little Black girls deserve the right to fly," said Hopson.
African American student Rickiesha Foster who is a recent graduate coming out of this program talks about her experience.
When the idea was "Suggested that I become a pilot I was so flabbergasted! I thought it was so far-fetched, almost impossible," said pilot Rickiesha Foster describing her journey into the male dominated aviation industry.
Foster, who worked as a flight attendant took on the challenge, treaded down the path rarely taken by women and is grateful for the choices she made.
"I am so excited about my career choice," said Foster.
Foster went through a long period of uncertainty about this career choice debating the barriers that might impede her journey.
"I did not see a lot of female pilots, and I didn't see any black female pilots. Training was extremely expensive, and I could not afford it."
An undeterred Foster researched about the aviation industry and found inspiration from women pilots in the field.
"I discovered so many beautiful, smart, fearless, black women out there living my dream."
Foster grew up in Jamaica dreaming about being able to fly someday, but feels fortunate to be able to fly one today.
"My dreams turned goals, turned [into] reality. I feel the weight of my good fortune. None of it will be taken for granted," she said.
Foster says she is blessed to have the opportunity to become a pilot and raves about her unconventional job saying that her office comes with a great view. At the same time, it is an opportunity for her to inspire the younger generation and women of color to venture into new fields.
"I would say that is my purpose in life."
According to Foster, as a woman, working as a pilot is not physically taxing but says it's more about exercising safety protocols and mental fitness.
"You have to be sharp, have the presence of mind, be aware of your surroundings, be good at multitasking, and be sure to stick to standard operating procedures," Foster said. "All these skills combined have one end goal in mind – safety. It is a lot of learning both in the aircraft and in the classroom."
Talking about the lack of women pilots, she said, "Aviation is a seemingly mystical industry. You see a pilot and you know what he does and are interested in doing what he does but never really know how to get there."
Public in general are not educated about the working and opportunities in this industry and Foster says this is the first barrier.
"I've had people ask before, is there a pilot college? LOL. It is kind of like that."
Foster, who wants to excel as a pilot, wants to set an example to her kids about the world of possibilities too.
"A few years from now I will be in the United Airlines flight deck as a First Officer. A few years from that I will upgrade to Captain. That is the ultimate goal," said Foster. "I am excited about what my future brings. Pilot Ricki loading…