By Nicollette Samuels
Unilever, the British mega multinational corporation, creates and owns some of your favorite household items, including foods, supplements, and personal care. In October, Unilever's Beauty and Personal Care division held their annual event virtually to discuss their newest launches in beauty, grooming and personal care, as well as their initiatives for 2022.
The two-day event was filled with information sessions on popular brands like Dove, Shea Moisture, Tresemme, Axe, Suave, etc., and exclusives on new, upcoming brands. In addition to consumer products, the event discussed Unilever's plans to help the planet, serve minority communities, and empower people to love themselves.
Day 1
The Power Of US: A Welcome from Esi Eggleston Bracey
Unilever North America's EVP and COO of Beauty and Personal Care, Esi Eggleston Bracey gave a warm welcome and overview of the two-day event. Day one focuses on communities, and day two on individuals and how we take care of ourselves. What would have been an in-person interaction like years in the past, became a virtual one despite the pandemic.
Bracey reminds attendees that despite being remote, to remember all the things that society has overcome in the past year, including the pandemic, worldwide natural disasters, social injustice, supply chain shortages, and lost loved ones. "I think that we are at the inflection point, and I believe that the world needs a yin to the yang, a bit of a calm to settle the storm. And in the face of the loss, the justice, and uncertainty, I believe the world is ripe for more purpose and positivity; to just give us hope and open up our outlook," Bracey stated.
Unilever believes that brands like themselves can contribute to inspire change and hope in difficult times like these. Though their positive beauty movement, Unilever has made a promise to put action behind making changes within communities, people and the planet.
Melanin Science Movement
Dr. Jason Harcup, Global Vice President for Skincare Research and Development, gives an update on Unilever's plans and commitments to create real impact for a world where textured hair and melanin-skin are seen and valued. The commitment was focused on two parts, the important work being done on brands, and previewing the Melanin Science Movement, a platform launched with the RND team to advance scientific and industry partnerships in 2020 to design and deliver a more diverse and inclusive consumer product experience.
Since 2020 Dove has received an additional 83,365 signatures to vote yes on the Crown Act and eliminate hair discrimination. The Crown Act was passed in 7 new states and 18 municipalities. It was also reintroduced into the United States House of Representatives.
Vaseline launched their partnership with Hued, a healthcare platform that connects patients of color with health and medical professionals who understand their physical, mental, and cultural needs. Since its launch there has been 500% increase in new users.
Shea Moisture continued to embody their core principles to carry on enhancing and illuminating the work of minority entrepreneurs through the Shea Moisture Fund, powered by Shea Moisture purchases. The brand promised to give back 1 million dollars in direct funding annually to the community and in 2021 in vested 2 million dollars.
MELÄ' Skincare founded the Melatology Alliance to advance equity in the treatment of melanin rich skin. Through the partnership of dermatologists, beauty industry leaders, policy makers, and education institutions, MELÄ' produced a virtual hub offering free education courses for non-medical skincare professionals on melanin rich skin topics. It includes helpful videos and science-based resources. Since the announcement of the Melatology Alliance, position signatures are up 500% urging cosmetology state boards and institutions to diversify skincare program education, training, and board testing.
The Melanin Science Movement has also made some commitments and progress on their own.
In 2020 they committed to double their partnership with experts and suppliers of color in ingredient, supply, and manufacturing areas by 2023. So far, they have brought in 12 suppliers out of the 50 screened and awarded more than $600,000 in contracts in 2021 and awarded and briefed more than $3 million in contracts.
They pledged to more than double their funding dedicated to the research and creation of products for melanin rich skin and textured hair by 2023. Today they exceeded their 2021 funding, putting them ahead of schedule.
Another commitment was to ensure that the people who make their products reflect who they are making them for. Now their team is making progress to be more diverse at all levels of the organization, especially leadership positions.
They also committed to fund over 50 research fellowships with innovators of color, dedicating up to $100,000 each. So far, they have found over 20 people and are on track to create over 50 Melanin Science Movement fellowships in the next few years.
Dr. Erica Douglas is a cosmetic chemist, beauty industry expert, founding partner and CEO at mSEED group, and one of the first fellows to join the program. She joined to share her journey with the hurdles she had to come over, along with her involvement with Unilever's new brand.
As a child Erica has dealt with a myriad of skin and hair issues, and as a black woman of color, there were few avenues to solve her problems except relaxing her hair or leaving it natural and risk being ridiculed for her hair texture. As a self-proclaimed nerd and lover of chemistry, she initially studied chemical engineering at Stanford University, until she discovered cosmetic science. "What if I could use my skill set and my genius to find the solutions that weren't available to me before," said Douglas.
She spent 10 years working for a brand and contract manufacturers. "The funny thing was that I was working for one of the leading Black hair care brands at the time, and I was the only black woman chemist there. They had a Polish guy, they had an Indian guy, Pakistani guy. It was all diverse men, that were all bald telling me what black women want for their hair!," Douglas said laughing. Although she was in an entry level position at the time, she brought a unique level of understanding on what it was like to be a black woman in society and what their needs were.
At around 2009 and 2010, when the renaissance of the natural hair movement happened with emerging developments in the textured hair care space, Douglas recommended a rising women owned brand to partners and manufactures with whom she had worked with before, but the brand was not getting anywhere because they were not able to afford many units. This struck a cord with Douglas and inspired her to be on the other side, helping to bring these brands to market. This was when mSEED Group was founded, a contract manufacturer that focuses on bringing minority owned brands to market. mSEED has helped to bring over 100 brands to market, some of which are the leading brands in the textured hair market. Through the fellowship program, mSEED has been able to partner with Unilever to bring the For Every Type brand to fruition, a brand that caters to women who wear protective styles.
Generation CROWN
Dove's Self Esteem Educator and Empowerment Speaker, Dre Brown explained all the work Dove is doing in support of the Crown Act, as well as led a discussion with filmmaker Matthew A. Cherry and student activist, Faith Fennidy, in efforts to end hair discrimination.
In 2019 Dove commissioned a study that found that Black women are 1.5 times more likely to be sent home from the workplace because of their hair. They are also 80% more likely to change their hair from its natural state to fit in at the office. Due to these findings, Dove founded the CROWN Coalition to advocate for the passing of the CROWN Act, a piece of legislature that offers legal protection against race-based hair discrimination in the workplace and schools. This includes discrimination against hair texture, protective styles like braids and twists, locs, and bantu knots. Today the Crown Act and legislation inspired by it has been passed in 14 states. With the CROWN Coalition, Dove is committed to making sure that hair discrimination is illegal in all 50 states.
In 2020 Dove created the CROWN Fund, specifically made to help support the black community, pledging $5 million to end systemic racism and discrimination that disproportionately effects black lives. Dove has also launched the Dove Self-esteem Project. It is the largest provider of body confidence education in the world. Their tools and resources have been academically proven to improve body confidence and self-esteem, so that the next generation can reach their fullest potential.
Since its launch in 2004 the project has reached over 69 million young people in more than 150 countries. Dove's goal is to reach 250 million people by 2030. To reach this goal Dove has created new tools that help children to learn about body confidence, especially young black and brown people. Dove has launched a new lesson on appearance discrimination. It is a resource for educators, parents, and youth leaders to help kids have an understanding on appearance discrimination. It includes racism, sexism, hair discrimination, ableism, colorism, and sizeism. It is now available on Dove.com
There is also a "My hair, my crown" tool available from a workshop with the Boy and Girls Club this summer with a special appearance from singer, Lizzo. It was co-written by Brown to help boost hair confidence in kids with coils, curls, waves, and protective styles, as an extension of the Dove Self-esteem Project and work with the CROWN Act.
When the Academy award winning filmmaker, Matthew A. Cherry was looking for funding for his animated short film, Hair Love, in 2017, Dove supported. During his 2020 Oscar acceptance speech he took the opportunity to spread awareness on the CROWN Act. "I just want to continue to make sure that young people feel confident in their curls and make sure that people aren't treating them differently because of how they wear their hair or appearance," Cherry said. He encourages people to go to Dove.com/crown to sign their signature in support of the CROWN Act.
"I think as a filmmaker and somebody who's job is to create images to put out there to the world, you have to be conscious of what you're putting out there and deeming as beautiful. For a long time, straight hair, blonde hair, blue eyes, this was the standard of beauty, it's a Eurocentric standard. Now creators like myself, Issa Rae, and Kerry Washington, every time they do a project you see them rock the curly hair, protective styles, and be the love interest or being the best friend that has a great personality and all things in between. It just makes it more normalized," said Cherry.
Cherry has also been working with Dove to create a line of hair products that provide extra nourishment and care, and encourages hair love in kids with curls, coils, and waves. The Hair Love Collection includes a moisturizing shampoo, conditioner, detangle/hair refresher spray, and a curl cream. Each bottle includes an encouraging message for children. The collection launched on Walmart.com in November.
Student activist, Faith Fennidy was a victim of hair discrimination on the first day of 6th grade when her home room teacher asked if her box braids were real or fake. She was later brought into the principal's office where her parents were called and told that her braids were against the dress code. Her parents tried to explain the importance of braids and protective styles, but Fennidy was still sent home. Her story was recorded and published on social media, where it went viral. Fennidy is now an advocate for the CROWN Act.
The session ended with a surprise performance from The Real Young Prodigys performing their original song "CROWN." The Real Young Prodigys is a social justice hip-hop group that uses the genre to teach about racial injustice and black history in America. They were founded by Nyree Clayton-Taylor, teacher, and co-founder of the Hip-Hop N2 Learning non-profit organization in Louisville, Kentucky. Their song "CROWN" helped to pass the Crown Ordinance in Louisville.
Growing Up with U
Sally Brown, Unilever's Global Brand Director of Baby Care and Kids, highlighted their new product innovations for all things kids and baby, as well as the purpose behind the new launches to create maternal care equity.
The first new launch is from Shea Moisture, a baby hair care line that targets children with textured curly and coily hair. This line is formulated with raw shea, chamomile, and argan oil to deeply moisturize and detangle coils and curls. It includes a conditioner, leave-in conditioner, and a detangler. The line has been pediatrician tested, it is hypoallergenic, and free of ingredients like sulfates, parabens, phthalates, and mineral oil.
Another Shea Moisture launch is their Manuka Honey and Provence Lavender collection, perfect for parents that want to improve their child's nighttime routine. A full line of products for textured, tangle prone hair, and to help calm babies to have a restful night's sleep. Includes a pre-wash detangler, shampoo and bath milk, deep conditioner, hair and body oil, and body cream.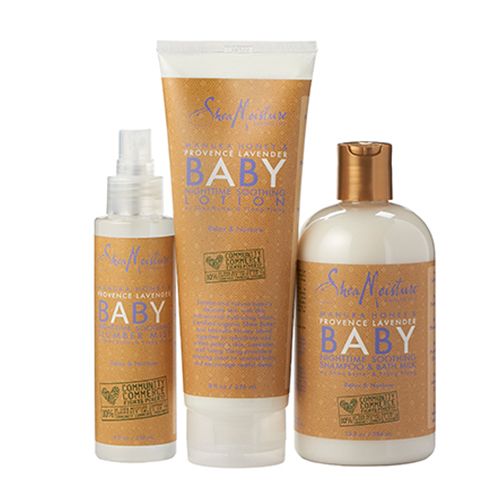 Baby Dove is also launching a line specifically made for melanin rich skin and curly/coily hair. The Baby Dove Melanin-Rich Skin Nourishment and Curl Nourishment collection is a hypoallergenic and dermatologist tested line made to maintain moisture that is sensitive enough for babies and even newborns. Created with coconut oil, almond oil, calendula, chamomile, and oatmeal. There are 6 products in the line including a body wash, body oil, body lotion, shampoo, conditioner, and leave-in conditioner/detangler.

The purpose behind these new launches is to serve communities of color and provide products that work well for them in a step to create equity. However, true equity goes beyond personal care products. Maternal care is at the core at this newest launch.
"The significant disparities in care that black mothers face leading up to, during, and after childbirth is staggering. In the United States, Black mothers are 3 to 5 more likely to die during childbirth than white women. Even worse, 60% of those deaths are avoidable," Brown explained. Baby Dove believes that Black expecting mothers deserve exceptional care and support the use of a doula, as studies show that they positively affect all aspects of the pregnancy experience.
In an effort to bridge the gap in care of Black expectant mothers, Baby Dove has launched the Black Birth Equity Fund. It is an initial step to provide immediate live saving support through doula services with one-time grants for expecting mothers and birthing individuals. The brand has committed an initial $250,000 to the fund which launched in late August 2021. So far there are already 2500 applicants.
Baby Dove has partnered with advocacy group Black Mammas Matter Alliance (BMMA) to catalyze systemic change in care for Black mothers and birthing people. Brown introduced the co-founding Executive Director of BMMA, Angela Doyinsola Aina, MPH to answer a few questions on the mission of BMMA.
BMMA was sparked by a partnership between the Center of Reproductive Rights and Sister Song Women of Color Reproductive Justice Collective in 2013. These two organizations spoke to black and Hispanic women in the south to get their experiences with the health care system during their pregnancy. This was urged by a 2010 report by Amnesty International showing the rising of maternal mortality rates in the US, while other countries were seeing a decline. The two organizations convened to create the Black Mommas Matter project. Then in 2016, the project decided to formally create BMMA to finalize their work.
They work towards their goal by working to change policies, taking advantage of the human rights framework to address health inequities and improve black maternal health outcomes. They also work to advance care by promoting holistic, respectful, and comprehensive maternal and reproductive health approaches to Black Mommas Care. "Today, Black expectant mothers and birthing individuals face significant disparities in care leading up to, during, and after childbirth, which unfortunately creates a world where black women are dying at 3-5 times the rate of white women, but we know that 60% of these deaths are preventable," Aina said.
Doula care helps to improve the overall satisfaction of childbirth care and increases breastfeeding initiation and duration. Doulas provide health education and counseling, helping women and families to manage chronic diseases and reduces the risks of complications during childbirth. They are sometimes a part of the communities they serve. They can be culturally and physically accessible in ways that other health providers are not and are sometimes in rural areas. They are essential to the team of health providers along with midwives, nurses, and OBGYNs.
Progress is being made as there is more governmental awareness and growing public systems. There is also an increase in black healthcare professionals becoming doulas and birth workers and starting service-based organizations. However, it needs to be sustained through legislation.
The Start Up Solution
Unilever North America's Chief Marketing Officer of The Uncovery, Laura Fruitman revealed Unilever's new venture studio and incubator called The Uncovery. The Uncovery's goal is to create and build new masstige brands and businesses by providing the best Unilever has to offer, while giving it the space to grow and thrive separately from the primary business. The Uncovery has produced three new brands, the first being Mojo.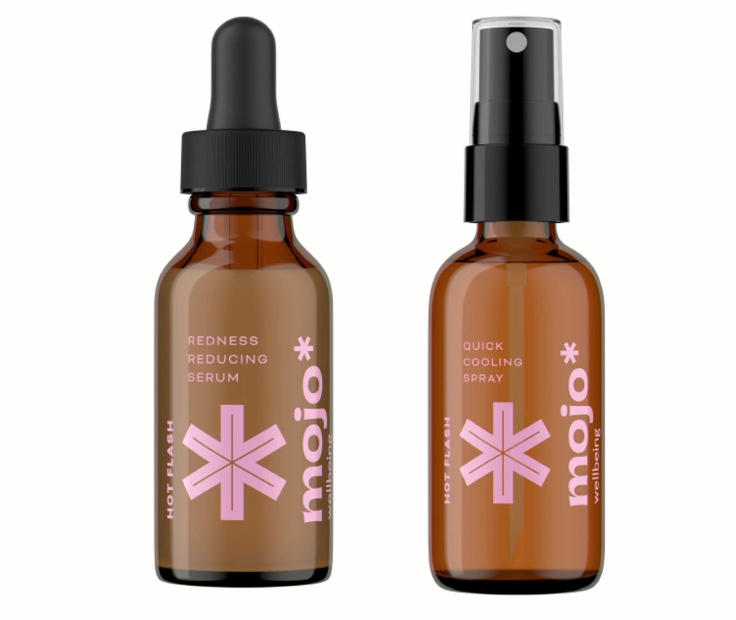 Mojo is a holistic range of products targeted towards the underrepresented group of women who are going through perimenopause and menopause. "53 million women in the U.S. are experiencing perimenopause [the natural transition period to menopause], and 78% of women say that it effects their daily life, their skin, hair, sex life, work life, mood and mental health," Fruitman explained. These products are meant to address the many symptoms of menopause from hot flashes to dry skin, and everything in between.
Redness Reducing Serum: a facial serum made to soothe and moisturize the skin, even skin tone, and reduce visible redness. Clinical Results show how it can reduce redness during perimenopause and menopause. Contains 5% niacinamide, which can reduce redness, hyaluronic acid, ginger extract.
Quick Cooling Spray: A calming and cooling spray for the face, neck, and chest. Contains cooling agents made to soothe and refresh the skin perfect for when women are experiencing hot flashes that lasts throughout the day. Contains 1.25% of niacinamide, glycerin, and witch hazel. Also good for bursts of moisturization.
Mojo will be available on Amazon ranging from $25-$35 in January and more additions to come throughout the year.
Ferver is a clean skincare brand powered by fermentation. It uses amazing, fermented skincare ingredients, turning them into supercharged actives. "If you think of [fermented] food like Kimchi or kombucha, you can also ferment skincare actives. The process of the fermentation of the skincare actives really transforms these regular actives into smaller, more potent, and precise molecules so they can penetrate into the skin's surface," said Fruitman.
There are 10 products launching exclusively to Target in February 2022. Prices ranging from $14.99 to $18.99. The launch includes:
Fermented Hyaluronic Acid Serum: Claims to penetrate the skin 10 times deeper than regular hyaluronic acid. Consists of two molecular weights of hyaluronic acid for better penetration and moisture.
Fermented Prebiotic Glow Serum: Made to be 4 times more powerful than vitamin C. It brightens the skin, hydrates, and restores radiance and luminosity. Also contains vitamin E.
Fermented Vitamin C Brightening Day Cream: Designed to be 6 times more brightening than regular vitamin C. A glow boosting moisturizer that incorporates coconut oil and glycerin for softness and hydration.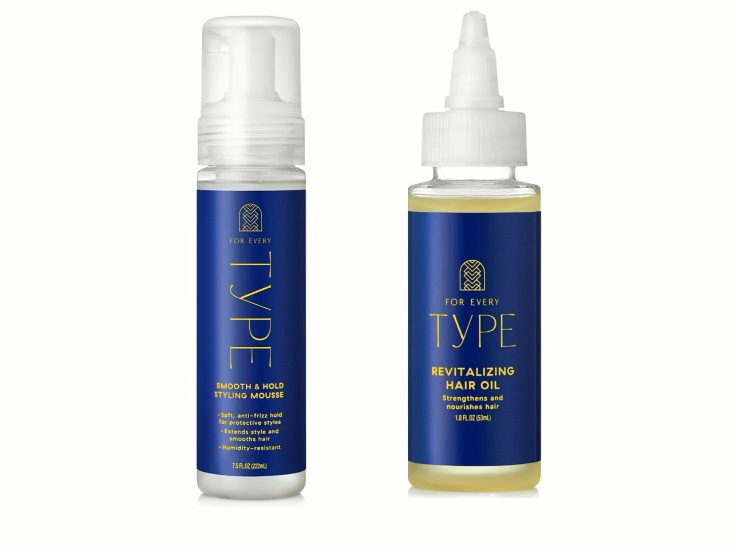 For Every Type is a brand specifically made for healthy protective styles, using the input of protective style users. It emphasizes keeping the hair healthy within the protective style as well as making it long lasting.
Smooth and Style Mousse: Great for both human and synthetic hair to tame frizz and flyaways. Perfect for refreshing wigs, braids, lots and weaves for all day hold.
Revitalizing Hair Oil: A multi-tasking lightweight oil made to moisturize the scalp and hair, while adding shine and preventing breakage. Rich in essential fatty acids, vitamin E, castor and argan oil.
Available on Amazon now and going live with 4th Ave Market, a black owned beauty online retail platform, later this year.
It's Not Trivial. The Pursuit For a Better Future
Esi Eggleston Bracey came back with Ryu Yokoi, Head of Unilever North America's E-Commerce and Digital, Beauty, and Personal Care, to discuss Unilever's Planet Positive commitments and plans to do better for the world environmentally.
Yokoi, also known as the sustainability champion, is deeply passionate about the environment and saving the planet. Unilever believes that we have to transform our approach to sustainability. This means discovering the roadblocks in our ecosystem and finding alternative ways around them.
In waste management and recycling, 80% of the United States relies on a single stream recycling system than a multi stream, meaning that all different types of recyclables are placed in the same bin to be sorted and cleaned at recycling facilities. While this option is easier for consumers, it results in a quarter of the materials being contaminated. Mixed materials can be hard to sort and difficult to process. Many recycling centers consider it to be too time consuming and expensive to process, so they end up in landfills, in the ocean, or scattered around the planet. The issue is further exacerbated because recycling collection varies widely depending on where one lives. "The center of this issue is really about dedicating the right time and resources towards upgrading the U.S.'s recycling infrastructure so we can address these issues head on," said Yokoi.
Yokoi believes that we need a Circular Economy, one that allows for materials to flow around in a 'closed loop' system, rather than being used once and then discarded. However, collecting, sorting, and recycling can be costly, but one way to fund this is through EPR. EPR (Extended Producer Responsibility) is a policy approach that gives producers financial and sometimes physical responsibility for the treatment and disposal of consumer products. Through EPR companies that put products on the market are required to also pay for their collection, sorting and recycling after use. EPR is not new and has been used for years in other countries around the world. Unilever is advocating for EPR because they believe that they are responsible for collecting the packaging they produce.
Unilever plans to cut their virgin plastic use in half, process more plastic than they sell, and ensure all their packaging is either reusable, recyclable, or compostable by 2025.
Yokoi also reveals the interesting fact that the color of plastic can affect how easily it gets recycled. Black plastics are not recycled with ease and often end up in landfills. Carbon is used to create the plastic's black color and the carbon black inhibits the infrared detection called NIR, used by recycling sorting equipment. 50% of the United States' plastic is black, so this presents a huge problem. Unilever urged APR (The Association of Plastic Recyclers) to investigate innovative solutions. After 3 years of doing testing on their own products, Unilever has proved a color-based technology that will produce black plastic that can be recycled.
Biodegradability is another issue that Unilever is passionate about. When using home and personal care items like shampoos, body washes, laundry detergents, etc. they get rinsed down the drain and can impact the water and ocean life. Unilever wants to make sure that they make as little impact to the water as possible so, they have planned to make their ingredients and formulations 100% biodegradable by 2030. They have some biodegradable products coming out in 2022 by the brands Love Beauty and Planet, and Dove.
To live more sustainably, Yokoi recommends using and refilling packaging whenever you can, read recycling instructions to see what can be recycled locally, learn about the recycling capabilities of your town by contacting the department of waste or go to howtorecycle.info, and lastly, reach out to members of congress to support federal EPR programs.
Click below on page 2 for details on Day 2 of Unilever's Annual Beauty and Personal Care Virtual Event.