by Destiny DeJesus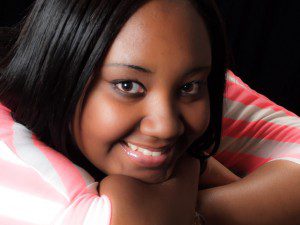 Tryneal Addison is living the busy life of a talk show host, journalist, actress, entrepreneur and author. Would you believe that this young lady is only 17-years-old and has all of these titles under her belt?
As the host of a teen hit series, "What Girls Think", Addison has created a "voice" for teenage girls.  When she realized that majority of talk shows focus on parents speaking about their teenagers, she decided to switch things up. Addison formed the idea of creating her very own talk show from a teenagers point of view.
As a high school student, Addison has many responsibilities. She recently sacrificed her senior year to ensure she had time for her talk show and other opportunities. Currently, Addison is finishing her high school career by taking online classes.
"Sometimes you have to sacrifice things to do what you love," she said. "If you let opportunities go, you may not get them again."  Addison expressed that the opportunities at hand are for her future which is more important than her senior year or prom.
At a young age, Addison's mother encouraged her to create her own talk show because she had "the voice" for it. Addison said she took her mother's advice and ran with it. Unlike her peers, she spent her free time researching networks and stations. Eventually, the young entrepreneur came across FirstRun.tv Network and wrote her proposal. She contacted Gary Kleinman, President and CEO of the network, and pitched her social experiment when she was 16-years-old.  Addison's powerful and mature voice fooled Kleinman. He figured that her mother was speaking for her, but when he found out she was the 16-year-old with the idea, he instantly gave her a show.
Addison's "social experiment" was to create a voice for teenagers from all over the U.S.  Her show is similar to a teen version of "The View". The 30-minute talk show covers two topics from a teens point of view, one serious and one humorous.  Along with Addison are 6 other girls, from different locations and cultural backgrounds, who share their beliefs and opinions on the various topics.

She and the girls come together to think about topics of discussion and film the show every 2 weeks. They speak about everything from teen pregnancy to who's hot and who's not in the music industry. With Addison and the girls as the "Voice" of youth, teens as well as adults are able to get a better understanding of what girls think.
Many dream of becoming the next Oprah but Tryneal Addison is ahead of the game. She has taken steps that most take during their years as an undergraduate student!
Addison explained that college will always be there and she needs to take advantage of the opportunities at hand.  Recently, she was offered a job as the Junior Editor at Tru Magazine, a local magazine in her home state!
Within the next five years, Addison hopes to have her own talk show. Keep your eyes open! Tryneal Addison may just be our next Oprah Winfrey.
Addison's motto and favorite quote is: "Smile, because you can, because you have the right and because your worth it."
To watch past episodes, become a guest, or suggest topics for "What Girls Think", visit www.firstrun.tv/whatgirlsthink.