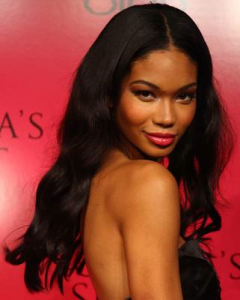 Scientists claim that a flush of red in a woman's face indicates fertility, sexual arousal and availability for the male species. Interestingly enough, the human eye can detect the most subtle blush in all skintones.
Unfortunately, as we age, we blush less frequently and not as with much vibrancy.  So those of use over 40 definitely need help with getting cheeky.  One of the best cosmetic innovations was  cheek stain.  Benefit led the way with Benetint, and since that time cheek stains have only gotten better.
From the youthful blush of Chanel Iman to the subtle crimson glow of Garcelle Beauvais, a cheek stain is the ticket to a natural looking flush that will keep you blusing for hours.
Organic cheek stains have found their niche in today's market, and not only are they "green" for the picking, but these good-for-you blush sticks are potent with pigment. Â The depth of color in these cheek stains, make them the ideal blush for brown skin.
Top 5 Red Organic Cheek Stains:
1. Josie Maran Magic Marker Lip & Cheek Stain $19
2. Â 100% Pure Sheer Cheek Tint $13
3. Tarte for True Blood™ Limited-Edition Natural Cheek Stain $30
4. Â Vapour Organic Beauty Aura Multi-Use Blush-Stain $28
5. Â Treat Black Cherry Lip & Cheek Stain $13
By Tracey Brown/Editor of Blinging Beauty