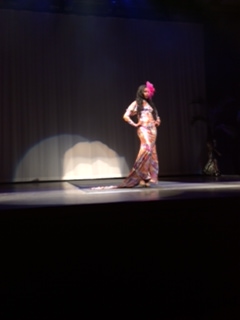 Troisique
fuses theater, film and runway fashions to deliver an epic stage play experience!
Troisique
is the brainchild of Sasha Vitalis, CEO and founder of
Sasha V Production, LLC

.
This unique production combines an action packed short film, dramatic stage play and fierce runway fashion show into a dynamic production unlike any other to grace South Florida or the national entertainment scene. Yes, this is a true statement; welcome to a new era of fashion shows!
When you are an artist you learn to be creative; for it's your creativity that will captivate your audience. As a designer I know about this firsthand. Â So when I was invited to attend a fashion show that promised I would see fashion meet Broadway, sure enough it had my attention. Hosting the event was Actress/Model Nije Sabik and Supermodel Tico Armand, former
Sarahi
models.
Who doesn't love a great fashion show? Especially one that is combined with a short film and Broadway production where designers get to showcase their designs following an introductory scene from the film and/or play.
For a moment I forgot I was in Miami and was thinking I was in Las Vegas at a Cirque Du Soleil show; but then I remembered I did not get on a plane. This unique show incorporated models, dancers and actors, allowing them an opportunity to showcase their talent. The film portion was actually shot days before, with the actors acting out the filmed scenes to provide more of a theater experience with the final part of the equation being a live fashion showcase to complete the scene. This was such an experience as it allowed the audience to experience a combination of film, theater and fashion entertainment. The show lasted for a little over two hours and was indeed entertaining, as it kept the audience in their seats.
I can certainly see Troisique taking the nation as the new and innovative way for designers to showcase their collections while entertaining the audience. This show is a must see, and the cost of attendance was only $20; where else can you get Broadway tickets at this price? Only in South Florida!
by Suzette Kelly