By Grace Galarraga
As a first-generation Latina, corporate lawyer Tricia Montalvo Timm grew accustomed to feeling different than her other co-workers in the workplace. Although she's extremely accomplished and excellent at her field, there have been times in her career when she couldn't help but feel completely separated and alone in her experiences. Oftentimes, she must remind herself exactly how much she has accomplished over the years while rising through the work positions of Silicon Valley.
She's currently a board member and the Chair of the Compensation Committee at Salsify, a software company. Beyond that she's a speaker, thought leader, and author. Her new book, Embrace the Power of You: Owning Your Identity at Work, is going to be released in March 2023.
In a vulnerable and extremely powerful viral LinkedIn post, Montalvo Timm was able to dive into her own experiences embracing her El Salvadorian and Ecuadorian roots, which is what sparked inspiration for her book. She was finally comfortable enough to share her background in her workplace after years of being excluded and overlooked. As one of the leading Latina women in her field, she's tackling a new role as a mentor, to help other Latina women in business thrive. Embracing the Power of You seeks to help those who feel just as she did- outcasted and othered – by using self-acceptance as a strategy.
Sometimes, one's culture can get lost within the ever-growing feeling of trying to fit in. This is something that Montalvo Timm knows very well, and for her, connecting to who she is culturally is a journey that's just begun.
Bronze Magazine: You start off your book with a stellar dedication that caught my eye: "To all those who have ever felt like an other." Can you tell me about a moment where in the workplace you have felt "othered"? How did you move past it?
Tricia Montalvo Timm: Honestly, I have felt like an 'other' in the workplace for most of my career. It started at my first job at a large corporate law firm. My incoming class consisted of Ivy-league graduates, and I was the only Latina – I felt that I didn't stack up to the group of associates. It began from there and throughout my career I've found that I'm usually the only woman in the room and I'm definitely the only woman of color in the room, so I always felt this pressure to prove that I belonged. There are times when I get very confident and comfortable in a particular position where it starts to fade away a bit, but any time I find myself in a new role, the imposter syndrome comes rushing back. The way I moved past it over the years was to really sort of dampen some of the negative messages that I say to myself. I call it negative self-talk. It's certain messages and words that come to mind when I feel like I'm the other in the room or that I don't belong.
What I try to do is to write down all my accomplishments. I will write them all down, look at them on a piece of paper and almost have to convince myself that – "You're a pretty accomplished person! You do belong in this room." There are also other strategies. Another thing I do is activate an alter-ego of sorts, or channel someone that I admire and think about how they would handle a particular situation. Another one that I haven't really tried yet, but I heard about recently is having a hype song!
Bronze Magazine: Separating your cultural life from your professional life must have taken a toll over the years, since culture is such a big part of what makes up a person. Did you, or do you currently, feel moments of disconnection to your heritage because of that? How do you feel about your cultural identity currently?
Tricia Montalvo Timm: This has been such a journey for me. I'm first generation, my father is from Ecuador and my mother is from El Salvador. Because my parents were immigrants, they were discriminated against. They wanted a better life for us, so they really encouraged us to assimilate quickly so that we could have a better life. Passing as white, in their mind, would give us greater opportunities. So, I did that, and in one respect, I think they're right. I think that there is a benefit, or a privilege, that is given to you when you do that, but at a cost. Separating the two (cultural life and professional life), does it take a toll? Absolutely it does. I have felt disconnected from my heritage for much of my life and the journey I have been on for the last five years has been to reclaim it.
I realized over that period what a disservice it all was, not only for myself and my children, but also for those in the workplace. One of the things that was so hard for me was not seeing any Latina leaders in positions of leadership, so for me, downplaying my ethnicity was robbing the next generation of the very role model that I wanted to see. Currently, I am working to embrace and reclaim my identity, part of that journey is writing this book (Embracing the Power of You). Am I 100% there? No, I think there are still times where I question, "am I brown enough to be in this space?" And I have to tell myself – "Yes I am, I really am." So far, it's a lot of unlearning.
Bronze Magazine: Are there parts of your culture you really love?
Tricia Montalvo Timm: Definitely the food. My mother is a great cook. And music too. My mom's favorite music is mariachi and every time I hear it my soul lights up. Also, storytelling. I was just in Ecuador this past summer and one of the beautiful traditions we had there was sitting around in a circle and just listening to the great storytellers of my family. The value placed on family really connects me to the culture.
Bronze Magazine: You detail the story of making the LinkedIn post in the introduction of the book. Was there any event in particular that prompted you to make that post at that very moment?
Tricia Montalvo Timm: It was the culmination of years of inner work that prompted me to make that post because in my mind it required a lot of courage to let go of potential repercussions that I had created in my mind around it. If there was a particular moment that started my journey, it was at my last job at Looker. I was the general counsel and executive sponsor of DEI (Diversity, Equity and Inclusion) there and I was asked to tell my story during National Hispanic Heritage month. That was the first time I went up to a large group of employees in the workplace and really told my story. I was very nervous at that moment but when I finished, I saw the impact that I had made on the employees' faces, particularly women of color and other Latinas. They came up to me after and expressed their gratitude. I saw this shift and realized that I had made an impact.
I realized in that moment that I had a responsibility to be visible as a leader and as a Latina leader. That's when I started really thinking about it more thoughtfully. I think the LinkedIn post was a year or two after that, but it was that particular moment where I knew I had a bigger purpose and slowly got to the place where I had the courage to say something about it.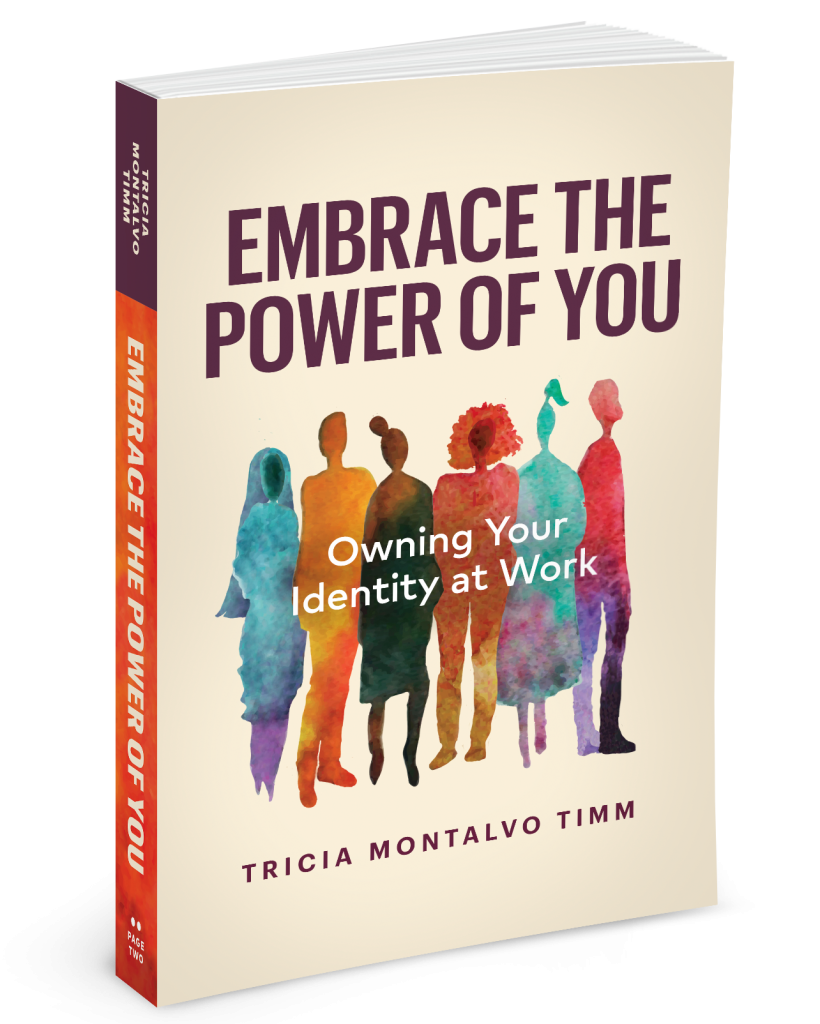 Bronze Magazine: Why do you think you were scared while admitting part of your history to LinkedIn? Where does that fear come from?
Tricia Montalvo Timm: It started in childhood. I was born in Los Angeles and when I started school, they moved our family out of LA and into the neighboring suburbs, which were predominately white. Growing up in a community like that, there were lots of derogatory comments and other remarks that really made me believe that being Latina was somehow lesser than. As I progressed through my career there were slights and snubs that happened along the way, microaggressions as it's called. I was mistaken for the assistant, or I was asked to get the water, and still to this day, people are surprised when they hear my credentials and my accomplishments. They always say, 'wow really?' It's always in this surprised tone. When you're constantly being told by the outside world that people are surprised at your success and you hear remarks about your culture that are derogatory, you internalize that and you begin to think if people knew that about you, they would think less of you. I think that's where the fear came from.
Bronze Magazine: Do you believe there is more representation and diversity in professional spaces today in comparison to a few years ago? If so, what are some of the key differences?
Tricia Montalvo Timm: We're making progress but it's slow. I think there's still a perception that there's still not enough diverse candidates and that's one of the things I try to debunk when I can. It's not a pipeline problem, it's a network problem. Being part of several women's, Latino and Woman of Color organizations, I can tell you there is a plethora of qualified candidates out there, but I think those who are making hiring decisions aren't connected to them. We need to bridge that gap and that's one of the things I'm really focused on trying to do.
I do think we are making progress though, especially after 2020 and the racial reckoning of that time because there is a rise in awareness of this issue and there's the rise in DEI professionals. I would say that people three layers down in the HR department are now entering the C-SUITE and having much more strategic positions. I think by bringing those professionals into those positions of influence, we'll start seeing some more change.
Bronze Magazine: What was going into the office like after your post went viral? Did you feel accepted? Were there some people who changed the way they were around you? Do you experience microaggressions?
Tricia Montalvo Timm: I will say that I was fortunate in that. At the time that I made the post and spoke up, I was in a company that was very supportive and a management team that was very accepting of different cultures and identities. I'm not as brave as some others because the environment that I was in felt safe.
I was surprised at the outpouring of love and support; I didn't expect that. There were a lot of people that came to me that I didn't expect, that said, "that's such an interesting part about you and I'm glad you shared it." That gives me further courage to keep going. I think I'm in a position now of seniority that it is less common to get outward microaggressions. It's more about the silence. People I used to hear from, I hear from less. It's hard to know if they are unhappy with me or not.
Bronze Magazine: According to your book and research, there are low statistics of Latina women in positions of power in corporate America? Why do you think that is? Does it have to do with, not only being a "other" but also being a woman in a male dominated industry?
Tricia Montalvo Timm: Oh, absolutely. As a Latina, you have to contend with the intersection of gender and race. As a woman, you have to overcome gender bias in the workplace and that itself is difficult. Then, on top of that, you layer on the racial stereotypes and biases and that makes it even harder. And I would say, adding a third contributing factor is being a first generation professional where you don't have the family, friends, and network to show you the ropes and how to navigate corporate cultures. You're navigating all these things on your own unless you find yourself a sponsor or a mentor. Those three things are all hindering your ability to advance in the workplace to the most senior position.
Bronze Magazine: Were you able to find a mentor?
Tricia Montalvo Timm: I was very fortunate to have had great mentors and sponsors, but they've all been white men. I've never worked for a woman; I've never worked for a female CEO. I've had to find them in other places. Thankfully, there have been some wonderful men who really mentored me along the way. In particular, one of the first general counsels I worked for, he has been there for me throughout my career. Whenever I went into a new job and didn't know how to navigate it, he always encouraged me to go higher, and he always believed in me. Having someone you respect believe in you and give you tips and show you the inside scoop really mattered as I navigated all these different things. Now, I try to mentor and sponsor Latinas since there are so few in leadership currently. I think it's so important for us to be doing that right now because it really guides them to believing that they belong in these spaces. That's something that I'm very passionate about.
Tricia's book can be preordered here
Follow Tricia on Instagram