Look Great While You Do Good – During Breast Cancer Awareness Month 2013!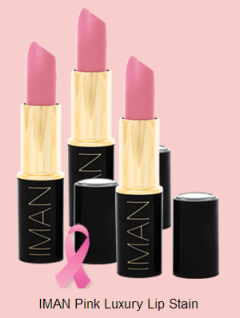 Join IMAN Cosmetics in the fight against breast cancer by supporting the Sisters Network® Inc. Young Sisters Initiative. Spread the word and help IMAN get 5000 survivors who are Women with Skin of Color under the age of 45 registered for this dynamic program that assists with breast cancer support information and resources.
YSI offers everything from Twitter chats and webinars, to "Ask the Doctor" sessions and informative social engagements that address meaningful issues in a user-friendly and culturally relevant way.
Additionally, when you buy a Vitamin-enriched, moisturizing IMAN Pink Luxury Lip Stain during the month of October 2013, a percentage of your purchase will go towards the $20,000 that IMAN Cosmetics will be donating to Sisters Network® Inc.!
Get your IMAN Pink Luxury Lip Stain here:
by Tracey Brown