By Kiara Timo
When summer was at its peak, and everyone was outside daydreaming about ice cream and the salivary taste of sweet treats, hard-working culinary professionals spent their National Culinary Arts Month, July, perfecting those very dishes.
For the third year, Talenti Gelato & Sorbetto united with Black Food Folks to create a fellowship for Black professionals in the culinary industry. Their grants recognized four trailblazing creators and their craftsmanship, accompanied by a limited edition tasting menu crafted by the honorees. Maya-Camille Broussard, Jasmine Macon, and Felicia Mayden were some of the culinary visionaries to receive this year's honors.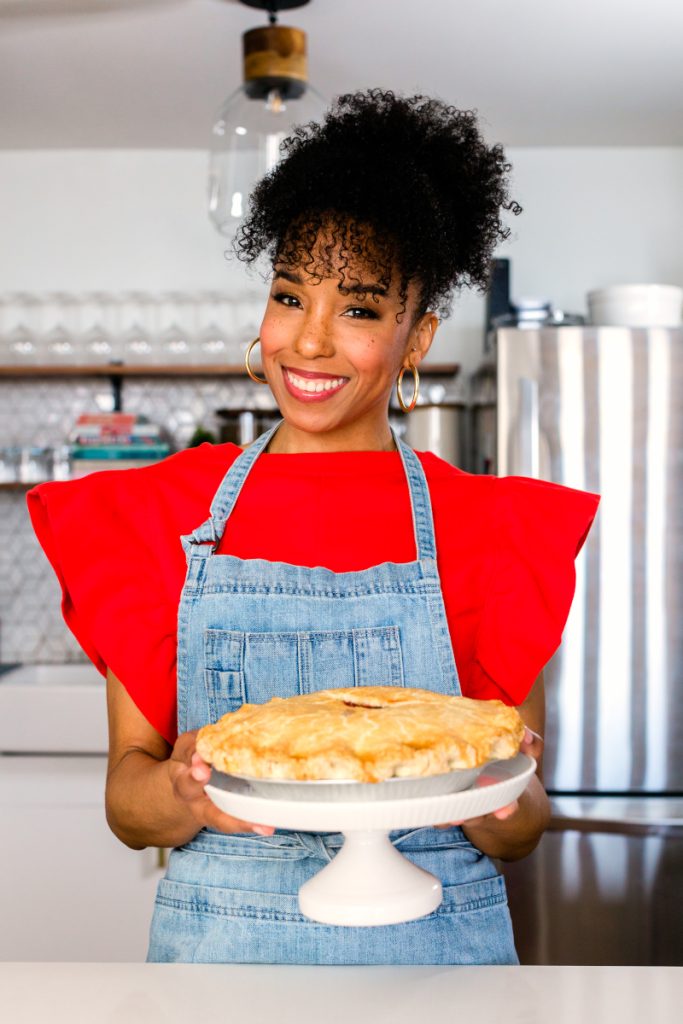 Based out of Chicago, Illinois, Maya-Camille Broussard (above), founder of Justice of the Pies, is aware of her accomplishments, "I make a difference by existing as a Black woman, and I make a difference as a person existing with a disability." Talenti isn't just including her as a fellowship honoree but called her a culinary hero, "My core philanthropy work is food insecurity."
This grant is not only a personal accomplishment for the pastry chef, but a step in the right direction for her expanding business, "We've run our bakery the last eight years as a satellite business with no storefront, and I am super excited to finally have a home. In addition to a pastry kitchen, it will also have a small teaching kitchen that will allow me to continue doing my workshops for children who live in the community and surrounding communities." Her workshop, I Knead Love, supports children who live in lower-income communities affected by food insecurity.
Over in Charlotte, North Carolina, chef Jasmine Macon (above) is living her dream and preparing to open her pastry shop, Beyond Amazing Donuts. The must-have limited edition treat created by Macon? The Mango Donut with Basil Caramel and Ginger Crumb with Talenti Alphonso Mango Sorbetto. "My introduction to Talenti was the Alphonso Mango Sorbetto. I fell in love with the flavor, and for a long time, it was the only option I would eat; I was hooked. Also, the temperature in Charlotte, NC, was upward of 95 degrees during this past summer. So, I felt like that was a great and refreshing choice to offer in the sweltering heat. Combined with a basil caramel and ginger crumb, it is uniquely herbal, sweet, and tangy."
Macon knows firsthand the hard work and sacrifices to make a successful company. She knows that she has a lot of delicious, sweet treats to offer and intends on using the funds from this grant to provide her services to as many people as she can, "I was just gifted a van from a relative, and this will allow me to do more events and pop-ups around the city. Before, I was shuffling everything out of 2010 Kia Forte, and believe me, it was tight. Now with a larger vehicle, I can load up tables, a tent, and more product. It's truly a blessing but it is also another expense. I'm still an incredibly small operation until the brick-in-mortar opens, so being able to do more events, paying my staff live-able wages, and maintaining a cushion in case the world shuts down again is imperative."
Back in Chicago, executive pastry Chef Felicia Mayden (above) is focused on inspiring a difference in the culinary world, "During the pandemic, I think reality set in for me, so I want to make sure I give back to the community that I grew up in which is on the west side of Chicago. I think about what it was like and still like for my family to have to leave the community to go get the necessities, like food. So, I wished I could do as much for the community, so they finally know what it's like to be seen."
Working out of The Emily Hotel, Mayden will feature her Banana Pudding Ice Cream Sandwich with Talenti Madagascan Vanilla Bean Gelato. Felicia's inspiration? Her upbringing, "I wanted to bring something that was recognizable and also made me think about my childhood. Banana pudding makes me think about watching my grandmother make her pudding from scratch and build the dessert. I know that pudding is made similarly to a gelato base so it was an easy decision on what the dessert would look like. Also, I wanted to keep the gelato in its true form, so adding the layer of bananas mixed with a foster's sauce and sandwiching it between homemade vanilla wafers was the way to go."
Using the funds from the grant, she plans to open communication channels, "I plan to start my pastry-based podcast. First, I will feature local Chicago-based pastry chefs, and then I hope to connect with more pastry chefs nationwide. Also, I will save some of it and take my son on our annual trip to Disneyworld!!"
These three chefs are making a difference in the culinary arts, using their positions to provide and support as many individuals as possible. For more information about these talented chefs and the fellowship, please visit blackfoodfolks.com.