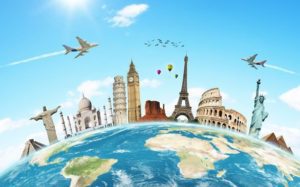 It turns out you can buy happiness, as long as you know how to spend your money. Research indicates that those who spend their money on experiences rather than objects are in fact much happier. Travel is an experience that finds its way onto many goal lists. Perhaps it's time to brush off those lists and start crossing off our adventures.
Research done by Psychologist Matthew Killingsworth and Psychology Professor Daniel Gilbert in 2010 was complied into a co-authored paper that addressed their belief that, "A wandering mind is an unhappy mind." The information goes on to detail that part of the happiness we receive from any given purchase happens before we have it. The process of waiting for an experience leads to more happiness than anticipating an object. Experiences like concerts, traveling, etc. allow us to truly live in the moment, which in Killingsworth and Gilbert's opinions is what it takes to be happy.
The benefits of travel extend far beyond the immediate luxury of getting away. The relaxation time is a chance to restore and replenish. Yet, Americans are not taking the time to travel. It's a curiosity-inducing subject that has been covered by several news organizations including The Boston Globe, which cites an Oxford Economics study finding that Americans are wasting $52.4 billion in earned vacation benefits each year. Another study cited is from Expedia, which estimates 500 million vacation days a year are thrown away. Perhaps this is part of why American workers find themselves to be among the most stressed out in the world each and every year.
Traveling is often the last thing on our minds when our bills already seem daunting. For many, planning a trip means making cuts in other aspects of our lives. Traveling cheaply helps ensure that the sacrifices remain minimal. One of the quickly rising sites to help travelers do this is Airbnb. How does it work? Type in where you want to go, and a plethora of places arrive at your fingertips, all remarkably cheap. Travelers stay at a host's place (sometimes while they're gone, sometimes while they're home, depending on preference.) After the visit, both the traveler and the host rate each other for other travelers to see. The age of technology has truly opened up a world of possibilities. Of course, Airbnb is not the only site to offer these deals. For the bold traveler, Couchsurfing is a viable option allowing you to find a host for free, as well as a variety of other options. Do your research thoroughly and with an open mind.
Take that vacation you've been meaning to take and explore the world, whether it's backpacking through Europe or volunteering in Africa. You know all the savvy tricks to save money; you've been planning this in your daydreams for years, you're ready. Ultimately, you'll thank yourself for putting your happiness first. Maybe you'll even have a chance to grow closer to you significant other, your family, or your friends.  Just make the choice to go. Your life is waiting for you and you've earned it.
By: Bethany Thomas
Photo Source: Edmonton Guide http://edmontonpl.com