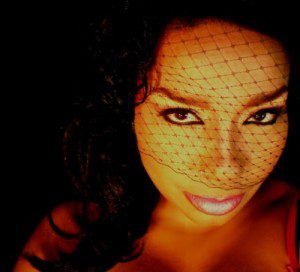 TRAEDONYA! is a musician, recording artist, singer-songwriter, and model all in one. She recently released her new song "Simply Beautiful U R", an Al Green classical remake and incorporation of poetry from Irish Soul Flower. She considers the song to be a cross mix of the jazz and blues genres. She explains that she has a very soulful and and empowering voice that moves her listeners and audience.
TRAEDONYA! was born in North Carolina where later she and her family moved to New York. Her family had a musical background so she grew up on the classics. Her mother didn't discriminate when it came to the type of music she was surrounded by and listened to. TRAEDONYA! eventually fell in love with all the greats such as Donna Summers, Whitney Houston, Aretha Franklin, and Diana Ross. She was also exposed to a lot of theater such as plays and opera showings, as well as art and museums. She reveals that she never really hung out with a lot of friends, instead she hung out with her mother and family while growing up. Since she was around her family a lot, during gatherings and growing up, everyone wanted her to showcase her voice and talents. For TRAEDONYA! it was a natural transition getting into the business because her step father was a well known musician; so she was able to learn how the industry worked from him while growing up.

At the age of 13, TRAEDONYA!  produced her first professional record titled "Do the Boogaloo." She also did a lot of background vocals for various artists. While performing and jump starting her career, she studied jazz at a New York conservatory. Once she established herself as a true artist, she began to create "out of the box" and exciting music. TRAEDONYa's music is a combination and collaboration of different genres and musical types. Due to the diversity of her music, she was able to tour overseas a lot. She shared a specific experience when she was in Scotland: a writer took interest in the sound of her song "Beloved" because it's an opera and hip hop based song. This resulted in the writer giving TRAEDONYA! the title, " The Bride of New Funk Hipopera." She became fond of the name because it was different, and now that's what many writers and critics refer to her as.
TRAEDONYA! is truly different from other artists. Her passion and believing in the journey of music is what sets her apart. She loves the game of music. She loves traveling, meeting new people, the glitz and glam, the craft of studying what she does, and many more aspects of the industry. To her, there's no finish point to this business, its a life long thing. She enjoys being creative and having fun with what she does because music is her full time job. She states, "The people and the fans motivate me to do what I do. The energy drives the force of my passion. It's a very tough business to break into but with the right skills, priorities and dedication it can be done."
TRAEDONYA! is currently working with Tnemnroda, an eyewear line, as their spokesmodel. She is also working on new music material with various artists for the fall.
 Watch Traedonya's "Simply Beautiful U R" video here
by Erin Napoliean