by Dr. Blessing Anyatonwu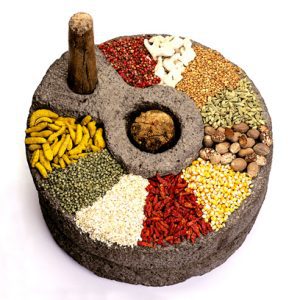 The smells and tastes of fall are here, the crisp cool days are back, long forgotten are the summer days and in comes the holiday season.
Fall and the holiday season are my favorite time of the year, cooking savory dishes and enjoy them with the people I love most.  During this time many people deal with a lot of stress and healthy eating and exercise fall to the wayside but it doesn't have to. Here are 5 spices to cook with this fall.
Spices add flavor without the extra fat, salt and sugar calories and they have high concentrations of antioxidants, vitamins and minerals.
Cinnamon is full of anti-aging antioxidants, manganese, iron and fiber.
-Â Â Â Â Â Â Â Â Â  Helps lower cholesterol
-Â Â Â Â Â Â Â Â Â  Stabilize blood sugar
-Â Â Â Â Â Â Â Â Â  Supports digestive function
-Â Â Â Â Â Â Â Â Â  Relieves congestion
-Â Â Â Â Â Â Â Â Â  Stimulates circulation
-Â Â Â Â Â Â Â Â Â  Anti-inflammatory
-Â Â Â Â Â Â Â Â Â  Anti-bacterial
Cinnamon Dessert Recipe: Super Stuffed Baked Apples a la mode
Turmeric has potent anti-inflammatory, anti-tumor and antioxidant properties.
-Â Â Â Â Â Â Â Â Â  Contains curcumin an potent antioxidant
-Â Â Â Â Â Â Â Â Â  Stops tumor growth
-Â Â Â Â Â Â Â Â Â  May relieve arthritis pain
Curry Recipe: Curried Chicken and Rice Soup
Cloves contain the highest level of antioxidants, vitamin K, manganese, calcium and magnesium.
-          Used to  relieve digestion problems
-Â Â Â Â Â Â Â Â Â  Arthritis pain
-Â Â Â Â Â Â Â Â Â  Anti-inflammatory
-Â Â Â Â Â Â Â Â Â  Anti-bacterial
-Â Â Â Â Â Â Â Â Â  Relieves upper respiratory conditions : asthma and bronchitis
-Â Â Â Â Â Â Â Â Â  Anti-parasitic
-Â Â Â Â Â Â Â Â Â  Improves brain health and mental acuity
Clove Dessert Recipe: Marinated Grilled Peaches with Cloves
Nutmeg has antibacterial and anti-anxiety properties.
-Â Â Â Â Â Â Â Â Â  Contains Myristicin, which inhibits an enzyme in the brain that contributes to Alzheimer's disease
-Â Â Â Â Â Â Â Â Â  Helps relieve gas
-Â Â Â Â Â Â Â Â Â  Calms muscle spasms
-Â Â Â Â Â Â Â Â Â  Lowers blood pressure
-Â Â Â Â Â Â Â Â Â  Improves concentration
-Â Â Â Â Â Â Â Â Â  Lowers cholesterol
-Â Â Â Â Â Â Â Â Â  Aids digestion
Nutmeg recipe: Mashed Sweet Potatoes with Nutmeg and Sour Cream
Paprika adds a spicy kick to dishes and packs a powerful health punch, it contains capsaicin, an anti-inflammatory and antioxidant compound that can:
-Â Â Â Â Â Â Â Â Â  Â Reduce your risk of cancer
-Â Â Â Â Â Â Â Â Â  Prevent heart disease
-Â Â Â Â Â Â Â Â Â  Decrease inflammation
-Â Â Â Â Â Â Â Â Â  Boost the immune system
Paprika contains vitamins A, E, K and contains a variety of minerals that include; iron, potassium, magnesium and phosphorous.
Recipe for Smoked Paprika Chicken Thighs with Onions and Potatoes
You can enjoy these recipes and the health benefits of these amazing spices to stay healthy throughout the holiday season and into the New Year.  What is your favorite holiday dish?
Dr.Blessing Anyatonwu is a health advocate, speaker and health care professional that believes that prevention is the best medicine. She is in private practice in Austin, Texas and provides nutritional counseling for clients through email and Skype. She works with clients who are tired of being told that drugs are the only answer to their health problems and helps clients come up with individualized plans for their health success. Send questions, comments and nutritional counseling inquiries to info@earnestholistichealth.com