by Destiny DeJesus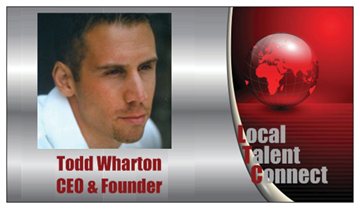 Every social network has a purpose and an audience that it targets. We have Facebook, a place for friends, and LinkedIn, a place for business people, but what we're lacking is a place for artists. Todd Wharton, Founder and CEO of Local Talent Connect put his foot down and changed that.
"It's a red carpet world and you deserve to walk it," the entrepreneur says. Wharton believes that every person has the potential to succeed. The problem is, people don't network. To alleviate this problem, Wharton created a social networking portal through Facebook that is specifically targeted to artists.
The Local Talent Connect page gets over 55,000 hits a week and about 850 artists are members. The site was launched in mid September 2012. Now, do the math. It's been less than 12 months that Local Talent Connect has been up and running and Wharton is close to getting 1,000 people on his network. The social network magnate has created one of the fastest start up companies of its kind!
Wharton has been working in the restaurant business for over 15 years. There, he's met several artists and sadly, watched them give up on their dreams. Whether it be singers, actors, poets or painters, Wharton has seen it all. He likes to call this the "downfall of passion".  He said that artists have a lot of passion but they lose that within a year.
"I'm doing this because my friends did it," he said. "I want to see more and more great people." Working in such an environment has inspired Wharton to help all artists. He says, in the restaurant business, employees are more than coworkers, they're family. He realized that his friends were moving to New York City to pursue their dreams and eventually became small fish in a big pond. His goal is to help them get in contact with people with the same dreams and turn them into a reality.
The network has artists from all over the world, including Australia. Now, if a youngster from NYC with a dream of being a rapper got in contact with someone with the same dream from another country, don't you think their outcome of being successful would increase? Wharton says that life is about networking. "It's not only who you know anymore, it's how many people you know," he said.
His list of ideas is never ending. Wharton has an imagination that is beyond this world and he receives his ideas from the things he sees everyday.  Of his plans, Wharton has a restaurant concept called, Throwback Blvd. where each night will be dedicated to a DJ who will spin throwback hits. Something different, eh?
As of now, Wharton is doing this pro bono. He's working to pay his bills, and then dedicates all of his free time to bettering Local Talent Connect.
One might ask why. Why would he work 12-hour shifts to go home and work on something he doesn't get paid for? The answer is dedication. Wharton is confident that his business will explode and the money will be there. He said he likes to take baby steps because he wants everything to be perfect for his people.
For more information on LTC and to become a member, visit www.LocalTalentConnect.com