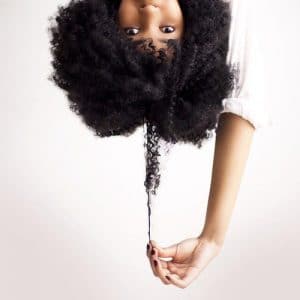 Hello Bronze Beauties! As the year is beginning to reach it's end, we know that many of you are planning for the new year with optimism, determination and self improvement!
As the natural hair movement is still in full swing, we wanted to to explain one of the most popular methods of going natural: transitioning.
Transitioning is the process of no longer relaxing your new hair growth, and growing out your hair by either trimming or cutting the relaxed length as the new healthy hair grows. The end result is eventually cutting all of your relaxed hair and having significant hair growth! But while that seems easy, here's a refresher with some tips and advice from your sisters at Bronze Magazine.
Giving Up the 'Cream Crack' and Flat Iron
After the first couple of months of going natural, your new hair may seem frustrating to manage and the urge to reach for the cream crack (relaxer or texturizer) or a flat iron will be strong. But each step forward is a step forward regardless, and once you touch either of those tools you'll have to start over again.
Hair Typing and Multiple Textures
So you gained some length, and now you think you can pinpoint your hair type! Not exactly. Until you see a definitive curl, you can't truly tell your natural hair type at the beginning. Plus as you transition you would have two or more textures in your hair, so hold off on claiming your hair type just yet!
Trims and Cuts
Trimming is extremely important when you transition. And you may be tempted to skip a few extra weeks to keep your hair long, but stick to your trimming schedule. If left uncut, split ends can crack further up the hair shaft and in the long haul, you'll be cutting more hair than you wanted to.
Big Chop and New Products
Finally, you will reach a point where you can do the big chop! Make sure that either you or your friend (or a stylist) cut off all of the relaxed hair. Also make sure to not become a 'product junkie' to find an elusive hair regime or product to fix. Too many products in the hair, or too many switches can lead to product build up. Start small and work your way along asking questions, taking samples, and using trial and error slowly to find the right mix of products for your new natural hair.
Do you agree with our tips and pointers? How are you in the transitioning process? Let us know in the comments!
By Schane Flowers