By Priyanka Hardikar
Last December, God sisters Ashley Jackson and JeNai Stanley launched Halo 7 Craft Rum – a premium rum and luxury brand that inspires an elevated drinking experience and offers variety in the spirit world.
Ashley, a lawyer and innovator, and JeNai, an artist and college professor, have known each other since childhood and have been best friends for as long as they can remember – just like their moms. They are moms, work full-time jobs in their individual fields, and participate in other organizations.
Halo 7 is a product of their true and lasting friendship, informed by their unique skill sets. "We're people of the world. We don't fit one particular mold. There's so much value in all of our different skill sets," Ashley says.
The name Halo 7 and its logo signify perfection, completion, and the ultimate sequence of the circle. But it is also a love note to our West Indies ancestors, who were the first ones to create rum as an actual spirit; it's a culmination of our legacy, heritage, and background, JeNai explains. "If you look deeper into our logo, we have the constellation to represent all of the stars of the sky in which our ancestors used."
The Vision
Halo 7 was formed from one question: Is it possible? And if it is, how far can it go?
Two summers ago, while relaxing in the backyard, they decided they wanted to create something that resonates with both of them, that binds their individual 9 to 5 worlds together. They already knew they worked well together and were involved in a variety of projects. As children, they came up with different play offices and companies using the office equipment Ashley's dad would bring home – old telephones, old message pads, and a typewriter, at one point.
Between traveling often and tasting often, they were becoming quite the spirit connoisseurs and the idea just came to them: a premium craft rum that allows you to have an elevated drinking experience. It felt right, like this is what we were supposed to do, the ladies reflected. "Something like this truly has to be a passion project, and not something you feel is just another thing on your to-do list," Ashley said.
As spirit connoisseurs, JeNai and Ashley aspired to create an elevated drinking experience – and one with a spirit that tasted good. Rum often has a reputation of being a party drink – Halo 7 defies that. As a luxury brand, JeNai and Ashley considered every detail – from the imported bottles to the corks they use, to the labels, logo, and business cards. Halo 7 was created to offer the same high-level top experience that you can get from a top-shelf cognac or whiskey, but in a totally different medium, JeNai says.
Their three focus areas were: appearance, aroma, and flavor. "If you go and have some of your favorite spirits neat, a lot of them are really harsh," Ashley said. "We wanted to create this really unique and clean experience where you can drink your spirit without having to add to it, without having a fancy bartender transform it into something else. You can drink Halo straight out of the bottle, with a cube of ice, and have the same exact experience as if you were in a high-end bar."
Halo 7's flavor profile is a blend of coconut, vanilla, and caramel – it's smooth and doesn't burn the way alcohol can. The flavor of the coconut is subtle, while the caramel adds sweetness. There are two distinct tasting profiles depending on if you have it neat or on the rocks. With the appearance, the intention was to make something clean and crisp, with an inviting and delicious flavor. To achieve this, they used the honeyed toffee as their point of reference for the color profile: smooth and sleek but very clean.
The Process
Phase 1: Research
After Ashley and JeNai committed to the project, they began the research – reading textbook after textbook on distilling spirits and trying to figure out what kind of flavor profile they wanted. They asked themselves: What is our actual vision? What is it we are trying to create that's different from what already exists?
That's when Ashley's legal background came in. She knew that distilling spirits at home is illegal and dangerous. So before the actual distilling, they worked with different sugars to figure out the right taste profile. They worked with white sugars, and molasses, and at one point, they had hibiscus. They used existing dark rums – mimicking a similar flavor profile using brown sugars and then built flavors on that.
They also had to consider the alcohol content. "Rum is typically going to be 80 proof but because of the balance, if we would've created an 80 proof rum that people could drink like fruit punch, people would lose their minds, so that was a compromise we came to – bring it down a notch, still create the experience, and don't be afraid of the perception," Ashley explained.
Phase 2: Perfecting the Flavor Profile
After deciding on the flavor profile, the ladies researched master distillers all over the country. As improperly distilling spirits can pose many risks, Ashley and JeNai wanted to find an expert – regardless of the location. They interviewed people coast to coast and settled on a distiller in Florida.
Their distiller would take the flavor they described, translate it, and send the samples in the mail. Then, they would provide their feedback – on what worked and what needed to be tweaked. This took about three tries but felt longer because of the supply chain and delivery issues during the pandemic.
Anxious to get things done, Ashley felt frustrated with the supply chain issues. When the second batch came in, she was ready to settle saying, "I mean it's good." But JeNai disagreed and said it wasn't ready. After tasting the final batch, Ashley was glad they didn't give up earlier. They just looked at each other, and knew: 'That's it, that's the one.'
Phase 3: Packaging
There were also the legal aspects of getting the label approved and developing the packaging for the boxes that the rum will come in. That was one area where Ashley doubted whether the vision would come together. "When I saw the final box, I cried – and I never cry. But it was just like, 'wow,'" she reflects.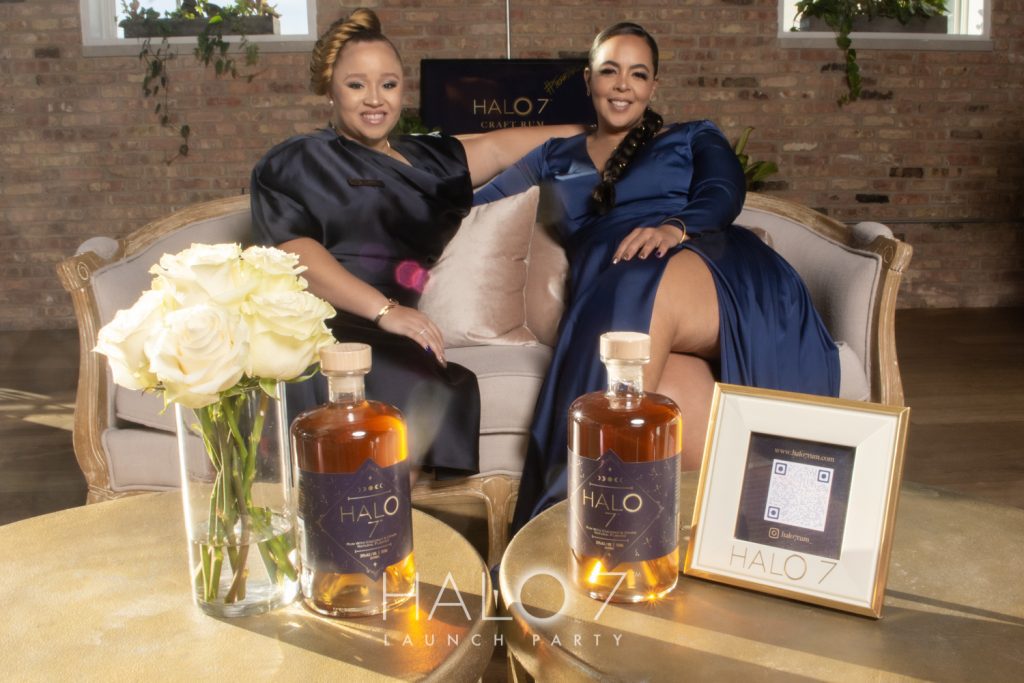 The Future of the Brand
Ashley and JeNai want their brand to be more than just a spirit – so no one felt excluded from the experience. In addition to the rum, they sell candles inspired by the rum, for those who aren't spirit drinkers. The candles are all-natural and give you the same energy and essence as our rum but just on a different platform, JeNai shares.
They also offer other items including t-shirts, hoodies, caps, tasting glasses, and stadium cups, and are continuously looking for new ways to expand their brand. "It's a fun place to be where anyone can have a point of entry and they can decide what their experience looks like," JeNai says.
Words to Encourage
For anyone wanting to start a business or brand, JeNai encourages you to start now – with an idea, with a sense of possibility. There's no time like the present. "Believing in your dream, having the passion, and building a team would be the ultimate force," JeNai reflects.
Ashley adds: "Work with people who give you grace and space."
Halo 7 was created with love, and for love. An elevated experience, after all, is one of eternal love.
You can find Halo 7 Rum at Kimbark Beverage Shoppe – a black-owned beverage shop near Hyde Park in Chicago. For those who aren't located in the Chicago area, you can also order it online. Learn more about the luxurious craft rum brand and its owners on Instagram.