"I have to have a prayer every day," says multi-award winning songbird Conya Doss. It's not often that a mixture of Mary J. Blige and Erakah Badu is in a classroom setting but Conya is that person!
Conya Doss is a mom, teacher, mentor, entrepreneur and a celebrity in the music industry, with albums that include "Love Rain Down", "Still", "Blu Transition" and her latest "A Pocket Full of Purpose."  "This particular project is very personal, especially now that I have a child", says Conya of her album, 'Pocket Full of Purpose'. "Each song serves a purpose…the words in the song may not touch on everything, but they definitely touch on a 'Pocket' Full."
Conya Doss – The Official Music Video "Don't Change"
Prayer, balance and a great support system are the primary keys to Conya's ability to give devoted, earnest attention to all aspects of her life. One of the things most interesting about the start of Conya's career is her strong belief in her abilities. In the music industry, there are times when artist are not paid accordingly and the revenue generated as a result of their music ends up in someone else's pocket. Taking total control of her career, Conya started her own label and recorded several hit singles in her home.
"I had no idea of what I was doing, but I have always been determined to make it work; God put people in my life," says Conya as she reflects on the beginning phases of her career as an artist. "I continued to grow and get better and better with each song; it was a process. I definitely have a greater appreciation for independence." One thing for certain Ms. Doss ensures money made through her music does not do a disappearing act. "I learned from Oprah, 'Never get too busy sign off on your own checks.'" This is great advice for all business owners (large or small) and aspiring artists. "It's important to surround yourself with people you can trust."
With principles such as these, coupled with her soulful voice, it's no wonder she's a success. She's won Best Female Vocalist of Ohio Hip Hop Awards, Female Vocalist of the Year – Soultracks Reader's choice awards, Nominated for Female Vocalist of the Year Centric/BET J Virtual Awards, Best R&B Indie Track and a host of others nominations and awards.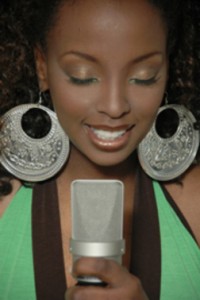 A Cleveland, Ohio native, Conya grew up watching another famous voice, the late Gerald Levert. "Gerald was amazing; a good humble person, willing to do anything to help people". She remembers watching the group Levert and aspired to be like them. During the time she attended school, she was called to audition as background for the late Gerald Levert.She too, is ardent about the education of our young people. When asked how she separates her famous career as a singer from the classroom, she says, "I'm no nonsense when it comes to academics. I keep my singing career separate and keep them focused." This in itself shows a special talent in Conya.
Mentoring young girls after school is a part of her life as well. When asked about mentoring Conya says, "I call them 'Diamonds in the Rough'; I see the good qualities in them and want to redirect them in a positive manner." Her sincerity's and actions are most commendable. Conya will perform at the Apollo for Michael Baisden's campaign "Mentoring Brothers in Action". "We need more mentors, especially for the males. I don't care what race they are they need the male figures."
In the midst of her passions, purpose and beautiful voice, Conya puts her son, Landon Blu, first. I'd say she is the epitome of living your dream, sticking with it, teaching and guiding our young communities and living a balanced life. In her single, 'Don't Change', there is a humbling message for everyone in our ever-changing world; this song is truly a 'Pocket Full of Purpose'.