By Nsi Amah
Hey, Bronze beauties! Winter is almost here, so you know how brutal and dry the cold weather can be to your melanated skin. Therefore, it's time to reconsider your skin regimen for the upcoming chilly months. In a 1:1 virtual interview, Beauty Expert and Board-Certified Dermatologist Dr. Alicia Barba provided me with so many pointers for my skin including a recommendation to use Dove's new Exfoliating Body Polish. Available in three different scents ( Crushed Macadamia & Rice Milk, Crushed Almond & Mango Butter, and Pomegranate Seeds & Shea Butter), the products arrived at my doorstep just in time prior to speaking with Dr. Barba.
Dove really knew what they were doing with this product. The winter chill can be very harsh on the skin and leave it very dry without warning. Dove Exfoliating Body Polish comes in handy during the week for your daily skincare routine. Whether it's used In the beginning or at the end of your day, this refreshingly different body scrub is a treat for your skin in the shower. After washing your skin in the shower, grab a nice handful and begin scrubbing it on your cleansed skin. This will give your skin the extra exfoliation it needs to renew and buffer away dry, dead skin.
Exfoliation is very essential for your skin's renewal and for making skin more susceptible to the absorption of moisture, especially when putting on your favorite moisturizer. Dove Exfoliating Body Polish's whipped texture will add some luxury to your bath or shower time. For the best results, it's recommended to do so 3 to 4 times a week. Your skin is going to thank you for it!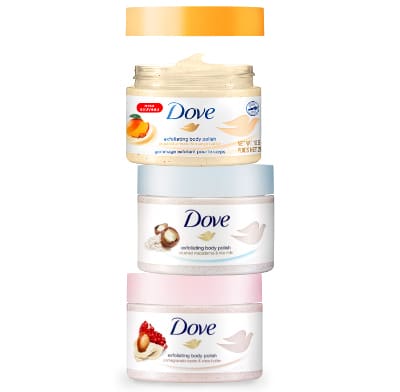 In a brief Q&A session, Dr. Alicia Barba provided me some insight about my skin since it tends to get really dry during the wintertime.
Nsi Amah: Winter is brutal here on the East Coast, what are some of your best tips to battle that?
Dr. Barba: Definitely double up on your heavy moisturizers and even have a couple in your purse. Washing your hands so often can really dry out your hands. Showering with hot water can dry your skin out as well. Moisturize on your heavy creams and even use some oils on top to protect your skin from the cold air.
NA: How often should I exfoliate my skin?
Dr. Barba: I recommend exfoliating at least three to four times a week especially with Dove's Body polish. Remember, when you use a loofah or washcloth, you are already exfoliating. The body polish will give you that extra boost that your skin needs so your skin can be more susceptible to obtain moisture.
NA: I have family who has eczema. What would their specific care be for their skin?
Dr. Barba: For your family, Moisturize! Moisturize! Moisturize! I would tell my clients that they need to be shiny and greasy. Eczema is triggered by the cold and dry air on the east coast and you can't afford it to be dry.
NA: Talking with Dr. Barba was such a treat! Winter is coming Bronze beauties, so that skin must be taken care of. Keep your skin supple and shiny. If you have skin ailments, please consult with your dermatologist for further instructions in case your skin needs extra assistance to stay healthy.