Yesterday was a horrible day for the Democrats. The Republicans ripped away the Senate, giving the GOP full control of Congress. Republicans now have the control to pin down President Obama in his last two years of office. Democrats must now take the back seat to the Republicans because they have almost full control.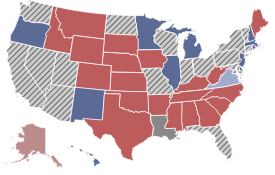 "For too long, this administration has tried to tell the American people what is good for them and then blame somebody else when their policies didn't work out," Mitch McConnell, who is expected to become the next Senate majority leader, said in his victory speech.
CNN projected that the GOP would have at least 246 seats, which has been the largest since World War II.
Obama will make a statement, Wednesday afternoon, to address the election and will also host bipartisan leaders on Friday to try to find a way to move forward.

by Elizabeth Tawose