byLakesha Stuldivant, Beauty Editor
Finding a cosmetic line that carries everything we need may be harder than one might think. There are the big name companies that have a strong following, where customers will gladly purchase anything they put out. On the other hand we have small businesses that work extremely hard to produce a product consumers will love and appreciate. With the holidays just around the corner and family gatherings to attend, take advantage of these tips to a flawless face for the holidays.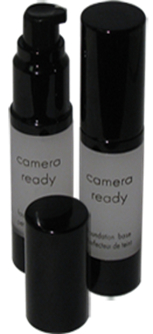 When it comes to make up, I like to take the less is more approach. When applying your foundation, using a primer is essential.  Primers allow foundations to stay in place and last throughout the day. MANNA's Camera Ready is an essential makeup base that gives a matte, silky smooth finish that will keep your makeup in place all day. As a bonus, Camera Ready smoothes skin texture and minimizes the appearance of fine lines and pores. This is very important when applying liquid foundation. Filling in fine lines or large pores first gives you even skin to apply a flawless foundation application. In addition, the eye will draw great attention to the face.
Using more than one mascara is an easy way to give your lashes a false lash look, and guess what? It's all about the brush! Use a full round brush, with thick bristles that form a spiral shape for volume. I like to use Maybelline Falsies for this step. Then follow behind with a small tooth brush that acts as a comb to separate and extend the lashes. Again, Maybelline Volume Express Cat Eye Mascara is perfect. Finally apply a liner, and POW! Your eyes will light up any night. MANNA cosmetics features a product called Transfix, It transforms any of your eye shadows into a smudge proof liquid liner. Simply dip Transfix into any eye shadow and rim your eyes for the perfect eyeliner. Now if you're one of those ladies that need a little more, using a concealer to outline and highlight the brows will also help bring attention to this area of the face.

Now that we have covered the foundation, and eye popping techniques, finish up that flawless face with a lovely lip gloss and a small amount of blush. Avon's Glazewear comes in a large variety of colors to complement any skin tone. It gives a nice high shine without the tacky residue some of the others are known for.  A great lip tip is to use multiple shades to create a color unique to you. Have fun with this one , because the possibilites are endless! When using your favorite blush, be light handed. You will be surprised at the results from one swirl. A very important tip with blush is to blend, blend, blend. Remove any and all lines of demarcation.
As you may have noticed, I didn't mention any eye shadows. This is simply because I feel that they are optional. To create a flawless natural looking face follow the tips and see how your natural beauty shines through. Take these tips and tricks and create a flawless face for the holidays.
Until next time, stay Classy, Sassy and Fab!