by Sade Pizarro
Black owned hair care businesses marketing to natural hair consumers are on the rise both in popularity and financially. Years ago it was nearly impossible to find a black owned hair care company or even resources to hair care products containing non-harsh chemicals in urban communities. We all should remember when a representative from cosmetic company Revlon  declared that Black businesses would become extinct from larger white companies snatching them up. For many years this statement was true until the last few years when Target began selling black owned beauty products that catered to the needs of women, men and children who have wavy, curly and kinky hair.  People have said that the revolution would not be televised but it has and it will continue to be. Since the mid-2000s there has been a decline in relaxers and chemical products meant to alter curly hair to lay straight. Mega giants producing products for natural hair consumers are Miss Jessie's, Carol's Daughter, Karen's Body Beautiful, Shea Moisture, Mixed Chicks, Curls  just to name a few. These companies have heard the natural hair community cries for hair care products that are made for their natural hair textures. There's no more mixing up grease and water to make your curls pop; now there are cleansers, conditioners and styling products made particularly for your hair in its natural's state.
While black-owned companies are now taking rise in urban communities, they have also made waves in the celebrity world with your favorite stars opting to wear their hair natural or a natural textured style. With the rise of interracial couples having children with multi-textured hair, there are a high percentage of black women who are now embracing their natural hair texture.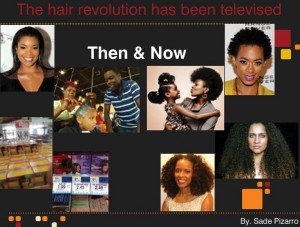 I am in fact a product of an interracial couple and understand many of the issues of not being able to find products that cater to my curls. I have been natural for seven years and before that wore my relaxed hair proudly. I loved my creamy crack from elementary up until the 11th grade in high school when I did the big chop. I got to a point in my life that I didn't want a relaxer anymore and I wanted my curls back. I always laugh with my mother about this because she would buy so many different products for me and my sister's hair just to tame it. I remember how when my mom used to do our hair it was a process since our hair was long, thick and cascading down our backs; we always had braids or twists just to keep it under control. The hair care products she used were Blue Magic grease and water; it really made our hair look like jheri curls. I would never use that product in my hair today.
I am happy to see that the beauty industry is now changing to accommodate its largest consumer. With the natural hair movement, L'Oreal, Pantene, Revlon, Sauvé and Proctor & Gamble are now coming out with products that they believe the natural hair community wants. Every time you turn the television on it's a commercial promoting their new line of products that are natural or sulfate free. These products use to set the stage for what was in but now they are playing the catch up game and trying to pick up the trends since now they are not setting them.
Every time I go to a beauty supply store, a Duane Reade, a Rite Aid, etc. in an urban community the one thing that is always on sale now are relaxers. I ask myself, 'Why weren't  relaxers this cheap when my hair was relaxed,' or I wish that when I went natural seven years ago I could have found products that catered to my curly hair needs. This just shows that we naturals are stronger as a team.