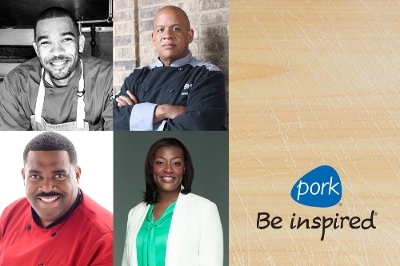 Four celebrity chefs are teaming with The National Pork Board (NPB) on its "DJ Grill Crashers" campaign targeted towards African Americans to help promote the leaner, heart-healthy side of pork. (from top left) Chef Joseph Paire, executive chef of Todd Grays Watershed (Washington D.C.), will kick off "DJ Grill Crashers" season in June followed by Todd Richards, executive chef and co-owner of The Pig & The Pearl (Atlanta), Reynond Darthard A.K.A Chef Rey, executive chef of the Houston Rockets (Houston), and Tiffany Derry, chef and TV personality (Dallas).
The campaign, which is an extension of the NPB's main ongoing summer campaign, "The Grill Crashers" which launched last week, aims to inspire black consumers to cook and enjoy pork in more creative and healthier ways. Each chef will partner with local radio personalities within their communities to 'crash' or 'takeover' various cookout celebrations with new pork-inspired recipes and tips.
"Pork should be a nutritious component of every family's diet, especially with the lean cuts available," said Celebrity Chef Tiffany Derry, a finalist on Season 7 of Bravo's Top Chef and Top Chef All-Stars. "One easy way to do that is by changing your cooking methods like grilling over frying to achieve a healthier meal." Comedian and actor Donald Faison, who is an avid griller, will also participate by sharing how to create bold flavors on the grill with juicy, tender pork chops. Check out these four tasty and healthy pork chop recipes:
**NPB recommends cooking your pork chops to an internal temperature between 145 degrees F and 160 degrees F with a 3 minute rest. Use a digital thermometer to check doneness and to ensure juicy, tender chops.
SOURCE: PRNewswire