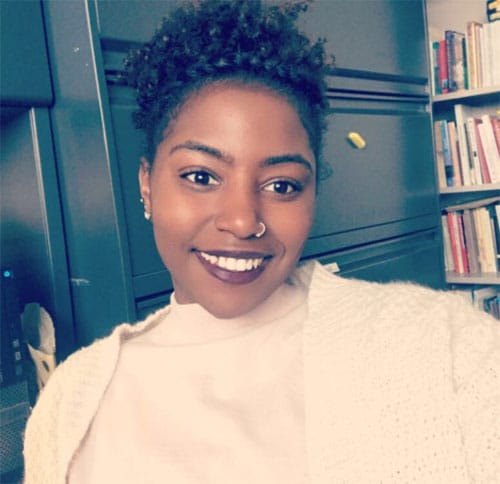 Colorism has been a huge issue in the black community for quite some time now. This refers to black people further separating themselves into a category of being either "light skinned" or "dark skinned." Microagressions (closely linked to the whole phenomenon on why lighter skin is more appealing) are an example of how people of all races believe that blacks are incapable of being well-mannered, of using 'big' words, and of speaking proper English. Why is it that people, especially women, look at having lighter skin as being more attractive? This all goes back to slavery and how sexualized black women were, but the darker skin toned women were always compared to having animalistic features. Does having more melanin make a woman less beautiful in comparison to a woman of lighter skin?  This question is answered by a fellow colleague and dear friend of mine, Kiana Davis, who I had the pleasure of interviewing. Davis is a sophomore currently studying Broadcast Journalism and Africana World Studies at William Paterson University. I asked her three simple questions:
Keara George: Do you consider yourself to be a woman of a darker skin tone? If so, were there times when you were made fun of?
Kiana Davis: Yes, I do consider myself to be a women of a darker skin tone. There have been times in the past when people in grammar school would tease me for being darker than them. It really hurt me. Even in high school, I was told I would be prettier if I were light skinned. I saw that people considered a woman of lighter skin as being more beautiful.
Keara George: How do you motivate yourself to embrace your melanin? What are some of the things you tell yourself as a constant reminder to show that you are beautiful?
Kiana Davis: I motivate myself to love my melanin by looking within. It is comforting to know that there are women who proudly embrace their melanin just as much as I do; it makes me want to love the skin I'm in. I tell myself over and over again… I AM BEAUTIFUL. I believe that in order to really love yourself, you have to know your worth. That's what is most important.
Keara George: How important is it to you to empower Black women of all shades? How did you overcome the negative backlash (if any) of people telling you things like, "You're pretty for a dark skinned girl"?
Kiana Davis:Â I find it to be very important to encourage other women to love the skin they're in. It's a shame how society and other parts of the world are constantly bashing women of color, especially darker skinned women. I overcame negative comments from negative people and started realizing my self-worth. Looking back, I was blind to my own beauty. Later on in life, I was able to understand that I am a beautiful Black Queen.
Keara George: Davis was able to keep her answers short, sweet, and to the point. Having dark skin has been looked upon as something of lesser value, but everyone should appreciate the beauty of all different shades of blackness. While there still may be a few other beauties out there that are unsure of how to find confidence in embracing their skin no matter the shade, take it from Kiana Davis, who is a proud dark skinned young lady who knows her worth. She lives by her own motto, "Just be great" and that is something that we should all aspire to be!
By Keara George