Ever since Michelle Obama first came into the public eye in 2008, she's been making headlines. First, and possibly most memorably, there was the craze about her (admittedly fabulous) arms, which got everyone from moms to grandmothers to young women talking about her workout regimen. After that initial frenzy, Michelle continued to be in the news for her wardrobe, particularly the seemingly endless number of lovely dresses she wore to formal events, the efforts she made to promote children's health and fight childhood obesity, and the shenanigans she and Barack got up to every so often, like their Valentine's Day appearance on Ellen.
But in the wake of her beautiful, eloquent, and moving speech at this year's Democratic National Convention, the conversation had turned toward one of Michelle's less publicized traits: her mind.
Michelle Obama is hailed as being the most educated First Lady ever, and once you look at her resume, it's easy to see why: she graduated cum laude from Princeton University in 1985, and went on to graduate from Harvard Law School in 1988. Before she was ever a First Lady, she was a lawyer in Chicago. It was there that she met her now husband, Barack Obama, and began to journey down a path that would eventually put her in a position to positively impact the lives of thousands of Americans through her focus on education, health, and service at both a community level and a national level.
As impressive as Michelle is, she's only one of the thousands of incredibly successful black women in America today. Black women celebrities are garnering more and more attention as of late, but it's still rare that a black woman is recognized for attributes other than the physical or the performative. Many of the academic or technical achievements of black women fly under the radar despite the fact that, by numbers, black women are the most educated out of any group of women.
Lately though, the accomplishments of black women have been making it into the news more often. Just a few noteworthy examples are Dr. Chandra Prescod-Weinstein, the newest black woman to gain a doctorate degree in physics (who, as of February 2015, numbered less than 100), actress and singer Zendaya, who fired her publicist for making racist comments and also negotiated with Disney to give her more power to influence diversity on the channel, and everyone who participates in the #staymadabby hashtag on Twitter or Instagram. Born from the black community's response to Abigail Fisher's claim that she was denied entrance to the University of Texas because she was white, #staymadabby has become a quick, easy, and funny way to find successful black college students on social media. The tag is flooded with pictures of black grads in full regalia, caps and gowns and cords and all, celebrating their success in a way that highlights their own accomplishments while also shrugging off the unfortunately historic conception of black people as being less educated.
These successful, educated, and woke women are nothing short of admirable, so it makes sense that they are what Michelle hopes to inspire young girls around the world to become in the future. Michelle's goals for the education of girls are no secret: recently, she traveled to Liberia to advocate for girls' education. While she was there she  inspired girls to stay in school and mentored a girl who wants to be President. She also penned a personal essay about why she believes so firmly in access to education for girls, revealing that she "sees [herself] in these girls—in their ambition and their determination to rise above their circumstances." Through her words, her actions, and her personal beliefs, Michelle has made it clear that she will campaign for girls' education and success, and that she will not stop until every girl has access to education and the means to achieve.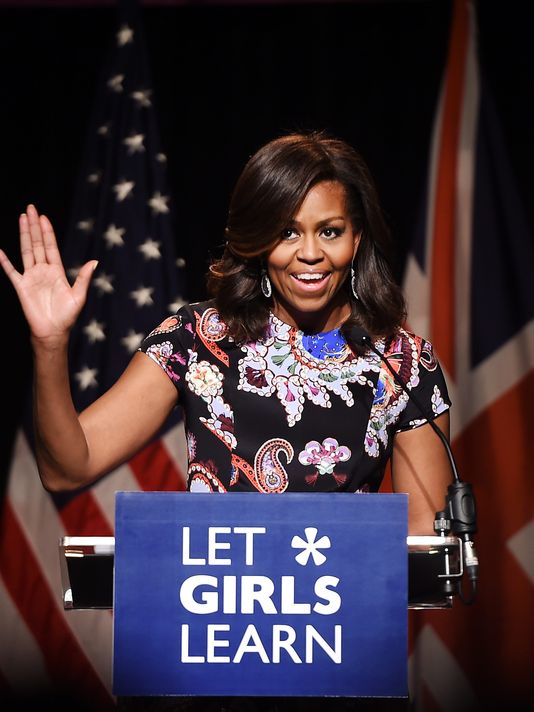 Michelle is an incredible and successful black woman doing her own thing, of course, but she's more than just that—she's a role model for black women of all ages, and may very well prove to be the catalyst for many black women to follow in their role model's footsteps. Every time her success is publicized, she makes it that much easier for other black women to be proud of their success, and inspires people to reach out and help others in the same way she does.
There's a Michelle Obama in every black girl, and Michelle herself is determined to help bring her out.
By Femi Sobowale
Edited by Victoria Krute
Layout Design by Renita Singleton