The National Museum of African American History and Culture (NMAAHC) opened on September 24, 2016 in Washington D.C. The NMAAHC was established by Congress in 2003 and is the only museum exclusively devoted to the life, history and culture of African Americans. This museum has collected more than 36,000 artifacts and is the 19th museum of the Smithsonian Institution.
According to its website, the National Museum of African American History and Culture was provided to stand upon four pillars. The first pillar of the museum provides the opportunity for interested individuals  to explore African American history and culture through interactive exhibits. The second pillar helps all Americans see how their stories, histories, and cultures are shaped and informed by global influences. The third pillar explores what it means to be an American, and shares how American values are reflected in African American history and culture. And the fourth pillar serves as a place to engage new audiences through collaborations with other museums and educational institutions that have explored and preserved this important history.
On September 24th there were several well known individuals present at the museum's opening ceremony. Guests included but were not limited to President Barack Obama, First Lady Michelle Obama, civil rights icon Rep. John Lewis, former Presidents George W. Bush, Bill Clinton and Chief Justice John Roberts. There were also musical performances by Stevie Wonder, Patti LaBelle and Denyce Graves. Robert De Niro and Angela Bassett also made appearances to read the words of black poets and historians.
President Barack Obama gave a moving speech about what the museum says about America. Here is a portion of his speech: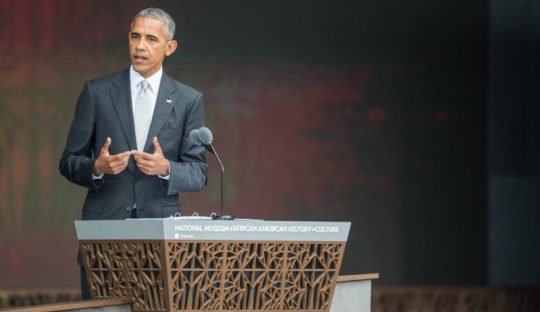 "What we can see of this building, the towering glass, the artistry of the metalwork, is surely a sight to behold. But beyond the majesty of the building, what makes this occasion so special is the larger story it contains.
…And so this national museum helps to tell a richer and fuller story of who we are. It helps us better understand the lives, yes of the President, but also the slave, the industrialist, but also the porter, the keeper of the status quo, but also the optimist seeking to overthrow that status quo; the teacher, or the cook, alongside the statesman.
And by knowing this other story, we better understand ourselves and each other. It binds us together. It reaffirms that all of us are American, that African-American history is not somehow separate from our larger American story, it's not the underside of the American story.
It is central to the American story, that our glory derives not just from our most obvious triumphs, but how we've wrested triumph from tragedy, and how we've been able to remake ourselves again, and again, and again, in accordance with our highest ideals.
…And that's what this museum explains, the fact that our stories have shaped every corner of our culture, the struggles for freedom that took place made our constitution a real and living document; tested, and shaped, and deepened, and made more profound its meaning for all people."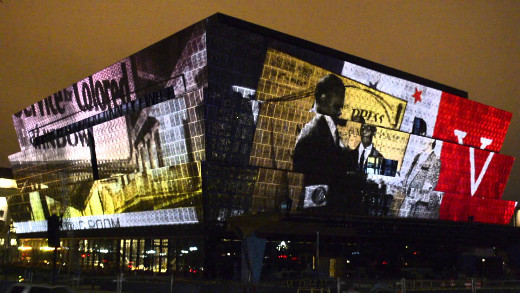 Speakers for the event also included Rev. Calvin O. Butts III, former President George W. Bush, Dr. David J. Skorton, Dr. Shirley Ann Jackson, and Director Lonnie Bunch. U.S. Rep. John Lewis also gave a speech during which he was very emotional and stated, "This place is more than a building. It's a dream come true." The opening ceremony proved to be a momentous occasion for the National Museum of African American History and Culture.
By: Kadisha Kentish
Sources: https://nmaahc.si.edu/about/museum
http://time.com/4506800/barack-obama-african-american-history-museum-transcript/
https://nmaahc.si.edu/dedication/video