By Trishna Sanyal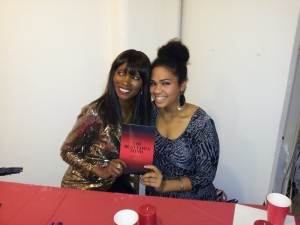 Tucked away in a hidden maze of personal art galleries featuring individualistic creations, within suite 311, sat the quaint RUSH Arts Gallery that held the book signing of a creative native New York author Dawn Leak. The atmosphere welcomed curious minds and supporters alike who were intrigued by the simple, yet exhilarating décor as well as the classic beauty mingling amongst her guests.
In front sat a finely decorated table with all things red: mint box, candles, roses, pens, and of course the main guest, Leak's publication "The Blattaria Mind". A short story so intriguing and twisted one can't help but wonder what the story is really about and somehow relate to the author through the eyes of the main character, CoCo Knight. Slowly walked in friends, family, literature and art enthusiasts to congratulate Leak's second and most recent writing project which "portray her ability to intertwine the beautifully strange, eerie, the creepy and the alluring". Leak's inspiration came from her favorite book called the "Metamorphosis" in which she later found out, the main subject the cockroach, holds the scientific name Blattaria.
The event was an absolute success and equally as entertaining. From listening to Leak explain her interpretation of her message to her audience to the various (yet random) questions asked about the storyline, "Have you fantasized about killing a photographer?" was rather interesting, it was a very intimate gathering which brought us all together in celebrating the success of a wonderful book.
More about the Author, The Blattaria Mind, and RUSH Arts Gallery:
Dawn Leak is a native New Yorker who has received her Masters of Science in Urban Affairs and Planning at Hunter College in 2005. While completing her undergraduate she pursued a modeling career abroad touring various countries and working with some of the most prestigious agencies. Her first writing project was a psychological horror screenplay titled "No Rhyme No Reason", written in collaboration with her sister, Kathryne Leak. The Blattaria Mind can be inquired about on her website http://dawnleak.com/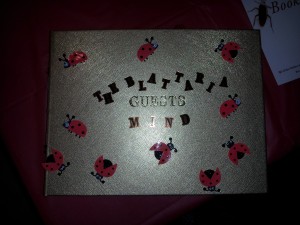 The Blattaria Mind is about a beautiful, young woman, CoCo Knight, chasing her dreams of becoming a famous actress/model in the Big Apple, suddenly becomes a ruthless, calculating, cold blooded killer. This dangerous beauty manages to mask her debauchery with alluring perfection.
RUSH Arts Gallery and Resource Center are core programs of the Rush Philanthropic Arts Foundation, a 501 three organization founded in 1995 by brothers Russell, Danny, and Joseph "Rev Run Simmons". Both galleries are dedicated to providing exhibition opportunities to an emerging artistic community and exposes disadvantaged urban youth to contemporary arts and culture through educational programming initiatives. Gallery Owner: Charlotte Mouquin
www.rushartsgallery.org
www.rushphilanthropic.org
Trishna Sanyal is the marketing coordinator/contributing correspondent for Bronze Magazine