By Shawn Stuldivant, Editor in Chief
Earlier last month The Atlantic Magazine released an online launch of KING—its new magazine edition commemorating the 50th anniversary of Martin Luther King Jr.'s assassination. The issue provides a lens over King's life from student to activist, while also delving into the three themes of afflictions (aka the three evils) that preoccupied him the most: racism, poverty and militarism. The issue also contains rarely published speeches by King, material from The Atlantic's archives, photography, poetry, quotes and original essays and interviews.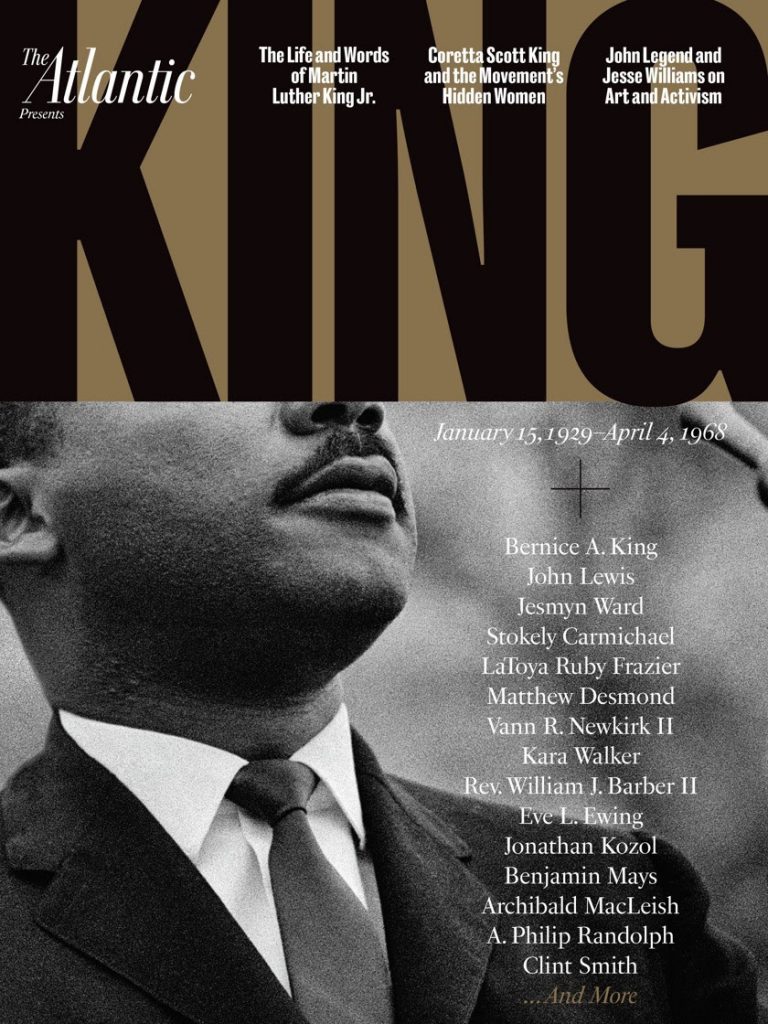 KING is now on newsstands nationwide. Feature highlights from the issue include:
Actor Jesse Williams and musician John Legend on the intersection of art and activism
An essay by Matthew Desmond about worsening conditions in America's cities
Photographs by LaToya Ruby Frazier showing the geography of oppression
An interview with Congressman John Lewis, who marched with Dr. King in Selma
Historian Jeanne Theoharis on Coretta Scott King
Voices from The Atlantic's archives, including Stokely Carmichael, Jonathan Kozol, and Archibald MacLeish
Republication of King's "Letter from Birmingham Jail" under the title as it appeared in The Atlantic 55 years ago, "The Negro is Your Brother"
Support for this project has been provided by the Fetzer Institute, the Ford Foundation, and the Charles H. Revson Foundation.
I was born on April 8, 1968, 4 days after Martin Luther King Jr. was assassinated. Although I never had the opportunity to see him alive, I learned about the importance of his legacy from my parents and in school. I got chills the very first time I heard his "I Have a Dream" speech, which left me feeling sad that something as basic as human rights had to be fought for in this country, yet I also felt hopeful towards the future. It's very sobering to know that 50 years later, Dr. King's legacy is still relevant and continues to live on. One of my favorite quotes from Dr. King is, "There comes a time when one must take a position that is neither safe nor politic nor popular, but he must do it because conscience tells him it is right." Â This quote still holds relevancy today because we as a country are still dealing with the same issues that afflicted us 50 years ago, hence the spark of popular movements such as Black Lives Matter, Me Too, and March for Our Lives; all of which have become significant symbols in the fight for the basic civil rights of individuals. As in Dr. King's quote, the individuals who lead and participate in these movements had enough and decided to take a stand to fight for what is right regardless of the consequences; simply because of the deep-seated feeling that standing up against what is wrong is the right thing to do. May Dr. King continue to rest in peace.
Some of the various events taking place today to commemorate Dr. King's death are:
Activists marching in silence from the MLK Monument to the National Mall in Washington D.C.
Laying of a wreath at the Lorraine Motel in Memphis Tennessee where Dr. King was assassinated.
The National Civil Rights Museum will begin the "Let Freedom Ring" ringing of the bell ceremony followed by hundreds of other public institutions, churches and all around the world including the Vatican; each bell ringing 39 times, one for every year of Dr. King's life.