By Patrice Rivers
Gigi McMillan is the Founder of Purple Runway, Chief Creative Officer of Kamisol Style Consultancy, and co-founder of iTHRIVE Sisterhood. She's also a member of the local chapter of the National Coalition of 100 Black Women, an organization that, among other things, advocates to increase understanding of mental health within high schools to avoid shame and ridicule surrounding depression and other signs of possible mental illness. A domestic violence survivor herself, Gigi launched the dynamic awareness platform, which marries fashion + advocacy, in 2015 to create a safe environment for survivors to share stories, recognize community champions and organizations, and serve as a dedicated hub where thrivers meet to celebrate healthier, happier lives after trauma while standing in the gap for those still in the struggle.
PATRICE RIVERS: AS A SURVIVOR OF CHILDHOOD SEXUAL ASSAULT AND DOMESTIC VIOLENCE, WHAT CHALLENGES DID YOU FACE ALONG THE WAY?
GIGI MCMILLIAN: As a survivor of childhood sexual assault the challenges are many. The experience changed me from a fun loving carefree child to someone who was withdrawn, angry, and insecure.
Although my parents did their best to instill confidence and emotional balance in me the best way they knew how, I was too young to know how to communicate my internal scars, because they cut deeper than the eye could see.
The lack of understanding led to unhealthy relationships as I grew into an adult. Over the years and learning how to really heal through therapy and a great community, I now know how to take on fear without fear. Challenges come often through anxiety and depression but when we have the tools we can learn how to manage the triggers to ensure we are living our best and brightest days as often as possible.
PATRICE: BEING THE FOUNDER OF PURPLE RUNWAY, WHICH IS GEARED TOWARDS SURVIVORS AND THE COMMUNITY, WHAT WAS THE MOTIVATION BEHIND STARTING THIS EVENT?
GIGI:  My motivation stemmed from wanting to heal. As a personal stylist I learned how to cover the pain. Beautiful complimentary colors and cuts are how I got through, along with the love for art through design. 
As a personal stylist, I realized I had the ability to help people look good on the outside, yet I found that was not enough. It became very clear to me at that time – I was wearing a mask to cover my own pain and insecurities through fashion; and in that moment, my goal was to search for my light inside and out.

Purple Runway is my healing and has helped me go deeper into who I am, by taking time to recognize my self-worth, what makes me happy, and how to be confident, knowing I was meant to live happier and healthier by not allowing what happened to me dictate who I am any longer. Creating a space with a cross section of experts such as doctors, healers, therapist, designers, retailers and politicians, coming together for the greater good within the community of domestic violence is what keeps me motivated.
PATRICE: HOW LONG HAVE YOU BEEN PUTTING ON THIS EVENT?
GIGI:Â  We are celebrating five years of sustainability raising awareness about this challenging topic, while honoring community advocacy, organization and individuals through the power of awareness and financial support.
PATRICE: THIS YEAR THE PURPLE RUNWAY HOSTED ITS FIRST ANNUAL BREAKTHROUGH SUMMIT PRESENTED BY ITHRIVE SISTERHOOD. TELL US MORE ABOUT THE SUMMIT AND WHAT IT INCLUDES. WHAT IS THE INITIAL MESSAGE BEHIND IT?
GIGI: The iThriveSisterhood was created as an extension of Purple Runway and the community to allow survivors a place to grow with other survivors and thrivers who have found the best way for them to live a happier and healthier life. We support sisters from all walks of life and help them in various forms to help them become thrivers themselves. 
Last December 26th, I organized a spa day with a group of women who we wanted to embrace what 2018 gave to us and how we would manifest and optimize our year of purpose together. We talked, we cried, we meditated, we laughed and we bonded as one and each one of the ladies agreed, sisterhood – true sisterhood, was what they were looking for and agreed it would be an amazing way to help others heal. Today, we have women who have never shared their stories of survival who now want to share with the world their success over the past 12 months and inspire others they can have emotional and mental health wellness via various forms, simply by bonding with the ability to be authentic through their healing journey.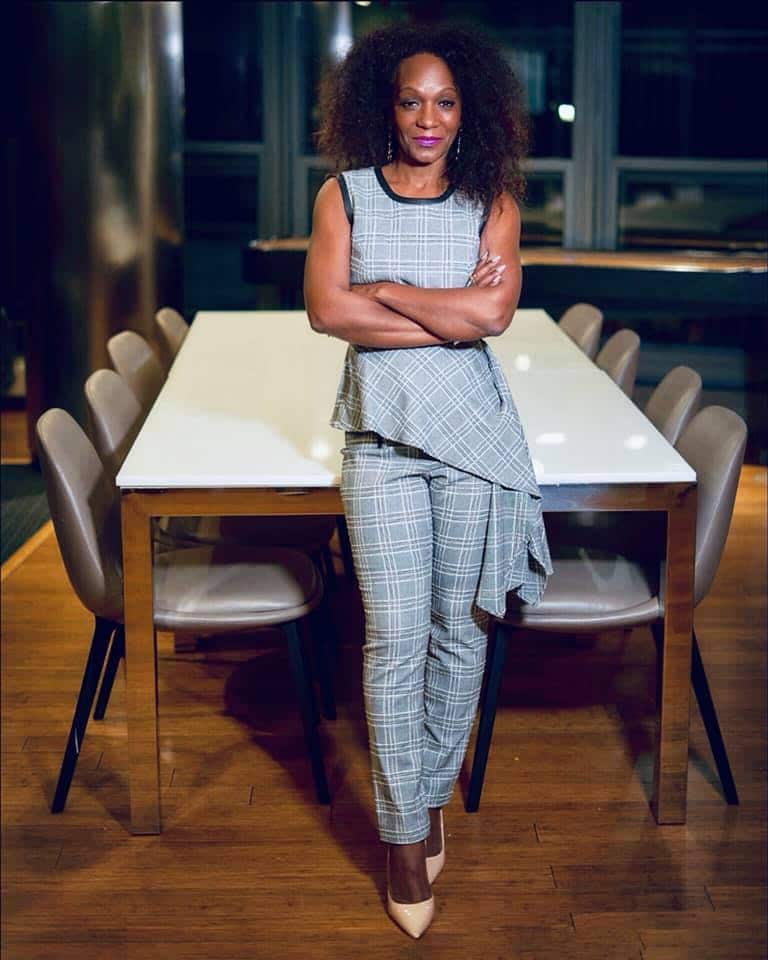 PATRICE: WHAT IS THE ITHRIVE SISTERHOOD?

GIGI: It is a collective of women who embrace natural and non-evasive support for recovery such as music therapy, traditional therapy, art therapy, holistic therapy and bonding therapy.  I have learned there are many ways people can heal when they have the right people and support around them who they can trust and grow at their own pace while gaining support through other sisters. However, we understand sometimes trauma survivors need medication for the PTSD they have suffered and it's okay, yet we want to help them grow past the controlled meds to organic healing. We have doctors and therapists who support the community, which gives us that extra level of expertise needed to help each sister win in their own right.
PATRICE: DOES THE PURPLE RUNWAY HAVE SPONSORS TO HELP AND SUPPORT THE MISSION FOR THIS GREAT CAUSE?
GIGI: Yes, we have a host of sponsors over the years which include Mercedes Benz, Nationally recognized Domestic Violence organizations, local organizations and retailers. We have a list of our current and past sponsors on our website at www.purplerunway.com
PATRICE: WHAT TYPES OF FUNDRAISING EVENTS DOES THIS EVENT OFFER? DO YOU PARTNER WITH OTHER NON-PROFITS?
GIGI:Â  Yes, since we are small we select other non-profits to support each year. This year we are working with the Bernie House, who provides transitional housing for families in crisis. One of the hardest hurdles for survivors is finding a safe place to go when they leave for any length of time and the Bernie House helps provide this to families.
PATRICE: ARE THERE ANY OTHER PROJECTS YOU ARE CURRENTLY WORKING ON? FUTURE PROJECTS?
GIGI:Â  We are working on taking Purple Runway to seven cities around the country soon and expanding the iThrive community along with working with our new and amazing partners to help expand our goals for emotional and mental health wellness. Likewise, this year we are expanding to include men with our Brothers of the Sisterhood collective. This is where we are opening our arms to have healthy conversations with men who support our goals.
PATRICE: HOW CAN READERS CONNECT WITH YOU?
GIGI: We can be reached on all of the social media outlets and our email address is purplerunway@kamisolstyle.com the website address is purplerunway.com we are always looking for great partnerships and sponsorships to help expand services to those who may not be able to afford therapeutic and non-evasive support.