By Chelsea Young
While 2020 has been, what some may say, the most unpredictable year in a while, many have proved to be resilient. The Black Women in Media Conference and Awards powered by Opulence MD Beauty is the embodiment of that resilience. While the pandemic could have completely canceled the event, the Founder of Black Women in Media Judith Jacques-Laguerre made the recent 5th annual conference a virtual one. Hosts of the event were Courtney Richardson and Lyndsay Christian. Moderators of the series of panels included Oni Higgins, Falasha Campbell, and Courtney Haywood. The theme of the conference was "Pivot" to address the hardships of 2020 such as the COVID-19 pandemic, the Black Lives Matter protest and the election. Media partner Bronze Magazine spent the week of the conference peeping into the panels and listening to these amazing women share their stories.
Following host opening remarks and an inspiring and empowering welcoming address from the founder, Day One officially kicked off with the first panel, Career and Advancement moderated by Falasha Campbell and featuring panelists Christen Rochon and Jatali Bellaton. Rochon is an ad-executive and author of CandidlyChristen.com, and Bellaton is a former investment banker and forensic accountant, an accredited investor and entrepreneur, has a created a finance curriculum that's in about 200 schools both domestic and international, and is the author of the book "Wants vs. Needs."
When asked about how they had to pivot in 2020, Rochon brought up how hard black women have been hit during the pandemic and how she has channeled the energy into something productive to make sure she makes something of this time. COVID forced Bellaton to become more active on social media and reach out to people. She was also reminded of the importance of self-love and taking some time for herself.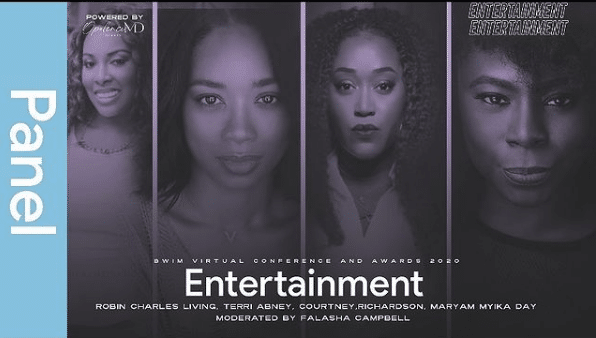 The next panel of the day consisted of women in the Entertainment industry moderated by Falasha Campbell with panelists Robin Charles-Living, Terri Abney, BWIM co-host Courtney Richardson, and Maryam Myika Day. Charles-Living is the author of the book "You Can Be A Success Too," creator and host of "The Throwback Zone," and has been working in entertainment for 5 years. Abney is an actress, writer, producer, and director. Richardson is the creative director at Paper Magazine, and Day is an actor, screenwriter, producer, and creator/host of North of 40 Podcast, also a BWIM media partner.
All the women of this panel voiced the importance of adapting and making things happen when pivoting. Charles-Living explained how she focused on rolling with the punches and still making things happen amidst the hardships. For Richardson, pivot equaled resilience, which, she emphasized, is always important in the entertainment industry. Abney expressed how she worked on going with the flow and maneuvering around obstacles. Since the pandemic began, she has started to create her own projects instead of waiting around for things to settle. Day stated the importance of believing in yourself. She pivoted and began to reach out to people in need of writers, even if the work was not her usual path.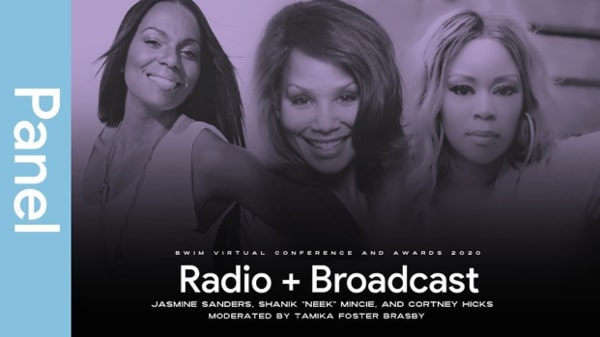 Following entertainment was the Radio and Broadcast panel featuring Jasmine Sanders, Shanik Mince, and Courtney Hicks. Sanders worked in radio most of her career and is now a TV Personality. In addition to being a panelist for the conference, Sanders was also the recipient of BWIM's Pioneer in Radio and Broadcast award. Mince is an on-air personality for WHXT-Hot 103.9/93.9 and the ADP music director in Columbia, South Carolina. Hicks is an expert in entertainment and lifestyle, has worked as a radio personality for most of her career, and now works as a news anchor as well.
Sanders viewed pivoting as a "movement," something that is a part of life. She has focused on filling her life up to give back to others. She also makes sure she has days to give back to herself, following the recurring idea of self-care in these trying times. Hicks stated pivoting meant to "stay ready." She mentioned how she has dismissed the notion of things going back to normal and is embracing the newness of everything and finding new ways of thinking and doing. Mince brought up the high unemployment rates since the pandemic and how she has seen many people in the industry let go or furloughed. She is now working multiple jobs and learning the importance of staying relevant in the industry.
The last panel of day one was focused on Casting and Representation with panelists Merylne Jean Louis, Tracy Christian, and Traci Wilkes. Jean Louis is a business and entertainment lawyer for Influencers and podcasters as well as a legal commentator, Christian has been working as an agent for 25 years in Hollywood Talent and is the founder of TCA Management, and Wilkes is the Senior Vice President of Broadcasters in Client Representation in CSE. The pivot of these panelists was like people all over the world in that they just had to accept the new norm. Jean Louis' business was virtual prior to COVID so she did not have to make major adjustments in a rush like many other panelists. The pandemic did result in the company becoming busier which she stated has sparked her entrepreneurial drive. Wilkes had to pivot from flying around every day to learning the language of the virtual space and how to work with it. Her recruitment stayed steady as people were quick to adapt to sudden changes. Christian also mentioned how she pivoted from constant traveling to staying at home, but her company held strong throughout the year and is even expanding to add more agents and offices.
Also taking place during Day One were the Entertainment Lounge Spotlight featuring a performance by South African singer/songwriter Zani Sizani, Black-owned business spotlights in the Virtual Mall, Masterclass: Out of the Box Marketing for Melanated Brands hosted by Koeryelle Dubose, and Fireside Chat: Black Women and Skincare hosted by Dr. Hope Mitchell.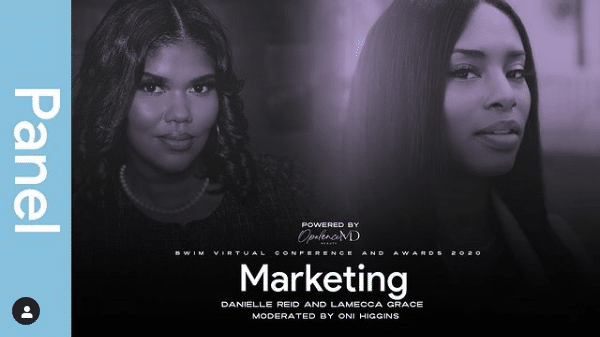 Day two of the BWIM conference continued to bring viewers more women at the top of their industries. The first panel centered around Marketing and featured Danielle Reid, founder of DR and Associates who specializes in marketing and strategy for small to midsize businesses and nonprofits, and LaMecca Grace of Graceful Perfection, a digital marketing agency. When asked about their pivots this past year, Reid explained how more people needed creating and updating of company websites, leading to an increase in business. During the summer when protesters were taking to the streets, business surged again. Reid told viewers that many companies and organizations reached out looking for black people in marketing to appeal to a black audience. COVID proved to be life-changing for Grace and Graceful Perfection as well. At the beginning of the pandemic, her clients realized the importance of driving traffic to the website and Grace Perfection's business grew as they helped them navigate the virtual space. When the protest began, she helped her clients refocus and define what their branding message was.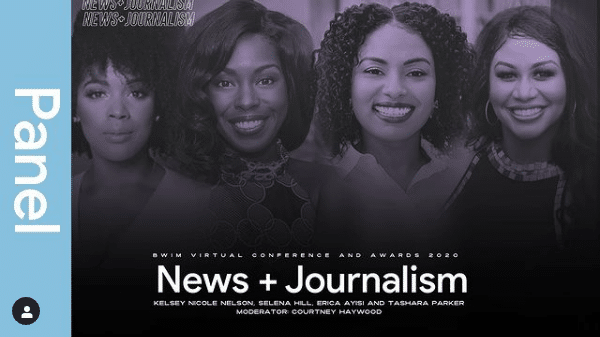 Next was the News and Journalism panel featuring women across the industry. Panelists included Kelsey Nicole Nelson, a sports journalist with a background in entertainment, news, and politics, Selena Hill, digital editor of Black Enterprise as well as the host of "The New Norm with Selena Hill." Erica Ayisi, a freelance international multimedia journalist with work focusing on the African diaspora, and Tasha Parker, a Dallas morning news anchor with a focus on community stories.
The pivot of journalists has been seen by anyone who follows the news, as we see news anchors reporting from their homes and interviews being conducted all via Zoom, but the panelists did share how they have personally had to pivot. Hill shared how this year taught her the importance of embracing your brand, creating content, and being consistent and authentic, Nelson used the time to take her podcast she had pre-COVID and make it a live-show where she was able to feature bigger guests. Parker spoke on the importance of moving forward and not letting the chaos of 2020 slow her down, and Ayisi explained how she was reminded of the importance of taking a rest and time for herself.
Beauty was the theme of the next panel. Speakers included spiritual life coach and makeup artist Julia Jovone, Charell Star, a storyteller working on-air at NBC New York or Fox Five News, owner and founder and CEO of Tee's Hair Secret Taneika Vance Randall, and make-up artist and entrepreneur Mimi Johnson. Like the panelists prior, the beauty speakers used the pandemic as a time of opportunity. Jovone dived in with her clients and really taped in and helped others because she was no longer on set all the time. Johnson spoke of the importance of keeping an open mind throughout the year. She explained how she had to close her businesses but was able to pivot and start creating virtual experiences that allowed her to reach more people than before. For Star, the pandemic disrupted the way she obtained work. Instead of producers coming to her with stories, she had to become active and pitch her own stories. This proved to a plus, as she had the chance to focus on stories she really cared about. Vance Randall talked about how before the pandemic she was very busy working a nine to five and never had time to be productive. The pandemic gave her time to finally hunker down and focus on her company. With this extra time and learning the importance of reaching out to people and asking for help, her company's sales have soared.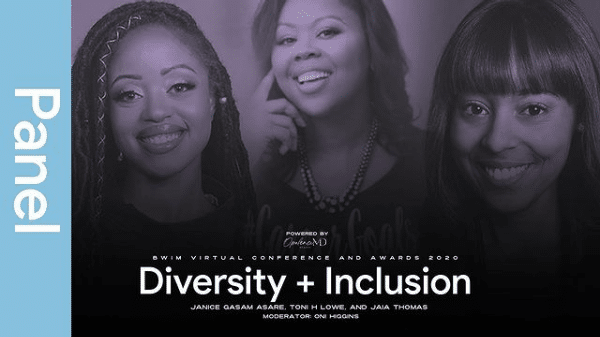 The last panel of day two centered around women working in Diversity, Equity, and Inclusion including Dr. Janice Gasman Asare, Toni Howard Lowe, and Jaia Thomas. Gasman Asare has spent ten years facilitating racial dialog. What began as a YouTube account discussing matters of race evolved into her own consulting firm BWG Business Solutions. Howard Lowe works as a translator of corporate language for people who do not have the opportunity to study it and has been working in the diversity and inclusion industry for twenty years. Thomas is a sports and entertainment attorney and founder of Diverse Representation.
The moderator asked panelists to speak on the pivots many companies and organizations took towards inclusion after the Black Lives Matter protest. Howard Lowe expressed that she was excited that companies were starting to address race, but that we should ensure that they are truly taking fundamental steps such as hiring and creating roles for diversity. Thomas had a similar stance, in that companies are quick to throw money at the issue, but she wants to see real structural change within their staff and management. Asare explained to viewers many companies told her they didn't have the budget for diversity and inclusion when the pandemic hit, but after the protest, they suddenly found room in the budget.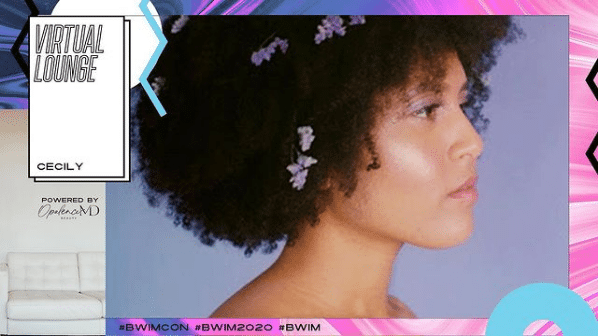 Also taking place during Day Two were the Keynote: The Power of Your "I Am" given by Dr. Nycole Lyles-Belton, Entertainment Lounge Spotlight performance by Cecily, Black-owned business spotlights in the Virtual Mall, Masterclass: How to Create a Visual Brand that Sells hosted by Dominique Hart, Fireside Chat: Business Development and the Importance of Authenticity hosted by Busy Matsiko-Andan, and Fireside Chat: How to Successfully Self-Publish Your Next Bestseller hosted by Dr. Joan Wright Goode.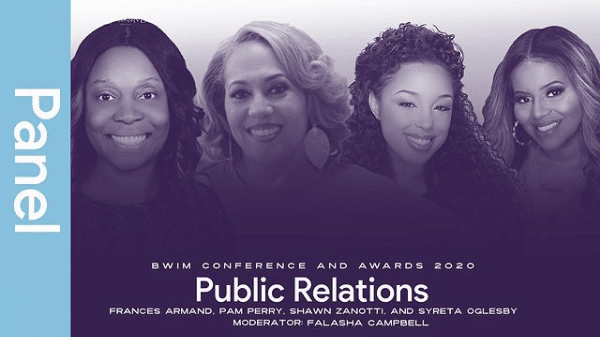 Day three panels kicked off with a talk about Public Relations. Panelists included Frances Armand, who began in corporate business but wanted to work in fashion. She now owns Armand Consulting, a public relations agency focused on fashion, bridal, wellness, and beauty and Pam Perry, who has been working with Christian authors and churches for years and now publishes her own magazine Speakers where she features her clients, as well as Shawn Zanotti, CEO of Exact Publicity in Chicago and LA where they specialize in sports and entertainment, and Syreta Oglesby, a Publicist and Marketing expert for Music, Lifestyle, TV, Beauty, and Diversity, Equity, and Inclusion initiative.
With Public Relations spreading across multiple fields, these ladies had to be on top of things all year, handling the uncertainty of everything. Zanotti expressed how at the beginning of the pandemic she was worried about how she was going to run the company, but when the protests began, she switched their focus to racism and social justice. The company took off as companies were focusing on getting the voice of other people out. Perry explained how she had to figure out how she was going to continue with her magazine Speakers, which covers the various events of her clients. When the pandemic hit everything from events to photo shoots was canceled and Zanotti had to make the switch to virtual events. She noted how the pivot made her a sort of TV Producer and forced her to learn methods of promoting these virtual events. Armand reflected on how the whole fashion industry had to think quickly and she had to ask herself how she could help her clients stay on top of things. She held her first virtual event in May as a test and it proved to be successful, allowing her clients to reach a much larger audience. Unlike the exclusivity of Fashion Week, these events reached people everywhere, domestic, and international. Oglesby has always embraced Tech. In fact, her company has been using Zoom for two years now. Her clients were also using their platforms to speak on social injustice prior to the protest for George Floyd, so their work was further ignited. She did have issues in the music industry, as artists were unable to tour, a major income for most artists. Oglesby had to pivot her clients towards other industries and fine other streams of revenue.
Following Public Relations was the Digital and Technology panel which included Laura Mignott, Jasmine Tiara, and Martika Jones. Mignott is the CEO of DFlash where she creates online and offline experiences, Tiara is an entrepreneur and digital strategist that designs apps for black culture, and Jones is the founder and CEO of iLinkPro. Panelists were able to pivot quickly this year due to their already being leaders in the Digital and Tech world so they were asked how they have had to pivot during the pandemic, or in their career in general. Mignott began as a technical project manager but saw a hole in the market and built up her agency. Jones discussed her company tool iLinkPro, a tool that allows users to consolidate contact, such as links, articles, and podcasts into one easy format. Previously used for influencers, they now market the tool to teachers as well. For Tiara, pivoting means changing and adapting to society and staying ahead of the shift. Her black culture apps such as Black Wallet and Black Directory took off this summer, but so did many similar apps. Tiara combated this surge by adding visual features to the app, adding videos of the products available so customers can be confident in their purchase.
The next panel was gathered to answer the question many people have started to wonder – "Is Blogging Dead?" The first panelist was Tonja Stidhum, Director, Producer, and Entertainment writer at The Root. She stated that she views The Root as a form of journalistic blogging, backing up the statements with facts but adding personality and flavor. Next was D'Shonda Brown, a freelance multimedia culture Journalist, whose answer was no, blogging is not dead due to popular niches such as fashion, mommy, and foodie blogs. Following Brown was Shanelle Genai, an entertainment writer and host of the podcast "The Chat." Genai too believes that blogging is not dead, it is just a matter of finding your own lane. Ayo Thomas, owner, and chief creative officer of Galore Creative Staffing and founder of WOE Magazine answered next. She agreed with other panelists, noting that she has seen bloggers continue to make themselves distinctive and relevant in the saturated market.
The second to last panel of Day Three was all about women in the Fashion industry. Moderated by Chenese Lewis, panelists included Shatava Lindsey, Melissa Mitchell, and Iman Ingram. Lindsey is the owner of OurGlass a handmade clothing company for curvy women, Mitchell is an artist and Chief Artistic Director of Abeille Creations, and Ingram is the owner of By Iman Akilah which aims to enhance, accentuate, and embrace curves.
All panelists had to quickly adjust their business plans to survive throughout the year. Ingram was forced to alter many of the plans she had made for 2020 when the pandemic hit. She explained how she originally planned on releasing 6 different dress styles but had to settle on releasing one in multiple colors. This proved not to be too big of a setback as the company went on to sell 300 units. She also switched from a manufacturer in New York to in-house manufacturing in Atlanta. She stated that they are now able to produce around 50 units a week. Melissa also spoke of having to cancel her plans for the year and was left with a large inventory of fabric she didn't know what to do with. She quickly hopped on the mask-making train and sold out in just three minutes after they were available. By strengthening her e-commerce, she was able to sell thousands of masks. Prior to the pandemic, Lindsey had clothing boutiques in Nashville and Atlanta. She explained to viewers how weeks before the country began to go on lock-down, she was looking to relocate the store and chose to close the locations instead. She pivoted to strengthening her e-commerce and was able to build a better relationship with her customers. She also took the time to focus on a blueprint for her business to be prepared for 2021.
To finish out Day Three in terms of panels, women working in the Television and Film industry came together. This included Jordan Hemingway, the Segment Producer for The Daily Show with Trevor Noah, and Okema Moore an Actress, Producer, and Writer. When asked about pivoting, both panelists agreed that they have been pivoting throughout their entire careers. Hemingway explained how at the beginning of her career she was at the same job for 8 years but left because she wasn't happy there. She professed that the difficulty of switching is what prepared her for the role she has now. For her, the pandemic was just another step in her journey. Moore was on tour with a musical when the pandemic hit and once, they shut down suddenly she had to prepare for her next move. She joked that pivot was her middle name this summer. She ended up stepping into a sort of unknown territory and became a Production Manager, Line Producer, and Post-Production Manager of a new docu-series called "Un-Lady Like " for PBS America.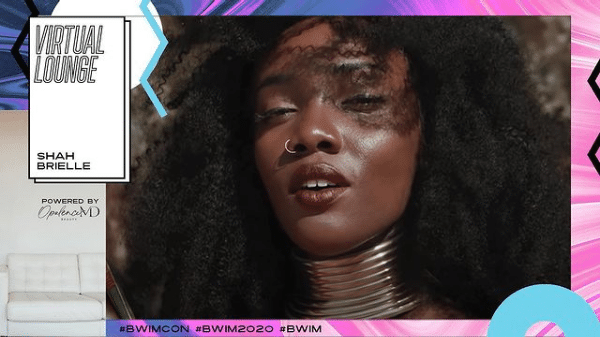 Also taking place during Day Three were Keynotes: Maximizing Your True Self by Dr. Lynn Richardson and Bankroll your Brilliance by Nicole Roberts Jones, Entertainment Lounge Spotlight performance by Shah Brielle, and Fireside Chat: How to Successfully Publish a Magazine by Tunisha Brown.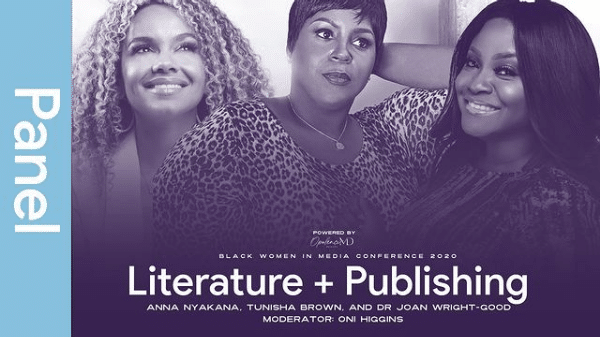 Day Four started out with a panel discussion on Literature and Publishing. Panelists included Anna Nyakana a best-selling Author, Motivational Speaker, and Entrepreneur, Tunisha Brown Founder and Editor of Impact Magazine with a mission to awaken people to understand the power within, and Dr. Joan Wright Good, Founder, and CEO of Business Mobile Academy where she helps start and market 6-figure businesses.
These women's pivots focused largely on using technology and social media to stay afloat. Dr. Wright Good stated that she is always prepared for a storm to hit so when the pandemic began, she did not have to do much pivoting to keep things going. She did however start making courtesy calls to clients to ensure their well-being, as well as starting "Facebook Live's" to give free virtual training to entrepreneurs. Nyakana reflected on how pre-COVID she was constantly going into schools speaking and hosting events to motivate the youth. While she was already comfortable hosting virtual events, the pandemic led her to invest in tools like lighting and backdrops. Over the year she started a virtual summer camp, partnered with schools, held virtual conferences, 1-on-1 zoom calls, virtual writer workshops, and went live on Instagram every one to two weeks. She stated that she became focused on engagement and not limiting herself. Brown's magazine Impact was already digital, so she worked on increasing engagement. She explained how she called on friends and contacts and began going live with various guests discussing topics and issues of substance. This allowed her to give a platform to other businesses and help them grow. The biggest step she took, however, was developing and launching a TV Network for her magazine.
Following Literature and Publishing was the Finance and Wealth panel featuring two experts, Folasade Ayegbusi, Agent, Accountant, Small Business Broker that works to encourage women to become financially secure and create generational wealth and Dasha Kennedy, a financial activist and creator of "The Broke Black Girl" an online platform dedicated to dismantling the racial and gender cap.
When talking about pivoting, both women mentioned the pandemic caused many people to start paying attention to their finances and wanting to get things in order. As for their personal experiences this year, Ayegbusi stated that she had to completely pivot to the virtual landscape and adjust all their processes and systems. She also had to create virtual experiences that her clients could enjoy and that wouldn't be tedious. Kennedy disclosed that she struggled with reaching more clients and getting them to sign up for her services. To combat this loss in revenue she started making financial literacy content for other financial literacy coaches.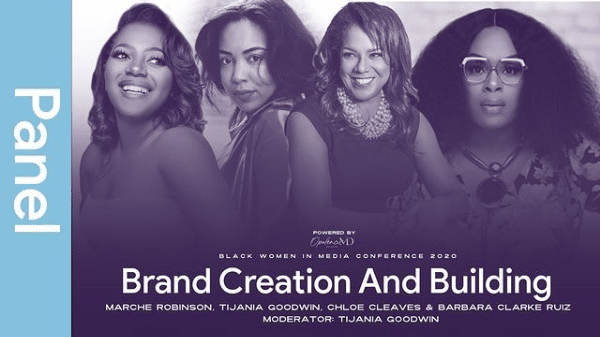 The final panel centered on Brand Creation and Building. These panelists, whose careers are all individually distinct, included Marche Robinson, an Attorney, Digital Content Creator, and Author of the blog, Robinson Style, Chloe Cleaves, a Visual Brand Director, Tijania Goodwin, Creative Director and Consultant and Host of "purposelybossinup," and Babara Clark Ruiz, CEO of the active-wear design firm bcswirl, inc and owner of an all-natural dog treats company Lick You Silly. Like their jobs, the pivots of these panelists were also unique. Robinson shared how she was feeling like she was in a rut with her blog at the beginning of the year. While in quarantine her brother in college introduced her to Tik-Tok where she gained quite a following and began to share reels on Instagram. She explained how she feels this new form of content creation allows her followers to see more of her personality and a more authentic version of herself. Clark Ruiz told viewers that the pandemic gave her time to focus on her dog treat business. This focus paid off and the treats soon became an essential product on Amazon. During the civil unrest of the summer, many people went looking for Black-Owned businesses to buy from and many found Clark Ruiz. The treats are now available at Walmart.com and she is discussing a possible placement in-store with Walmart's buyers. Robinson stated that COVID has made many people hunker down and focus on their businesses. People were wanting to know how to do branding on their own and she was able to teach them through virtual classes. She also put work into her own company, building a better relationship with clients and making plans for her next steps. Tijania, also the moderator as well as co-panelist, stated that the time was good for her, as she along with other creatives, founded The Content Collaborative, a virtual event that keeps the creative juices flowing while people are stuck at home.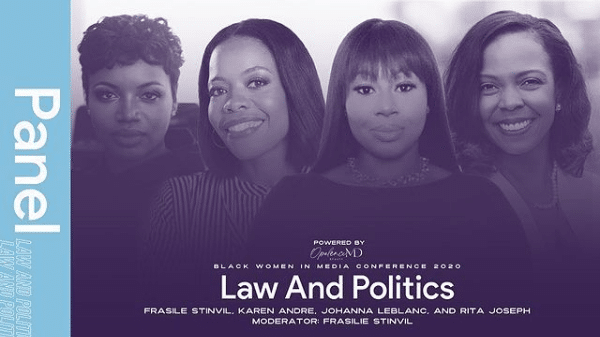 While every panel featured different stories, opinions, and advice for the viewers to enjoy, there was one statement that always appeared in every single panel. Black women have always and will always be able to pivot. It is what we do, and what our ancestors did. It is the reason we are strong. The remainder of Day Four included a final panel on Law & Politics with Frasilie Stinvil, Karen Andre, Johanna LeBlanc, and Rita Joseph; Fireside Chats: How to Become a Celebrity MUA by Tae Rene and How to Successfully Pitch to Journalists by Brittney Oliver, Masterclass: Capitalizing on your Content by Cier Black, and a Q&A with BWIM Awards Honoree Vinasia Miles.
To cap off a week of empowerment, the BWIM Awards ceremony aired on Friday, November 20th bringing all the magic with honoring PHENOMENAL women in all realms of media. Hosted by Lyndsay Christian and & Courtney Richardson, the evening was filled with powerful and moving acceptance speeches and worldwide entertaining performances.
2020 HONOREES:
News & Journalism Category

Trailblazer – Erica Cobb @ericacobb

Quintessential Honoree in News & Journalism – Zuri Hall @zurihall

Media Icon – Tamron Hall @tamronhall

Groundbreaker Honoree in Entertainment – MC Lyte @mclyte

Voice Honoree – Kimberly Latrice Jones @kimberlylatricejones

Television & Film Category

Lead Woman in Television & Film – Amma Asante @iammaasante

Pioneer in Television & Film – Effie T. Brown @iamfuriousblack

Radio & Broadcast Category

Lead Woman in Radio & Broadcast – Tracy G @itstracyg

Pioneer in Radio & Broadcast – Toya Beasley @toyabeasley

Pioneer in Radio & Broadcast – Jasmine Sanders @iamjasminesanders

Pioneer in Radio & Broadcast – Egypt Sherrod @egyptsherrod

Digital & Tech Category

Lead Woman in Digital & Tech – Dawn Dickson-Akpoghene @dawnwdickson

One-to-Watch – Vinasia Miles @vinasiamiles

Literature & Publishing Category

Trailblazer in Literature & Publishing – Danielle Cadet @dbcadet

Lead Woman in Literature & Publishing – Minda Harts @mindaharts

Pioneer in Literature & Publishing – Mary Chatman @marychatman1

Pioneer in Literature & Publishing – Jacklyn Monk

Wordsmith Honoree in Literature & Publishing – Kristina "Zane" Laferne Roberts @planetzane

Communications Category

Lead Woman in Communications – Daphne Leroy @daphneleroy

Lead Woman in Communications – Kimberly K Wilson @thekimkwilson

With performances by

STOUT @theestout
Art Aure @artisworldwide
Cecily @cecilyalexa
Shah Brielle @shabriel
Zani Sazani @zanisizani_music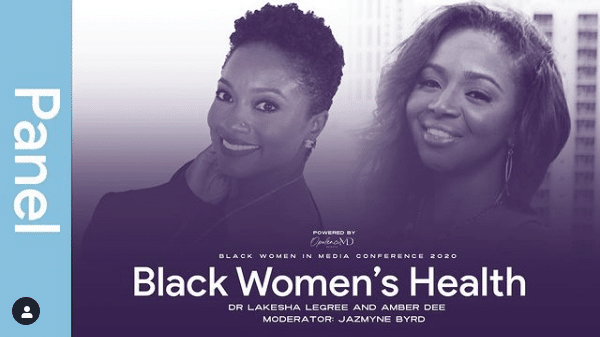 As if all the excellence of the week wasn't enough, a Bonus Day Five was added featuring Fireside Chats from Lucinda Cross, Sonia Alleyne, Kalli Combs, Carol Frazier Haynesworth, and Angela Smith; a Black Women's Health panel moderated by Jazmyne Byrd featuring panelists Lakesha Legree and Amber Dee. With closing remarks from hosts Courtney Richardson and Lyndsay Christian, BWIM left viewers empowered, informed, and fulfilled yet also looking forward to next year.
BWIM Virtual Conference & Awards Sponsors:
@freshiefemcare @goldcollagen @gobiotix @cleopatrasbeautyline @purlisse @immortalperfumes @blissybrand @zenbyesnavi @dailydose @beverythingbody @yensabeauty @ss_hoc @abeillecreations @imanakilah
BWIM Virtual Conference & Awards Media Partners: