I realize that it's been a while since I've written my "30 & over project" column but, even though summer is supposed to be "relaxing", this has been a very busy summer, both work-related and personally for me, spending time with family and friends. And just dealing with the summer heat has been challenging for many, with the droughts in many states and countries, high temperatures in places where there never were, heat overpowering our electric grids, causing mass power outages, and having to constantly make sure our elderly and children are safe. Â As I told someone last week, I would much rather be too cold than too hot; it's much easier to put on more layers of clothing to stay warm – there is only so much clothing you can take off to stay cool, before you end up naked – LOL!
But even with all of the negative aspects of the sweltering summers of the last few years, it seems that summertime is still a time of year that many people look forward to and revel in, as a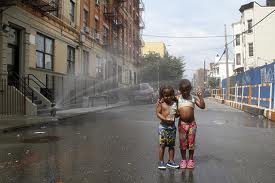 time to celebrate.  The older I get, each season, be it Winter, Spring, Summer, or Fall, seems to take on more meaning as I try my best to make sure I spend as much time with the loved ones and friends that I still have in my life, before time gets away from me.  And it seems that summer, still has that magical feel we all felt once school was out and it was time to go on "summer vacation", we get excited and want to explore those places we couldn't visit, after being cooped up in the house all winter.  And, I'm sure, for parents, the challenge of  working in family time amidst  the few weeks of summer it seems you have, since it seems that family time in the recent summers keeps getting shorter and shorter, trying to work in day camps and academic programs to keep kids on task , let alone planning trips and excursions with significant others and with the kids. The supposedly relaxing days of summer are beginning to resemble that of our busy work weeks and it's time we took some time to reflect.
Two of my favorite songs with lyrics espousing on the wonders of summer are Summertime from the famed all Black Gershwin musical, Porgy & Bess and that Hip Hop Classic, Summertime by rapper and actor, Will Smith. And while Summertime from Porgy & Bess was written in 1935 and Summertime by Will Smith (then known as DJ Jazzy Jeff & Fresh Prince) was released 56 years later in 1991, both songs still capture the true essence of summer: easy living (chillin'), eating, hanging outside, enjoying nature, and spending time with family and friends.
As a member of the 30 & Over crowd, I'm glad I'm of the age group that can be appreciative of one song that was written only a few years before my parents were born in 1939 and 1940, and another song that just happened to be written the year I graduated from high school in 1991.  I think being caught in this generation has helped me, over the years, in my ability to be a discerning connnoisseur of many forms of art. I think that being the daughter of parents who are products of the Civil Rights Movement and who grew up on the music of the 40s and 50s, became working adults on the music of the 60s, and became parents through the music of the 70s (1973 to be exact), has been an extreme blessing because they were able to pass on their music to me. As a result, that appreciation for the music of my parent's generation music was so heavily infused into the music of the 80s and 90s, as is evident in much of the  Hip Hop music of my era.  Both Summertime of the 1930's and the Summertime of the 1990s are true testiments of a "Coming of Age" for both generations. My "Summertime" charge to you is to continue to appreciate and enjoy both songs and manage to stay cool in the process!
Summertime – from Porgy & Bess (1935)
Summertime,
And the livin' is easy
Fish are jumpin'
And the cotton is high
Your daddy's rich
And your mamma's good lookin'
So hush little baby
Don't you cry
One of these mornings
You're going to rise up singing
Then you'll spread your wings
And you'll take to the sky
summer, summer, summertime
time to sit back and unwind…..
…..Here it is the groove slightly transformed
just a bit of a break from the norm
just a little somethin' to break the monotony…..
….and think of the summers of the past
adjust the base and let the alpine blast
pop in my CD and let me run a rhyme
and put your car on cruise and lay back cause this is summertime…..
 Thank you for reading #the30&OverProject 
Follow me on twitter: @ivywriter