This year, I celebrate my 20th Class Reunion and graduation from high school.  As a person in her late 30's, it's always so interesting to realize that my generation has been alive and has witnessed some of the most prominent and impactful events of the 20th and 21st Century.  Besides me trying to fathom the idea that I am just as old as some of these events, I'm even more fathomed at my ability  to recognize the important events that have impacted women.  And while we revel in the newness of America's first Black President and our phenomenal and beautiful First Lady Michelle Obama, before the Obamas, there was the curious case of Anita Hill and Clarence Thomas.
The other day, there was a thread floating around on Twitter about the fact that it's been 20 years since the Anita Hill case. It's hard to believe it's been that long. Â For those of you who don't know who Anita Hill is, she's the brave Black woman who brought attention to sexual harassment in the workplace on a national and some would argue international level, on the cusp of the confirmation of America's 2nd Black Supreme Court Justice (although many of us would argue that he's definitely NO Thurgood Marshall).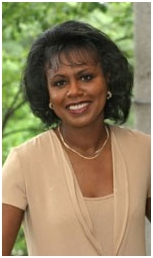 Many of us remember when the hearings took place (broadcast for the world to see on television) and the edge of our seats drama that the situation created, putting male egos and libidos and a woman's  right to feel safe, The Women's Rights Movement, and ability to be a beautiful woman pursuing a career in the workplace, all on trial.  And not only that, it was probably the first time that Black women were at the forefront of such a volatile social issue, especially considering that before 1991, we were often viewed as irrelevant, as promiscuous, on welfare, as lesser than White women, and often as non-professionals.  Often, still today, our image and persona is questioned (and reality shows showing black women fighting each other don't help the situation), however, the Anita Hill case put America on blast in terms of it's treatment of women. It brought into question the centuries of stereotypes that American culture has perpetuated of Black women and allowed us a platform to force the recognition of the Black Woman, (Anita Hill became our symbol), as intelligent, beautiful, career-oriented, professional, multidimensional women, who are equal to, or if not often more qualified than, some of our White counterparts and that we demand equal treatment under the law of workplace sexual harassment and to be treated fairly.
The Anita Hill case also put men, especially Black men, on trial and  in a position that forced them to have to take sides, defend us, and to take up our cause with us (some did, some didn't); especially in light of the fact that the object of her charges was a Black man, Clarence Thomas (I cringe whenever I say or write his name) who was slated for one of the most prominent and coveted positions in American judicial history. Clarence Thomas, his lack of a record with the Black community and Civil Rights, his demeanor towards Black women, and the potential for him to be put into a position formerly held by Thurgood Marshall, one of the most revered legal minds who fought for social justice and equality, marched with Rev. Dr. Martin Luther King, Jr. and others; was being held up and hopefully stopped by this Black woman, Anita Hill, with accusations of impropriety in the workplace. This case became about more than about Clarence Thomas' inappropriate and lewd actions toward Ms. Hill but also brought up the question of whether or not we wanted the man, how clearly stood for nothing significant, to become a voice on The Supreme Court with the power to make decisions that would impact Women's Rights and the rights of People of Color in America for years to come.   As we know, Ms. Hill didn't prevail and Thomas went on to be appointed to the Supreme Court, however, the impact of that one, singular fateful decision spoke volumes of what America thought of women, of Black women, and of Women's Rights in the workplace and it told us that men will continue to have the power to treat women any way and how undervalued a woman's opinion is of how she should be treated in the workplace and in society period.
Unfortunately, another underlying outcome of the Anita Hill case is the never-ending battle of combatting the one-dimensional image that the media often portrays of Black Women and the message that many Black boys and young men receive regarding what their relationship with Black Women should be  in 2011 (Homemaker vs. Stripper vs. Career Woman vs. Gold Digger) is a continuous battle that seems to get worse as Black girls and young women try to navigate their role, relationships, and purpose within the realm of modern society. Just how do we combat these images when our young girls are faced with the notion that if you make a sex tape (like Kim K), you just might become famous and marry a basketball player?
My question today, for woman, but in particular, for Black women:   It's been 20 years since the Anita Hill case. What has the impact for America been? What has the impact for women been?  For our young  girls? For our relationships? Have we moved forward or backwards? I think it's been a little of both.  Please share your thoughts and let's keep the conversation about the Anita Hill case going.
The fight will never be over. Be An Activist for Change in our schools, workplace, neighborhoods, politics, etc. Make an impact. What will your "Anita Hill" moment be?
Also, read more about the history of The Anita Hill case online. Take a look at current photos of her, she still looks so beautiful, 20 years later:
Sex, Power and Speaking Truth: Anita Hill 20 Years Later
 
http://www.anitahill20.org/ – Anita Hill Conference
http://www.anitahill20.org/about – Review the history of the Anita Hill case
https://www.facebook.com/anitahill20?sk=wall  – Anita Hill Conference Facebook Group Page
Books about the Anita Hill Case and Similar Topics on Amazon:
Reimagining Equality: Stories of Gender, Race, and Finding Home – by Anita Hill
http://www.amazon.com/Reimagining-Equality-Stories-Gender-Finding/dp/0807014370/ref=sr_1_1?s=books&ie=UTF8&qid=1319204802&sr=1-1
Speaking Truth To Power – by Anita Hill
http://www.amazon.com/Speaking-Truth-Power-Anita-Hill/dp/0385476272/ref=pd_sim_b1
Sister Citizen – by Melissa Harris Perry
http://www.amazon.com/Sister-Citizen-Shame-Stereotypes-America/dp/0300165412/ref=pd_sim_b6
Black Women Redefined: Dispelling Myths and Discovering Fulfillment in the Age of Michelle Obama – by Sophia Nelson
http://www.amazon.com/Black-Woman-Redefined-Discovering-Fulfillment/dp/1935618946/ref=pd_sim_b5
By Kellea Tibbs